ES Day Trading 5-31-2011
Getting thing started with a look at last weeks
volume profile
. Obviously prices are much higher here in the
O/N
but one of the interesting things to note on this chart is the expanding volume on up moves and decreasing volume on pullbacks. Classic behavior in an up trending market.
Click image for original size
A slightly larger viewpoint. Daily chart with a
volume profile
drawn from the May 2 top. How do you like that bell curve Bruce?
Click image for original size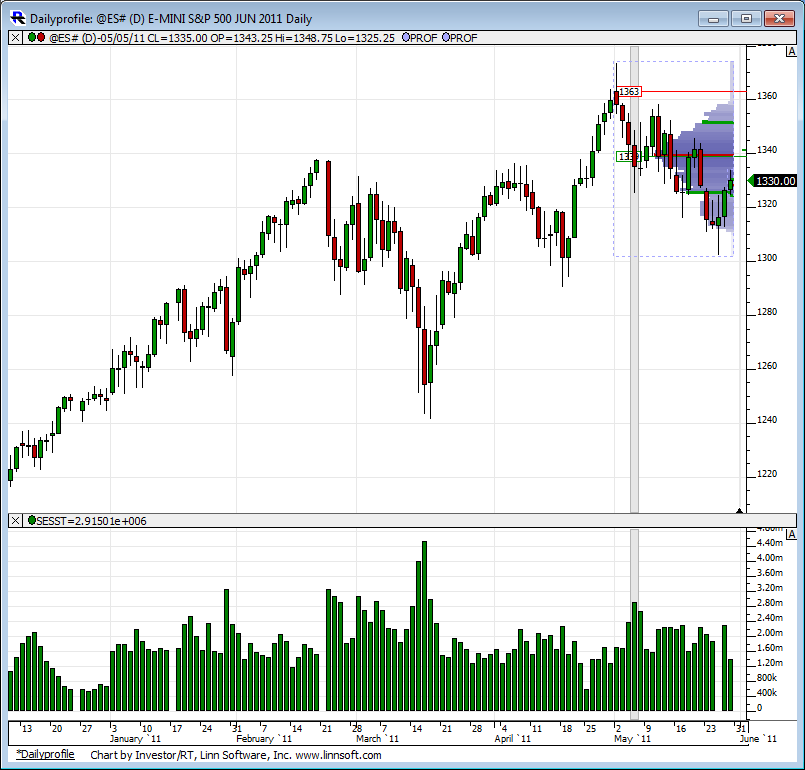 that's a real beauty Lorn......
I'm spliting the key area into 3 nice zones today
40 - 42 ****** key resistence ...this should be a good sell number
36 - 37 ******
30 - 32.75 ***** key support
so that 10 point range will give us some good 4-5 spreads
this will be the 4 or 5 th day of a rally depending on if you count yesterday....so it means more on a
gap
UP to look for sells...at least that is my plan....looking for the high to be put in first today
Interesting to also note the 5-day average range is currently 14.75 pts. So far this
O/N session
has run 13.25 pts. Doesn't leave much room for an average day....
startin short and small at 42.50......lots of reports today and don't want to be caught on the wrong side so early in the week no matter what the bias....putting these on in case they do an atomic flush from the open print......target is 1339....
ideal shorts will go on above
O/N
high if they can push it over that with a good
delta
flip....gotta be more selective with those damn reports in our way
if we look at just daily volume numbers we have Friday being lower volume than Thursday...not unusual being a 3 day weekend......lets see what kind of volume they have for us today compared to Thursdays levels
O/N
profile with the
VWAP
. As Bruce pointed out opening right near
O/N
high.
Click image for original size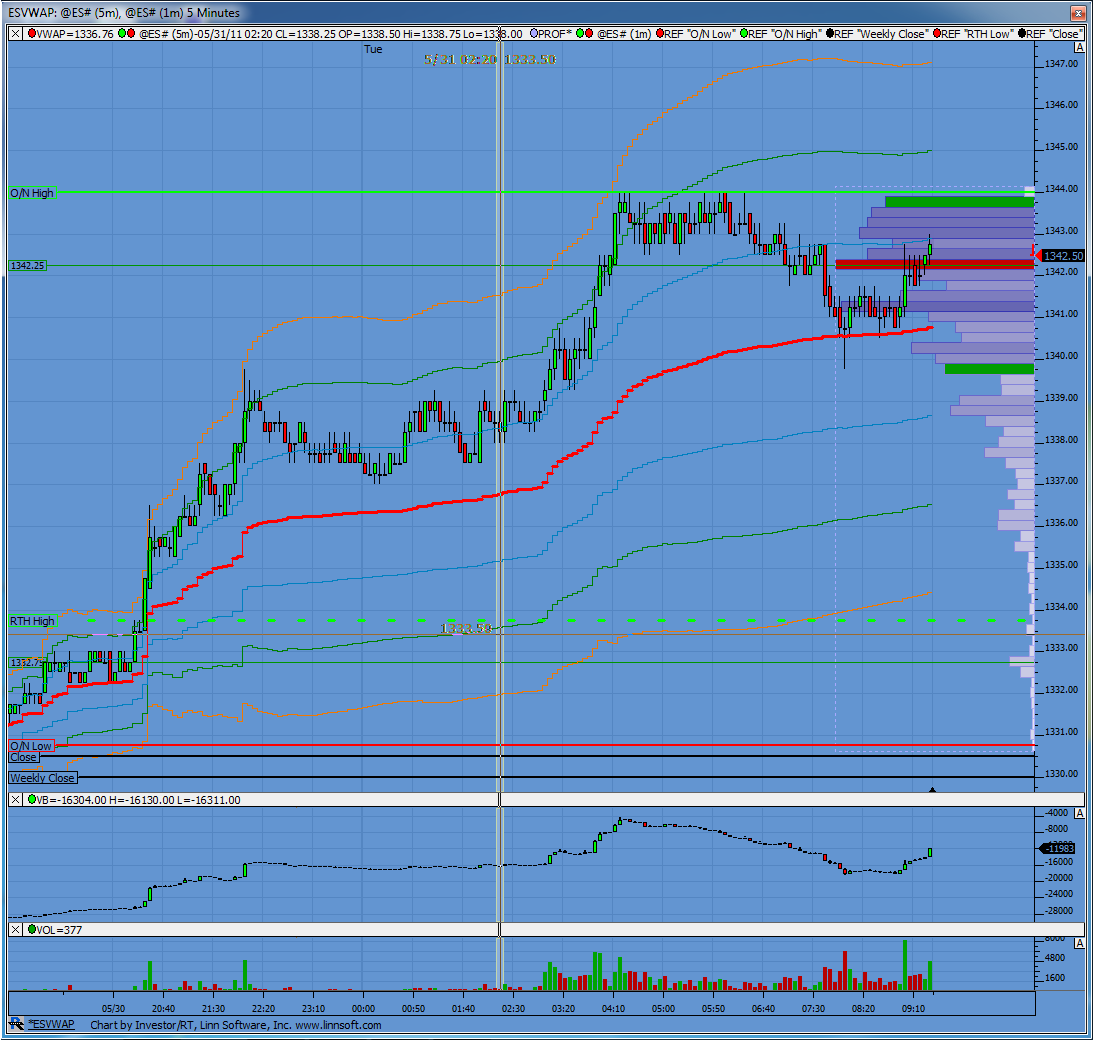 in general what makes this short harder to hold is that we KNOW they will try to run out an Overnight range and when we are this close to the highs and the
POC
we can only assume it will be the highs
(irrelevant comment above but the concept is key) if we get above the
POC
again from
O/N
and the open print then the breakout folks will try and push out that
O/N
high
that's me done at 38.75...didn't get any
add
ons as that is only a double top at
O/N
highs......if they continue to sell off then
low volume
from the On begins at 35...part of our key number zone
no ammo for me
First volume spike of over 20k contracts in 1-min fired off here between 39-38.50.
News generated of course so as Bruce mentions, if prices start to inch upward here, expect the
O/N
high to be challenged.
40 -41 is now critical for bears to hold as it is peak volume and
low volume
from day session and also 50% back on the day.....plan is to look for shorts ....keeping that
O/N
high in mind too
so that means if the 40-41 area gets initiated I will look to
add
above
O/N
highs
I deserve that! Foot still in mouth. BTW... the function works Great! Wouldn't of wanted to miss this post... no really!
Originally posted by Dubya

This is a good option to have..hopefully it will still remain "calm" TQ......