ES 6/30/11
Straight up usually stays that way until it doesn't if you think about it.
Maybe some surprising numbers you haven't thought about.
From the April high to the June low the fib levels are;
1280-23.6%
1297-38.2%
1310.50-50%
1324.25-62%
For June range the levels are;
1273.50
1286.50
1297
1307.75
respectively.
I'm currently using two different extensions(when in doubt)and the one previously mentioned has 1309 as the 161.8% level.
Alternatively,the other has 1305, 1310.50, and 1319.50 as the 123,138,and 161% levels.
Personally, I take the 50% levels as the strongest tell. Strength above,and weakness below. Note the levels that match up with others and they too are given a little more weight(ie;1297).
End of quarter really is only displayed in relative performance to peer funds and what looks best in required publishings to investors. I don't know if this lift is corrective or impulsive(5th wave). It doesn't really matter to me,yet.
I will point out it negated a
head and shoulders
down pattern and took out 6 previous highs on it's way up.
Trade em how you like as that's what it's all about.
This is why
price action
is so important.....we can have these internals diverging as price keeps going up.
I take full ownership of the fact that I have been very bearish as price has gone higher...This is 4 up days in a row and I have been just plain wrong. I suppose this is why I am a day trader. The bigger picture is difficult to me. Some would say that about day trading.
I still don't like this rally..here is how my
Vold
is looking...diverging with these highs...just plain common sense will also tell us that soon we will get some profit taking. We don't need any indicator to tell us that.
We have had a break in volume ( Today is the first day that
VOLD
didn't make a higher high)but the trendline in price is still in place..so that will need to break before anything really happens
Click image for original size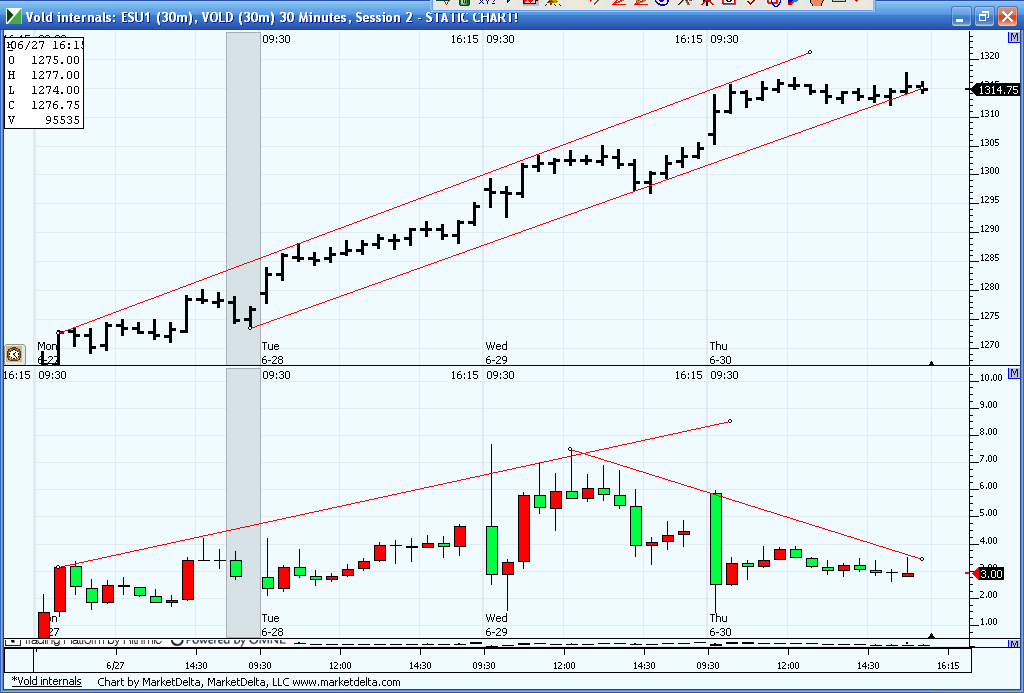 Great comment...I'm hoping so but that will have to wait until September...Summer is here and I will spend more time with the kids...today they are all out so I can dabble and trade more....tomorrow starts the 4th of july holiday trading so I tend to be a bit more agressive knowing that a long weekend is coming.
Originally posted by Ross

Bruce - will this research override your previous reluctance to afternoon fades?

Bruce - continued success and a happy Holiday weekend to you and the family. Many of us appreciate the sharing. Thanks.