ES Tue 7-26-11
Market opens below
value area
so
market profile
theory would have you shorting the market at 1333.25 and so far you would have suffered a 1 point
draw down
when the market moved up to the high of 1334.25.
The L bracket single from 7/19 at 1316.50 would be a typical target or reversal point for this
MP
trade.
Click image for original size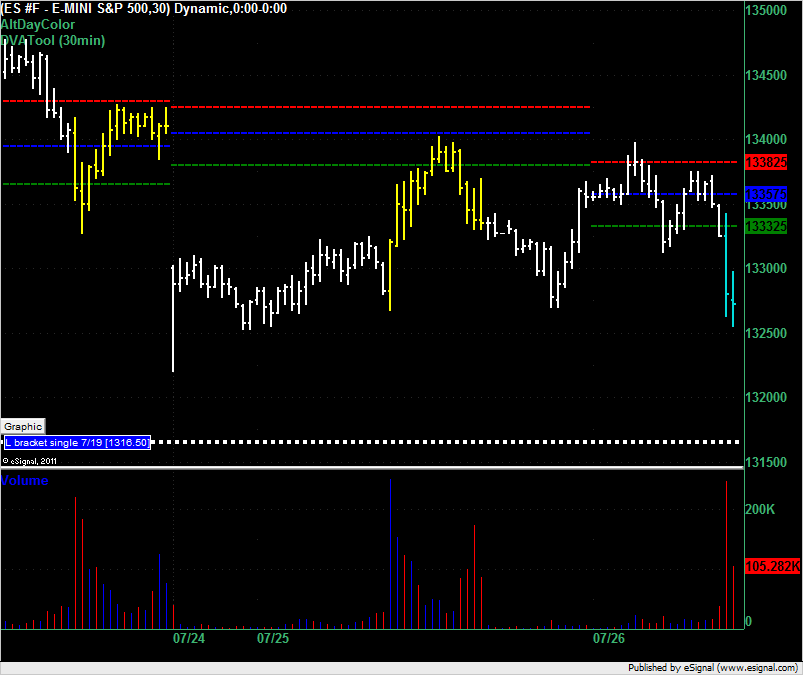 Originally posted by Lisa P

first decent volume



Click image for original size



Out of that short at
Low Volume node
@ 1330, also near
VWAP
(red line)
Click image for original size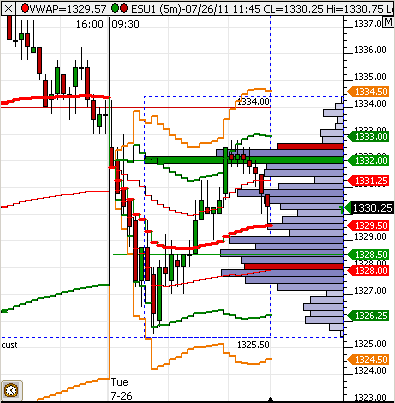 One time framing
long. Entry @ 1331.00, stop @ 1329. Target 1336.00
Need to clear Lisa Ps Mr. Big Seller,
O/N
swing low and
PP
to work.
Originally posted by Lisa P

taking off until 2:30. This i mind-numbing

Yup, very slow; stopped moved to BE 1331.00
Market Profile
summary for the day. My first post showed how a
market profile
trader, following the common
MP
strategies, would have sold the
VAL
at 1333.25. That trade showed an immediate 1 point
draw down
followed by a best-case run up of 7.75 points followed by a 1.75 point
draw down
before moving into profit again for a subsequent best run-up of 7.5 points. This assumes that you held the trade from the initial short at the
VAL
through to the end of the day which is unlikely given the trigger happy nature of your average day trader
I hope that some are finding value in these
market profile
oriented posts. I'm trying to be as objective as possible. Feel free to call me out if I've miscalculated one of the figures or missed a classic
MP
trade etc.
Click image for original size