ES Wed 8-31-11
The following chart is from Tuesday's market action. No
single prints
created or hit. The
VAL
was almost a buy price but the market didn't quite hit it.
Click image for original size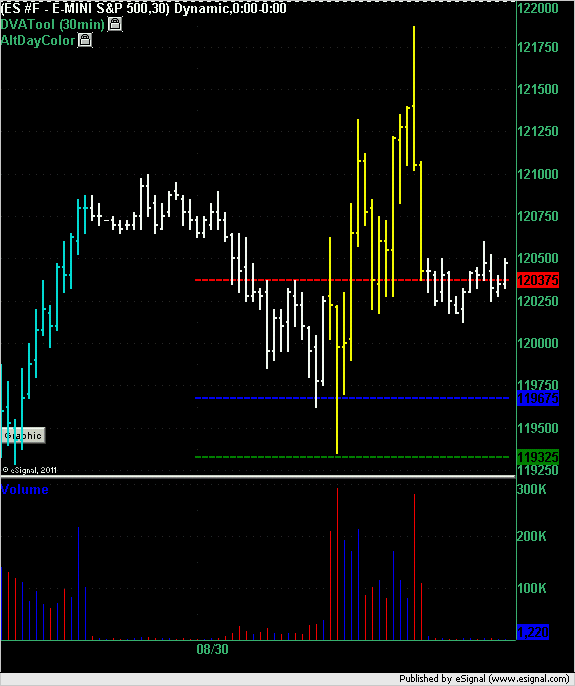 all 3 markets trying to bust out of yesterdays highs and may trap many shorts...what would you do if you sold that area and then the market came back to it...? U would buy to get out which would
add
to the buying pressure...so that is the obvious point to watch.....failure off those highs will target the
low volume
from
O/N
at the 1211.25 - 1212.50 area..... Lots will be trying to buy near here.
If we accept price above YD highs then the 1229 - 1230 becomes an area of interest for me.
Below the 1211 area is the 1206 area...
Good luck today..
starting my hunt for shorts above 1226 ...there is
low volume
at 1222.75...
maybe pre-report - traders lighten up. Thanks for the reminder Bruce, I lost track of time
around 1241 is a better short

1229 target hit-see Monday posts
can go to previous low at 1236 area(or higher to daily 50
sma
)
no sharp reaction yet
would use 1229 as pivot if exceeds
divergence
is negative here
Sorry, today fingers are faster than brain and I put up wrong chart. Here is the chart I wanted
Click image for original size