ES SRs and Fibs 11/15/11
Below is a 60 minutes charts with the S/Rs for night and day traders. Notice that the
ES
tested the 50% at 1244.50 and bounced back up. Above 1255.75 I will be buying and focusing on uptrend.
if, below 1251.25, I will be selling and focusing on down trend, with support at 1245.00 for a reversal.
The market has the last word and in due time will show us the real deal in dollars and cents.-.
Right now, next hours, next days, next weeks, next months and next years to come,
I
see for you
the same I see for my self:
Having the very best of luck, fun, awesome, incredibly profitable trading experience!!
Click image for original size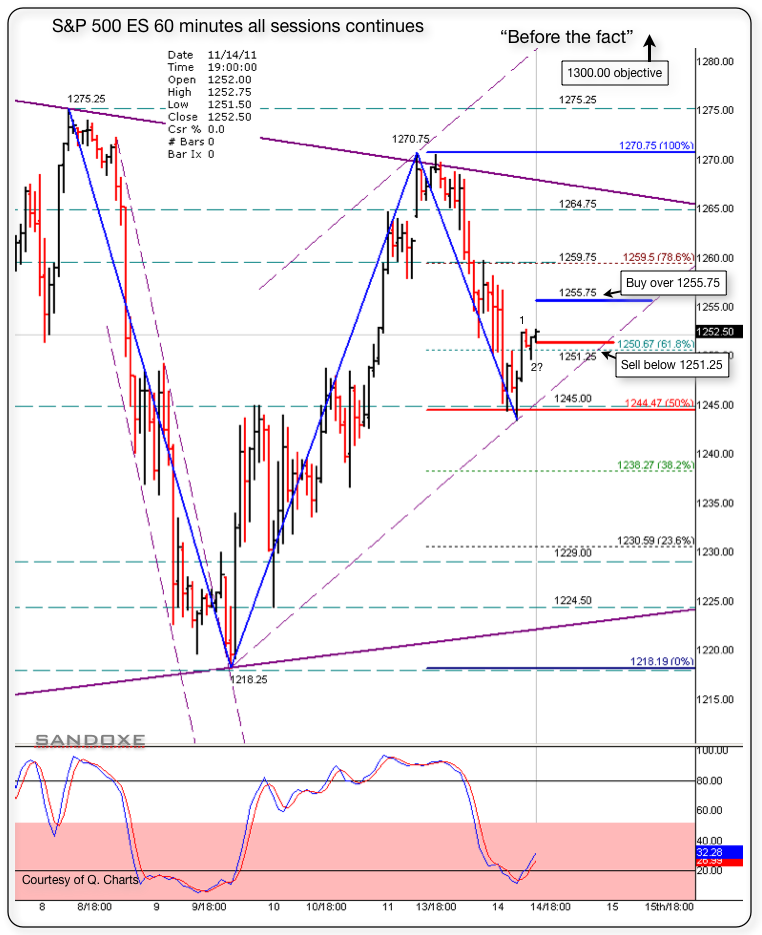 Originally posted by DavidS

I have an O/N low of 39.25 and matches Lorns in the other thread.
Is mine wrong?
When one has time. tia

I have 1234.00
I like the 55 line for higher if reaks and holds
Below 1248.25-1250 is weakness
Remember-sharp move up the only possibility I see for breaking 1283
For below I think 44 the main level to hold here

I don't trade news but realize lack of liquidity can affect movements
Lorn noted yesterday was lowest volume day of year.
Watch your back.
reboot fixed charts and thanks for the help!
44 the main level I'm noting below the 48.25-50 levels
a higher low above?? could be a wave 2 right here going up imo
gaps
below to 45 area I give
gaps
less cred in a triangle/congestion area
Originally posted by redsixspeed



Originally posted by redsixspeed

I am looking for 1253.50 up to 1257.25 to be a sell zone ... close above 1257.25 could be bullish ...



========================================================================
back to the sell zone ...

mid point will be key

...

can't run throught he possibilities here but 1250 the key level to hold above with a higher low that sticks
it can lift and retrace to it,
55 my key r level per prior post
58.50 a 62% level of smaller range
above that and 50 is strentgh and straight ramp possible
time groes short for a lift that will exceed 1283
I ran out of votes to vote you up :(
Originally posted by sandoxe

1242.25. beautiful call. post on 11/16/11 will ya! lol


Originally posted by redsixspeed



Originally posted by redsixspeed

below 1245.25 could mean lower .. holding so far



=====================================================================
I tried to get this up sooner .. had a time finding it .. anyway that 1245.25 is a key area for me .. new #s I have are at 44.00/42.25 but
45.25 is still key ..