ES SRs and Fibs 11/16/11
Below is a 60 minutes chart with the S/Rs for night and day traders.
Notice that we have the same set-up as the previous session. Above 1255.75 I will be buying and focusing on uptrend.
if, below 1251.25, I will be selling and focusing on down trend.
The market has the last word and in due time will show us the real deal in dollars and cents.-.
Right now, next hours, next days, next weeks, next months and next years to come,
I
see for you
the same I see for my self:
Having the very best of luck, fun, awesome, and incredibly profitable trading experience!!
Click image for original size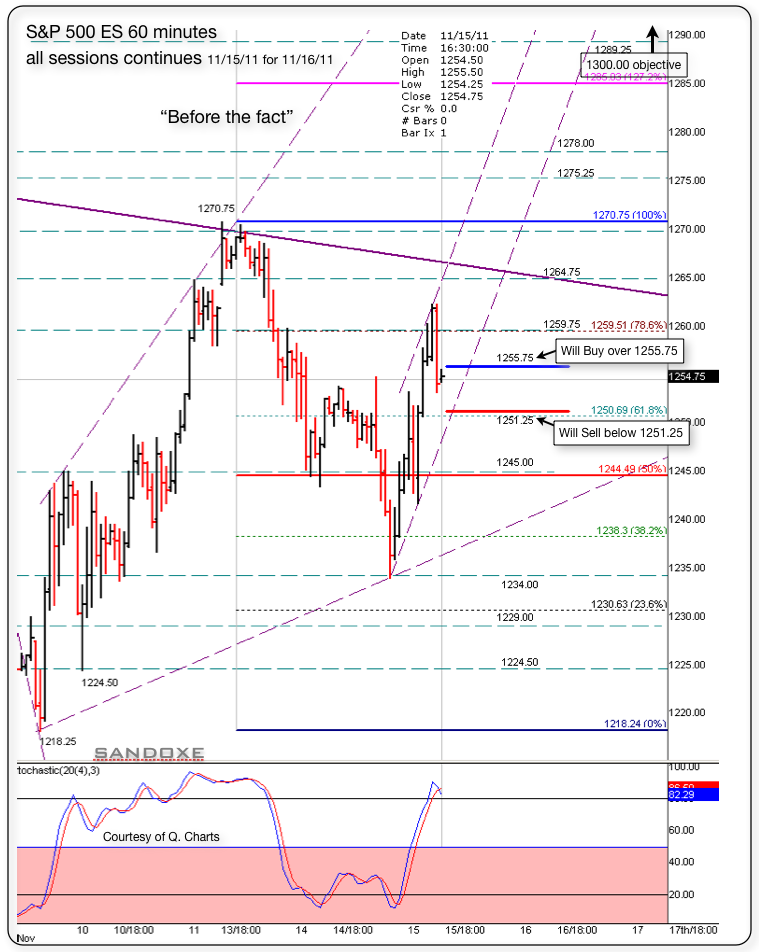 Originally posted by vasuki

us banks got downgraded by fitch

Thanks vasuki; do you have a link
TIA
Thank you guys and gals for taking your time to post your way of seeing . Some times one post can help me, or other readers, to see better or clearly what's taking place. I know it takes a lot of effort to post and trade.

So thank you again! I really appreciate your thoughts and way of seeing.
Originally posted by vasuki

yes actually got tweet from Geithner!!!!!!!!!!!!!!!!!!!!!!!!!

=======================================================================
factory said the banks were at serious risk, they missed reporting the downgrade some how ..