ES Wednesday 1-25-12
Not the main chart I'm trading from but it shows the levels good enough....this week has all the volume so far at the 08 - 1310.75 so I prefer to look for buys near or under 1305.50 and sells near or above 1313.50...
I'm assuming that this magnet will stay in place so the basic idea is to
fade
moves away from the center once volume dries up and ultimately target that center
Initiating right in the key magnet zone is higher risk and it is best to trade at the extremes
Reports at 10....
Click image for original size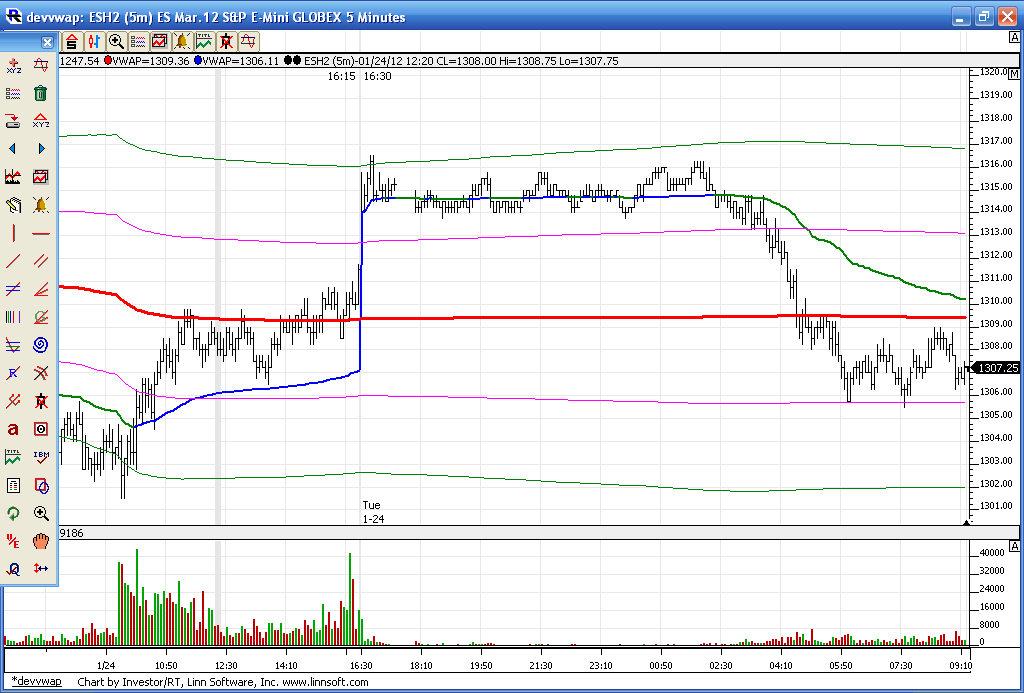 too close to report to initiate now...will look for sells above 1321 after the report hits
Hi Mike,
A few things to think about:
We shouldn't be concerned about what my mentor did or I did with the
pitbull
. I know you are wise enough to make it your own if it has value to you. Perhaps I should phrase the posts differently..With that said my mentor liked the "W" and "M" patterns on the 5 minute bars. So he used discretion and also did not always trade it mechanically. Some days he was more aggressive and qualified his aggressiveness with the size of the opening range from the big contract. I never understood this filter!
This was just some random guy on a forum so we need to keep in mind the source. The same way I am random to you and that is why I always encourage anyone to test the ideas for themselves. Now most days my mentor wanted to be done very quick to go work on his boat. Other days he stayed a bit longer ( M and W days)but I do not recall him being around past 11:30.....
So the
pitbull
as it stands now is my modification. My suggestion for most is to just track the 4 - 5.5 zone and the 8 - 10 point zone.....hope that helps
Originally posted by Big Mike



Originally posted by BruceM

my pitbull mentor would have bought 05.5 again as the window doesn't close until 11 a.m or we go 2.5 points above and below the open by 2.5 points

If you look at this as a "w" pattern then that push down from 07.50 was the thrid leg of the "w" so he would expect the next leg to be up....he'd be right today!!




Bruce,

I thought your mentor "ended" the pitbull window one hour in (9:30 CST), unless he had a trade already working?

Agreed Bruce, just wanted to make sure I hadn't missed anything along the way!