ES Wednesday 4-18-12
Is there a reason no one is posting?
I've been too busy with research and cleaning up the house for guests.
Bruce is on a mini vacation.
Take a look at this, the chart is rudimentary VP.
the
LVN
on the past 5 days look is 1377-1376 area and see if first test of that area produces anything in terms of buy patterns (like 1-2-3)
Yesterday was huge move so today should be digestion of the move.
I don't have time right now.
There are also
single prints
(
MP
) in that 1377 area, right now, price is filling another set of singles in the 80.50-79.00 area (I don't have the easiest to read
TPO
chart)
Click image for original size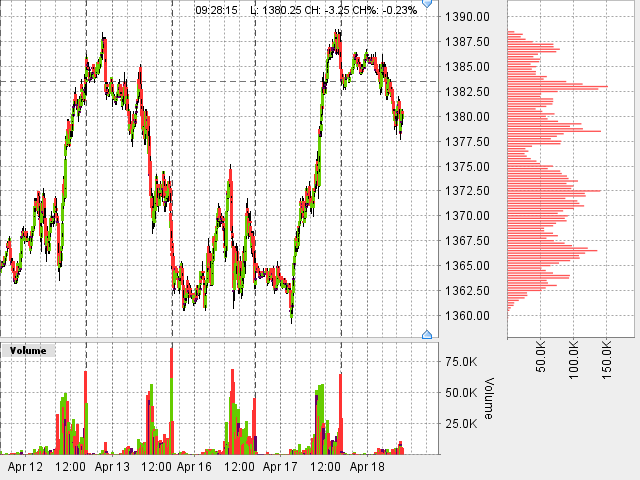 Thanks Paul, for taking the time.
ya know what?
After I posted that chart, I zoomed in on the
volume profile
to see where the smallest horizontal histogram was... 1377.75, exactly the low
tick
as of 8:50am.
I don't know whether Bruce is getting a chance to read mypivots today, but I am pretty sure that he often starts trading in the hour before the
RTH
open, and I think he would have been a buyer at the
LVN
.
ALSO BTW,
yesterday printed above the 618 extension of Monday's range and eventhough the window of time lasts until the close on the following Monday, once the 618 extension of Mondays range is printed, odds are on the order of 8 in 10 that a full extension of Monday's range will print (that means Monday's Range added to Monday's H
RTH
only).
full extension of Monday's Range = 1389.75
77.50 also 38.2 % ret yesterdays range
Great call Paul, looks like 1390 overnight high
Originally posted by TravelinTrader

Is there a reason no one is posting?

=========================================================================
idk why no one is posting, maybe take a survey to find out. The tools DT lets traders use are good stuff ... I use the daily notes and
mp
calculator most of all ..