ES Tuesday 8-20-13
Both
NYSE
and SPX had lower volume down days yesterday...here is
NYSE
chart
Click image for original size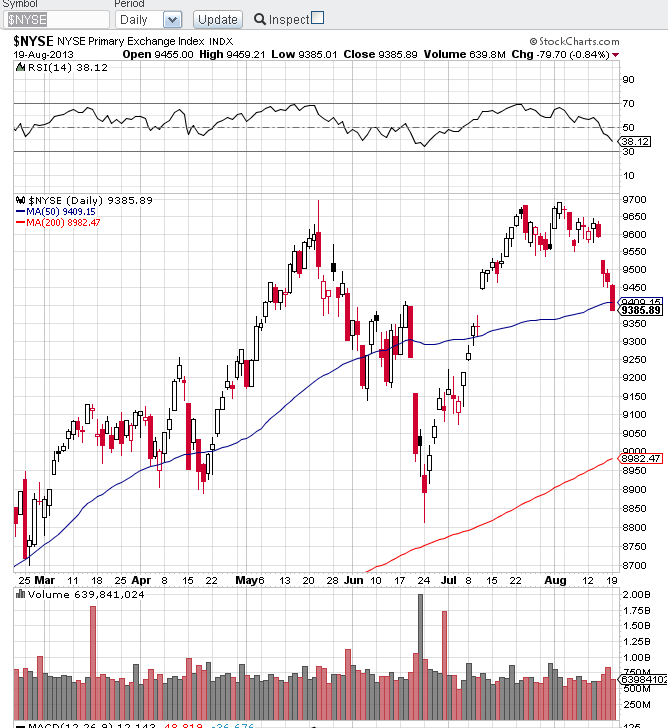 ...most times they don't just blow through to 50
ema
...without a reaction up so I'll go out on a limb and say that today we will put the low in first and the high later in the day..unlike Mondays session
1646.25 is my magnet price today is the
ES
and I am hoping that will be the half
gap
fill but we are 25 minutes away from the opening so I can't calculate that yet...
1644 - 1646 is my first zone if we open above there...I am hoping we open above there.....next good zone below is 38 - 41 for possible support.....
other areas I am using are 48.50 ...50.50 and 53.25...best sells will come with a push into the 50.50 or the 53.25 and we will need to be more aggressive if we just go up to tag the 48.25 and roll over back to the
magnet at 46.25
.....
gap
players will want to try to get to the 44.50 close so I'd like to be out ahead of that
For me the only GOOD buy points come off ideally in the 38 - 41 range...
some will be trying to buy in the 44 - 46 area with a higher open but I prefer to use that as a magnet zone.....
here is how my chart looks as we approach the open...hoping for early sells but expecting an up close today !!
Click image for original size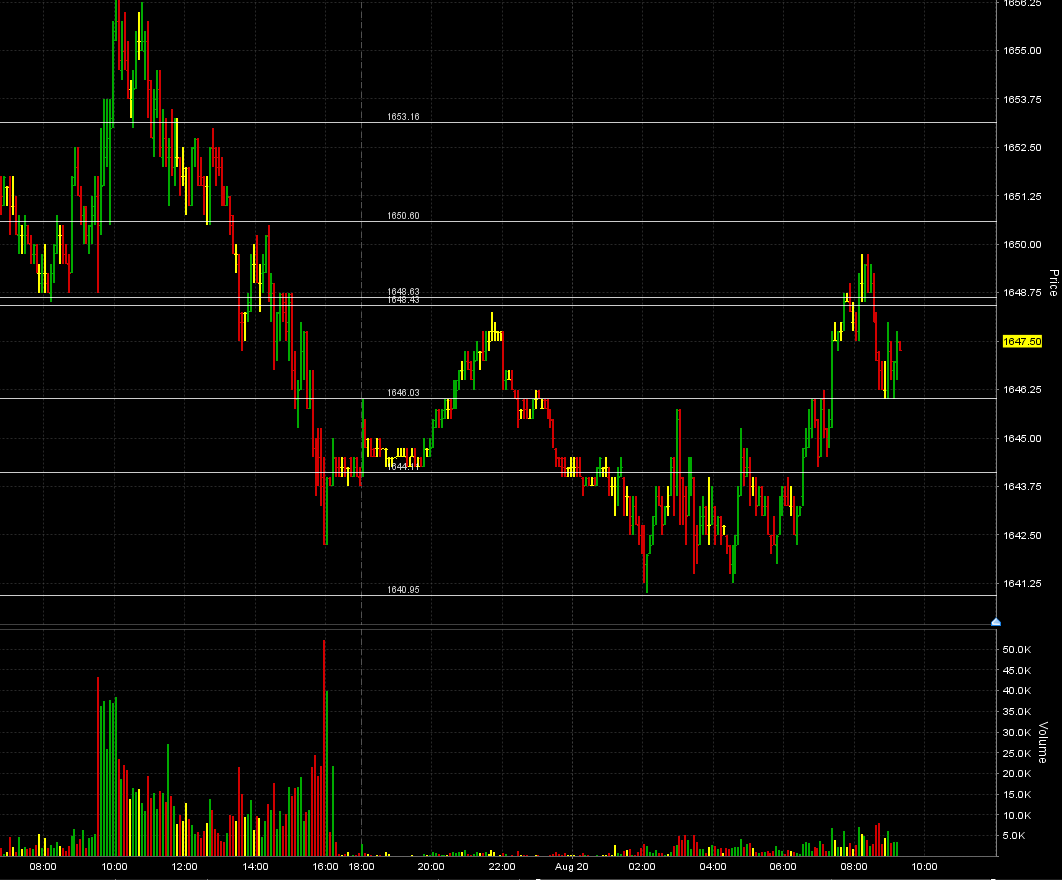 I think the key today for those who are sticking around and trading later in the day will be to see if we can get above that 1650.50 and have that turn into support...if I was in playing later I'd want that to happen to have more confidence that the low to high day is going to happen and we close higher today...
ideally above the 50
ema
of the spx and the
nyse
looks like we are setting up to open right at the magnet....was hoping that wouldn't happen....
aggressive longs will be at 44 and aggressive sells at 48.25...for the magnet target...
trying a long under the 44 and under the 41 if the 44 fails...
that open print is goofing with my head and in the way of my magnet
if we come back and make new lows at 43 then this trade is a failure....it may also be the reverse of yesterday and they may run for yesterdays
RTH
low once us faders sell to cover at that double low on the one minute....
I had to take something off at 45.50...now that i see
gaps
in the data..
gap
just filled as I type.....the only good thing is if we get stopped at new lows it will be a break even campaign...
will come all out at 46.25 if they give us it..we can now see all those stops above 45.75....
that's it for me....DONE and glad to be done ...that just SUCKED and the trading ,although profitable was TERRIBLE...just CRAPPY
price action
and volume....dismal....
.damn..I need a better vocabulary and more adjectives.
that's it for me....GOOD LUCK IF YOU ARE PLAYING
HERE IS A BETTER SCREEN CAPTURE OF WHY 44 WAS
O/N
MY
RADAR...TYPICAL
PRICE ACTION
///BUT LOOK
AT
THE LEFT SIDE OF THE CHART..
oopps ..sorry for screaming
Click image for original size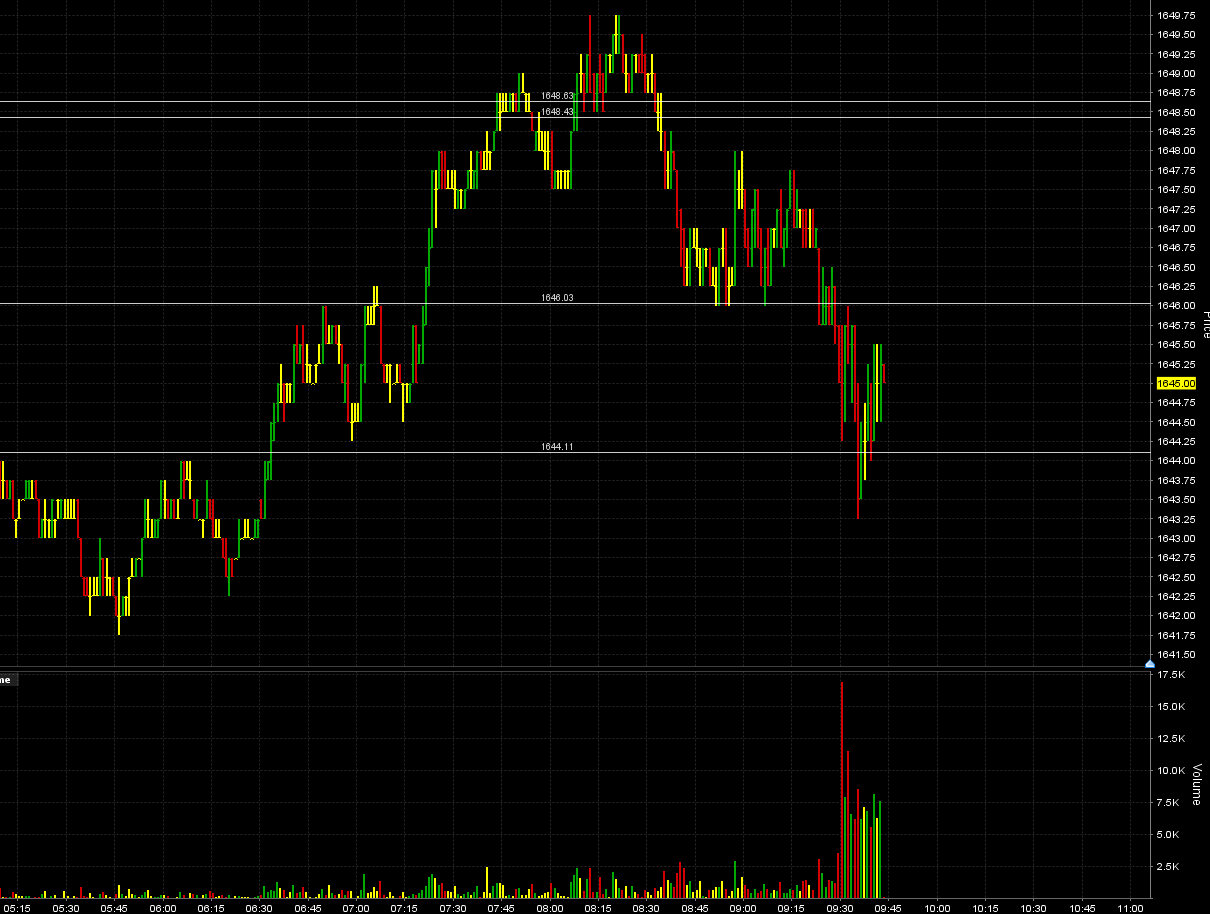 Bruce,
Your early morning numbers worked out as you called it. Nice call
two sets of singles still sit on the chart and one of those is the
IB
high.....! It seems that nobody wants to see that 53 give way...
very interesting.....just observing ..it will be fun to see if the high probability of filling in the
IB
high actually trades back to it still
either way 49-50 needs to go on the radar
49.25 would have to print by the 4:15 close in order to have the
IB
test probability filled.....it will be interesting becasue we had 50.50 as a key number earlier today......lets see who has more power !!