ES Monday 11-18-13
rth
chart; only level i adde is the current
o/n
high at 98.25
pivots worth mentioning above are 1800-1801.5 and then 805 and 807-808 area...808.25 is a measured ab-
cd
move target as well (754.25-785.25, 777.25-808.25)
good luck today
Click image for original size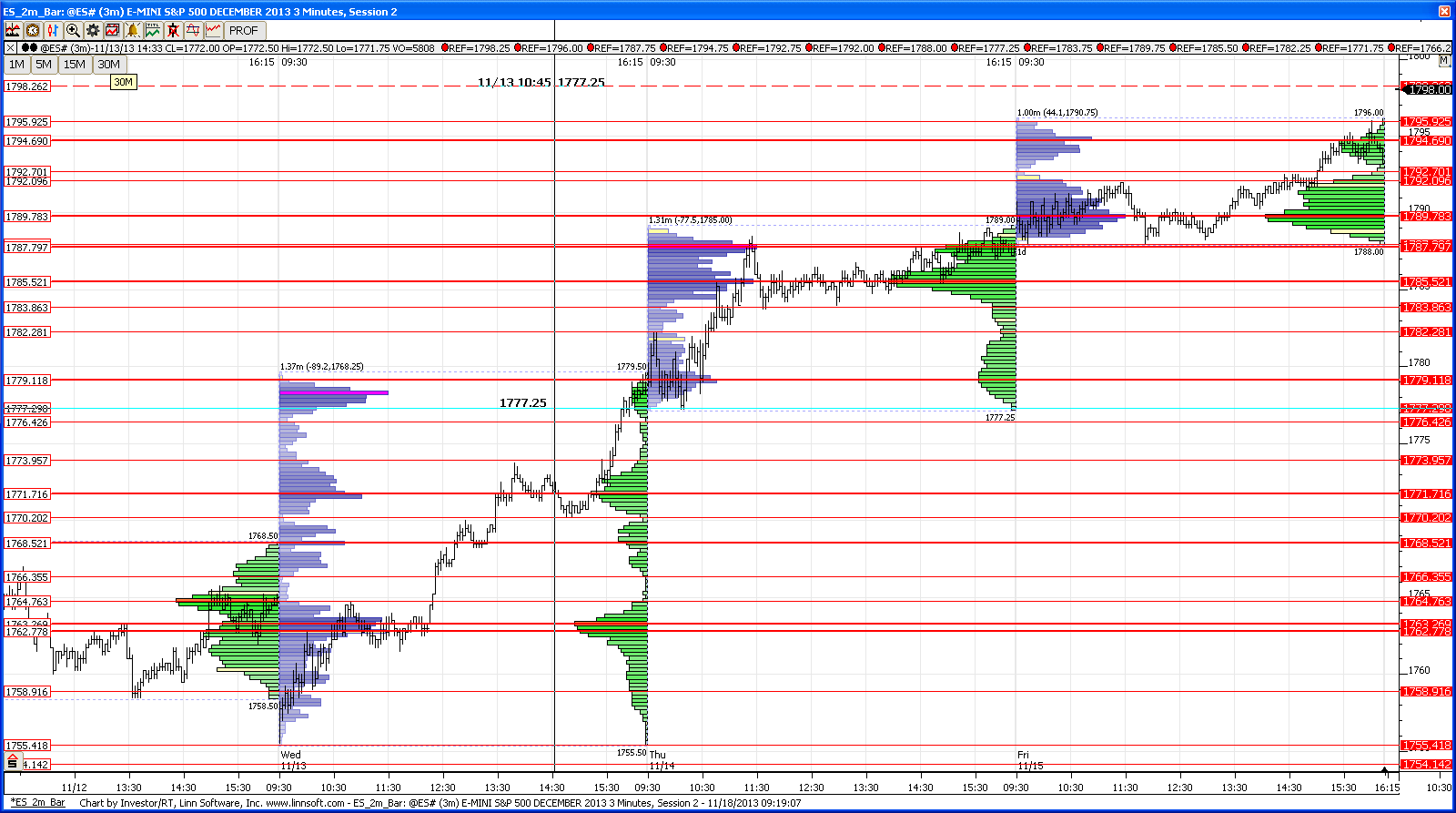 Actually, i believe much higher prices could be in store the next month or so, but a good 11 handle decline would be healthy for the market.
Icame into today looking for a decline to 1785 or so, but certainly that looks like a stretch. 91.50 might provide a bounce, but i think i will just watch.
i will buy 1785.50...wow! (if it even gets there... we already have a 13 handle decline..
all what i am gonna write is in hindsight so take fwiw, but this is how i saw the day today,...hope it helps though
so today was a tricky day and imo there were only 1-2 clear setups...the short after the open from that 800-801.5 pivot area was a tough one since those areas are not hard resistance areas and stop placement becomes an issue, at least for me...after the rejection 94.5-96 came into, but i would have liked that trade if it had happened right after the open so we could use that 800-801.5 pivot area as a target zone....internals were poor and
tick
was mixed, so even if u took the long at 96 once we dipped below it (which was also last week's high) it was evident that the next target what the
low volume
zone/breakout are from friday down at 92-92.75...this also happened to be top of the range during most of the overnight
price action
...so buyers from friday and the overnight period defende that top of the lower curve from friday and pushed it back to the 96 area which was a natural target for those longs...runners could have aimed for new highs but did not get there as we consolidated in a 94.5-98.5 range for most of the day...the downward break of that range was a bit unexpected but put that 88-89.75 into play...92-92.75 had already been tested so it did not opse too much trouble for sellers and all those that were caught long during day...given the time of the day, the bottom of that 88-89.75 area was a bit more appealing since we also had poor lows from friday parked there...that long did not go well of course...u have to understand that if u r taking 88 u r basically buying the bottom of friday's lower bell curve so by definition that is a lower odds play, but since u could use a 1.5 pt stop and target potentially the
ib
low, the reward to risk was definitely appealing (2.5:1 reward to risk)....now if u look carefully at the chart i posted this morning and especially at thurs 11/14 u can see a big volume area going from 85.5 up to 88; in fact 85.5 was the
poc
of time and that was another shot for longs, aiming now first for 88-89.75 area and possibly
ib
low...the market ended up closing in that area so the whole position could have been unwound there for a 3-3.5 pt profit, at elast making up for the prior loss and some more...a stop below 84 would have been enough for that trade and if that had been taken we would have probably gone down to the 82 area, another decent spot for long (looking for 85.5) if time had permitted
Originally posted by NickP

rth chart; only level i adde is the current o/n high at 98.25

pivots worth mentioning above are 1800-1801.5 and then 805 and 807-808 area...808.25 is a measured ab-cd move target as well (754.25-785.25, 777.25-808.25)

good luck today




Click image for original size