ES Wednesday 11/20/2013
Good morning. possible important day today. Fed min will have an impact at 2:00 est, so watch out for that. First the big picture remains the same. A move to 1773 would not do any real damage on the daily chart. (refer to yesterdays first post for the chart).As one who believes higher prices are in store between now and the end of the year, i guess im a bull , but short term ive been negative mon and tues. Last nite
globex
tested the 1782 low again and we are currently in a nice bounce off of it. Note the avgs have remained in negative posture most of the decline. It wont take a lot to turn them positive as you can see. Trading above 1787.50 for several hourly closes could do it.
Click image for original size
We are certainly in the time frame for this correction to end.. strong seasonals for the next few days after today that is. notice on the average of all days in the month, the timeframe could be right.
Click image for original size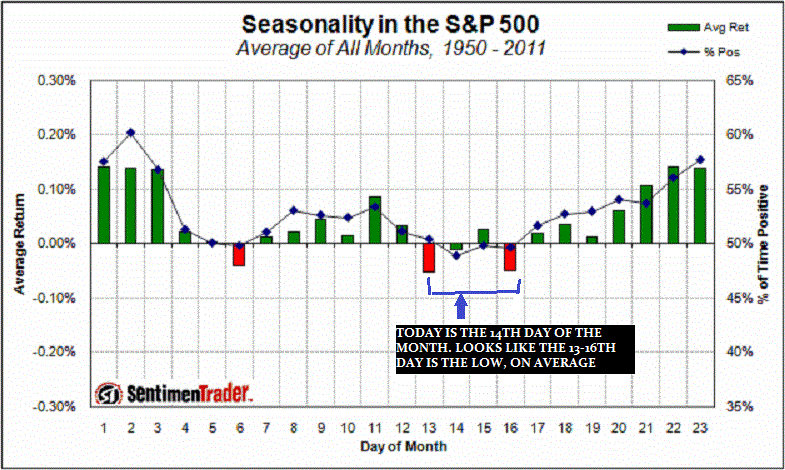 And the November seasonal hint toward today, the 14th day of the month.
Click image for original size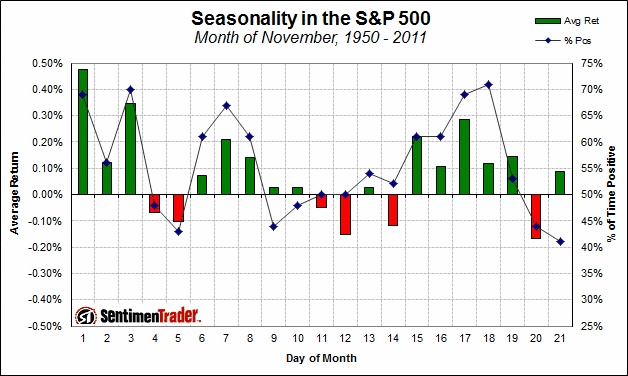 This is why im hopeful that either a low is in at 1782 or a short distance lower soon.
Originally posted by rburns

Ackwired 1782.5 next is 1774.25
Nice trading Kool

Great Call on the 1774.25 support level rburns !
two nice bounces off the zones i mentioned below 82...not to mention 84.5-86 was a nice long in the morning and 94.5-96 was basically reached as well
they don't always do, but u have to enjoy it when things go as planned
Originally posted by NickP

hope at least somebody was paying attention...today they stuck to the script 100% !



Originally posted by NickP

here's what i have...pretty convoluted...i would still expect this market to test the 94.5-96 area at some point

84.5-86 below and below 82 i have 78-79, 74-76

good luck