ES Tuesday 1-28-14
static chart and video of the areas I am hoping to use today...I think the best sells will come if we can push out that post 8:30 report high into the 84.75 area.....best buys will come into the 75.50 - 78 zone but all this depends on where we open.......I will just be watching where we open to decide which zone to use.......82 is also an important area so if we get a signal in one of our zones then use the other zone as a first target....
so sells off the 84.75 should target the 82.......buys off the 75.50 - 78 could also target the 82 but remember Es likes to swing only 2.5 - 3 points before a reaction sets in..so If your buys came in at 75.50 then using 82 as a first target is aggressive because that exceeds the 2.5 - 3 point swing threshold...so expecting 82 as a first target would not be wise.
we can also use the 82...if we open above and drop down we can try buys to target the 84.75.......or the reverse...if we open lower and trade up to 82 we could try sells to see if we can get back under 79.50
Click image for original size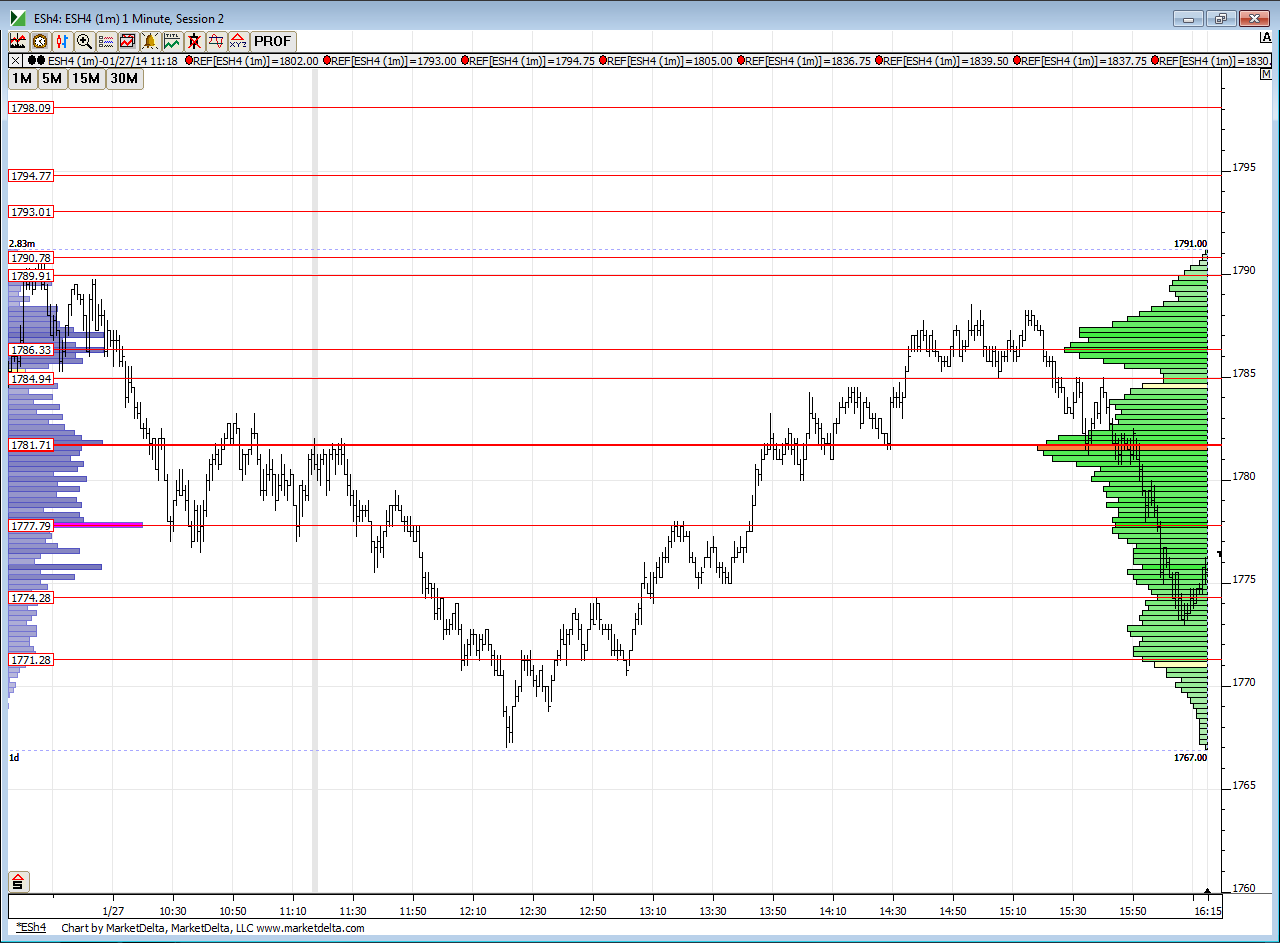 due to those swing lows/highs in the current overnight I am not planning on doing anything until we trade under 75.50 or above 81.50 in the day session...look at those post 8.30 report swings.....in general it is safer as a fader to wait until one of those is taken out before trying a trade.
we have a
low volume
spot at 74 which would be a possible ideal spot to try the long trade....I think a good general plan will be to use the 76.75 - 77.75 area as a magnet....lots of numbers in our way today...and we will be opening inside the
value area
from yesterday....
looks like the 81-82 is our area to look at first today...
I think that was a minor reaction at our 84 - 85 and expect a retest...
VA high
is 88 and we know yesterdays highs fell at our
LVN
90 - 91...so I'm taking shorts for 85 retest....
my point is when they blow through a zone they often come back to test it....so blowing through 85 leads me to think they may come back down to test it from above
85.25 would be 3 points off the high so a logical place to exit instead of waiting for 85 exactly
if not stopped out a new highs my measly runners are gonna try to get 83.50...that is a developing
LVN
today but also gets us out in front of that 81 - 82 spot..
note how buyers entered and used that 81-82 as support to push it up to the 88....we don't want that to happen with the 84 - 85 line.....otherwise they will try to push it up to our 90 - 91 lines....best sell was the first sell off the 81.50....... I didn't take the long off the opening as I like to see price travel a bit before entering and I don't like when we open right at a zone....I took one loss at the first touch to the 84 - 85 zone that went nowhere but made up for that on the
VA high
sell....juts an FYI
this is last campaign of the day for me....so a good day as 2 out of 3 trade ideas worked........lines are working well ......for those following, note how the failure at lines has price come back for retests...something to look at when you are analyzing your own work..
just went flat at
LVN
of 83.50..hope all have a good day from here....
I don't want anyone to think that just because I post these lines , it doesn't mean I have forgotten about where the classic
market profile
players will be playing from too...and quite often they match up...like todays
POC
is one of our line zones, today VOlume
VA high
was at our 84 - 85 zone....etc.....
just didn't want anyone to think I have abandoned the classic stuff
Good work Bruce. Thanks for chart and video