ES Wednesday 1-29-14
you are quite welcome..and welcome to the forum....I wanted to supply the forum with this update to show the poor highs between today's current session and yesterdays highs......we are due a fed announcement in a few hours but look at the
triple
highs today - E, F and G period and the highs in E and P period from yesterday.....if you are aggressive and think you can get a long trade going then those are logical and very visual targets for the market to try and push for......
We know the fed reactions can be violent so I am not suggesting anything specific.....it might even be best to try a shorter term call option to limit your risk here...
this picture of the profile shows those highs I am talking about...I plan on putting on a short term weekly call option now as a "gamble" trade......note the key word as I have no idea what the announcement will bring.....
Click image for original size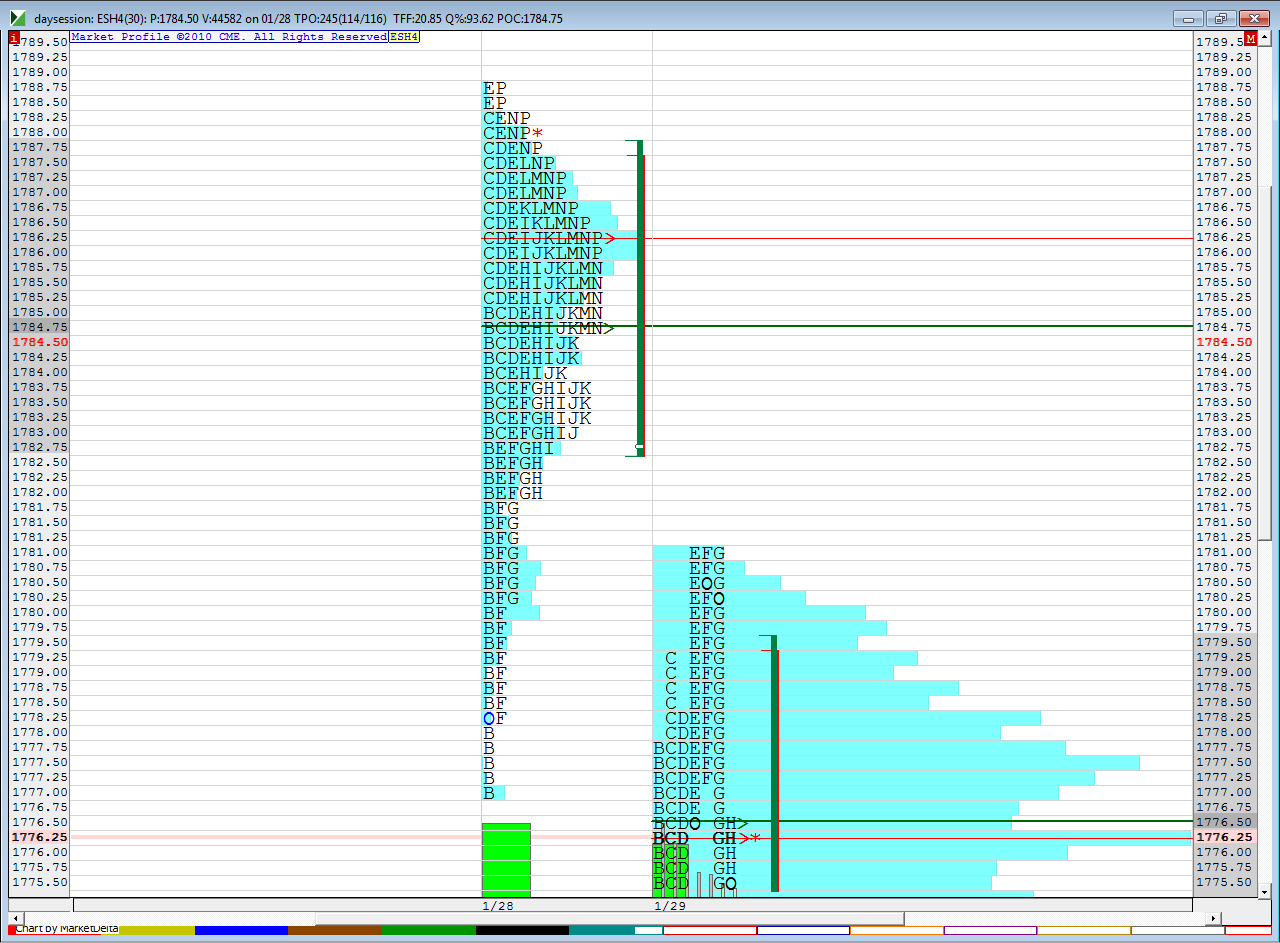 unfortunately our 63.50 - 65.50 zone stole it so far Duck...perhaps it will drop at the end of the day...I bought calls when price was at 72 and as they peaked under the lows at 66...that was
VA low
and
single print
from 12-18 and part of the reason I made that zone down there...unfortunately this trade isn't working out too well and I plan to close it out if we dip back down under 68 before days end...otherwise I am hoping for a rally to go get yesterdays highs but this 77 - 78 is a real pain ...it was worth a try but I would have been better just getting long at that lower zone with Es contracts
spoke too soon....just took a small loss on options....c ya tomorrow....another of the many reasons I don't like trading outside the first 90 minutes......I just can't read the market well !!
Interesting Bruce I was just looking at
SPY
feb 7 178 calls very active and moves. Which were u looking at?
still have my 62.50 buy working

Rburns - I was only looking at the weekly options that expire this friday......was hoping to get that swift move up as a substitute for a day trade after that fed announcement due to the increased volatility