ES Monday 8-25-14
sure wish there was more to write about but these are the levels as I see them....not marked on the chart is Fridays double 30 minute high.....and we saw buyers enter early Friday so I expect us to make new highs this week even if the other markets are diverging....ledge at 85 - 86 is first real support with 82.50 and 78.50 as a bigger area to watch as we move forward...since we are at new highs it's best to use standard daily pivots for further upside numbers...
from the Overnight besides the obvious Highs and lows I would watch 94.75 for sell area if we open under there in
RTH
( we have rallied in the
O/N
as I am typing) ...hitting the current
O/N
high would throw the cash market very close to the 2000 even number...so these are my two main sell areas now that I see we are above last weeks highs...then watch 91.75 - 92.25 and 89 - 90..25 as two possible points us bears will have to deal with on a first test down to it in
RTH
this morning......
If we had opened in last weeks range I would have looked to be a buyer but since that doesn't look like it will happen I will be a seller in the 94.75 and 97 area...watch that cash closely today ( the spx)
here is a rough chart
Click image for original size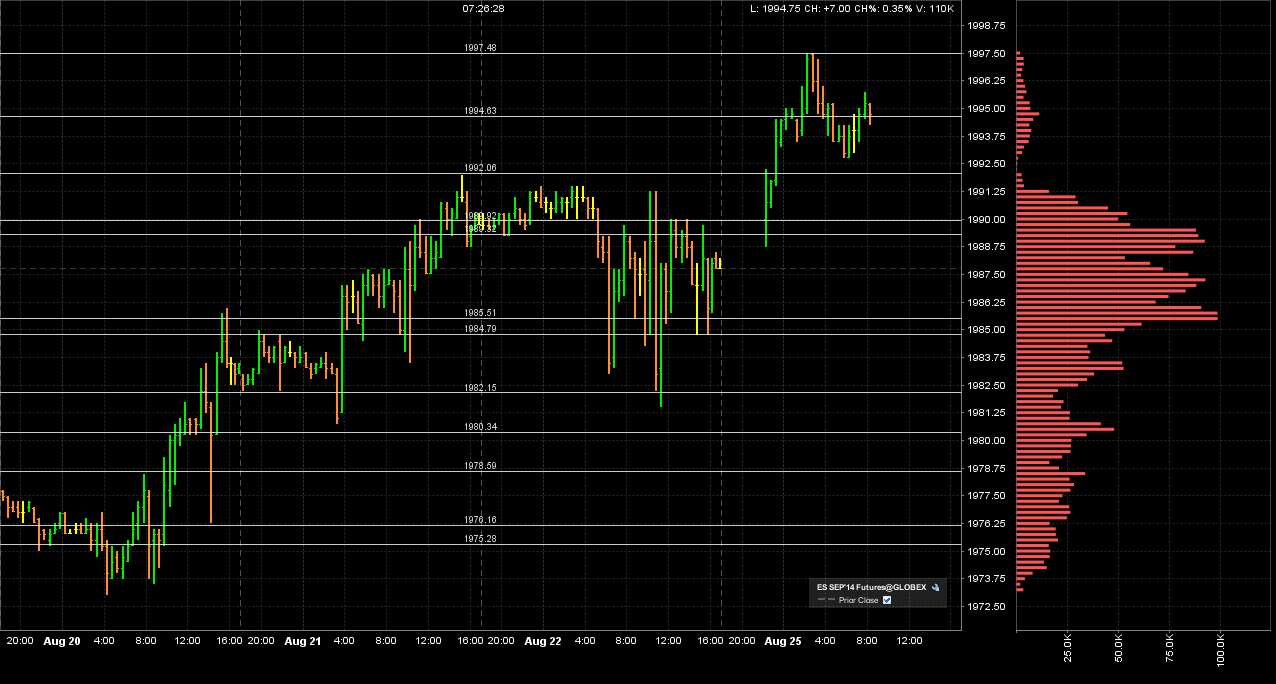 one last thing ...my options work that I am goofing with says there is only a 10% chance that we will go 47.5 points above or below the cash close of last thursday....
Bruce,
Thanks for your comments. they really help me with a perspective.

you mentioned the options work, and that only a 10% chance to go 47.50 points above or below the cash close of last Thursday,

but over what time period?
a day, a week, a month? our lifetime. the lifetime of the universe... the reign of the dinosaurs (160million years)... I'd bet big time that over the next 160 million years we can manage to print more than 47.5 points away from the cash close on Thursday... But I have real doubts that I'm going to live that long.

I have to cut my comments short right now, there are two men in white coats carrying a straight jacket at my front door.


sorry Paul....by this fridays close....
gonna take some small additional shorts if I see a 30 minute close under 1998.........
cash high is 2001.95 so far today.....so that spx 2000 is critical up here today
remember the 94.75 if on this short...best to come out heavy there and hope for more with runners only
Thanks, Bruce,'
great trading once again.
was 94.75 important to you because it was the overnight
VPOC
I didn't bring up traditional
MP
chart today but I did see volume there when I was marking up my chart ( the one I posted) this morning.....so yes ...it was an area that attracted big volume for some reason
you can see that little bump at that level on the chart above