ES Tuesday 11-18-14
We hit the 415pm lower band yesterday in
RTH
and both 4 and 415pm bands in ETH
Click image for original size

does anyone out there look at
cumulative delta
? I am looking at 3 minute bars and I am seeing lots and lots of hitting the bid...while the market is going higher... This early in the day that can be smart money loading long for a small push higher (2 or 3 pt higher higher to screw all the shorts before pulling the rug.
anyone seeing the same thing in a
cumulative delta
bars?
left a
lvn
at the breakout from 43 and high volume now at 44.50...here is how my weekly looks as I wait on this.....battling upper zone now.....everyone tryingto see if the breakout is real ahead of fed minute tomorrow
Click image for original size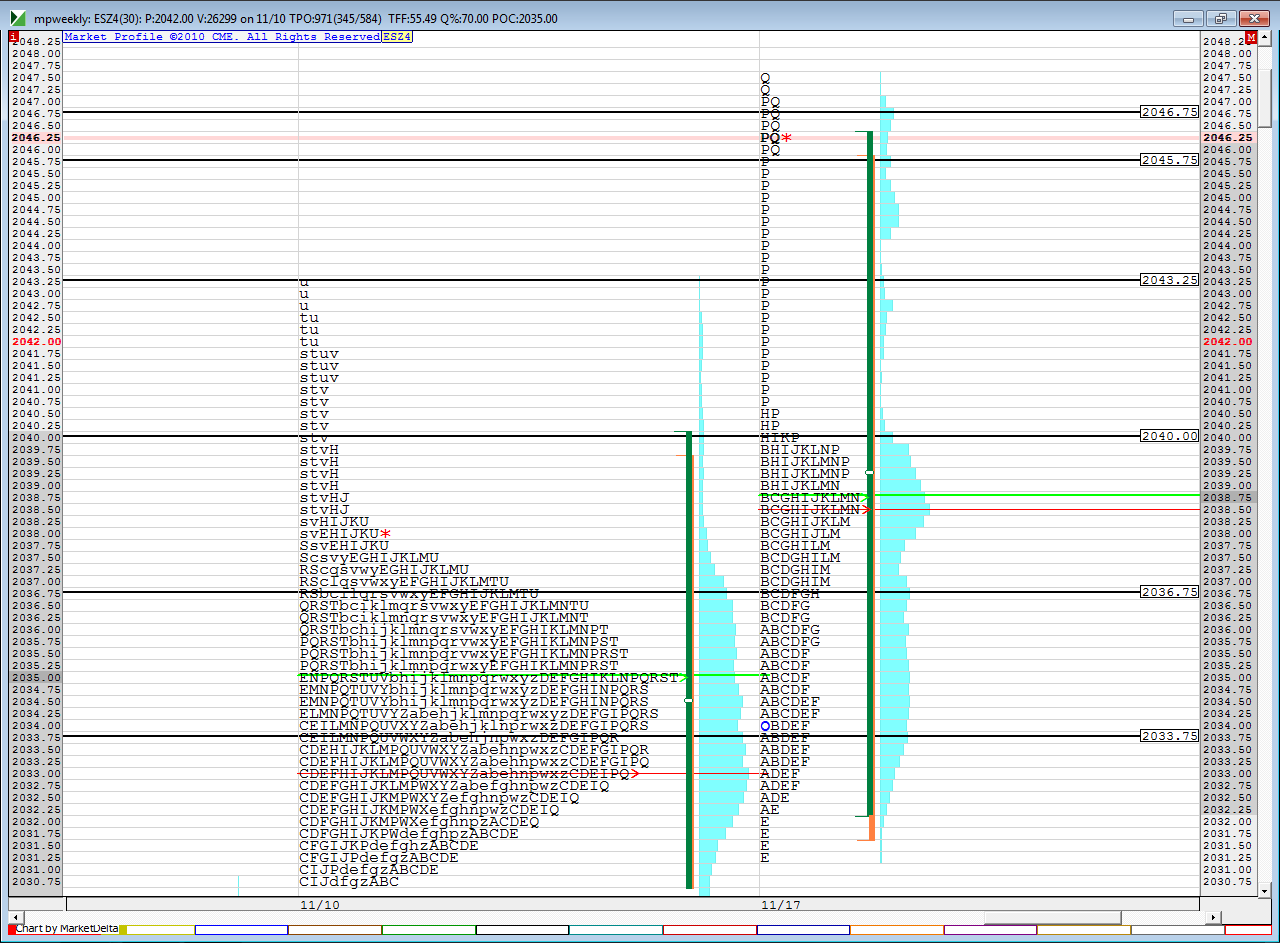 average price for me is now 47.25...but don't have a great feel on this...targeting 45.50 first if lucky
I think you nailed it Paul but waiting to see a stronger
divergence
in the
Delta
apk...u commented on the 32 level last week and mentioned 50% of all session chart...I never thanked u for that input...so thanks..!!
Are you still seeing red
cum delta
?
I'm not sure about any more upside they tried but it didn't go, when these things fail to jump 2 or 3 points and then head lower... all the people willing to buy those people hitting the bid can bail...
so fgar, this is not really following the pattern for a pop and drop unless that push to 48 was it... This, now is unfamiliar to me...
sharks are you still seeing predominantly hitting the bid in the
CD
?
alladin...I think I may speak for some in my request that you expand on your entry and reasoning for open drives...especially on days that they work...I know some will use first one minute high/low but I'm curious as to how you are doing it because you are always on the lookout but never post a trade as it happens....and that is ok...I am not critical of that in any way......it's just that you will eventually get them to work...so I am interested in how you are doing it and I know you are a fan of Dalton...these open and drives look great....that is until they mean revert and the breakout fails.....
when u have time...no rush....I think it would be nice to hear about and a refreshing break from the
fade
ideas....
An example of an
open drive
that failed was on Friday 11/13/2014:
Click image for original size