ES Monday 2-9-15
here is a pic...look to left of the line I drew in....at 2045....this is from cme site...u can see
gap
in data
Click image for original size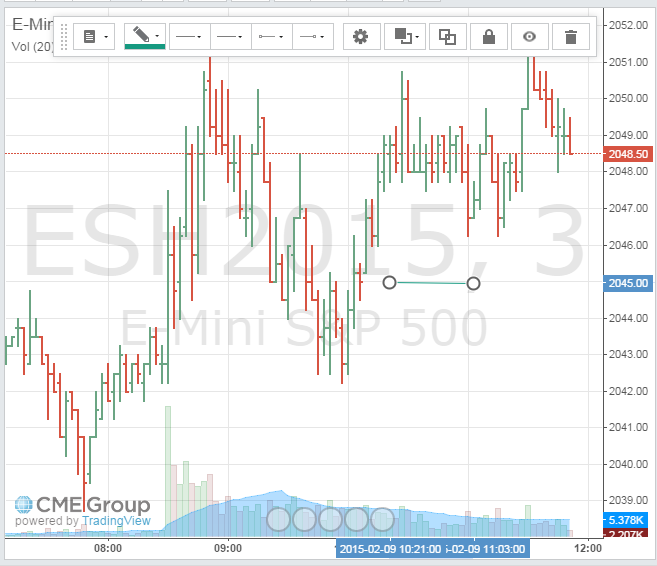 us sellers still have a chance for that 39 but concern is the obvious and that is that we now need to break away from the magnetic pull of the 47 LTN spot......47 - 48.25 is magnet spot for those trying to buy these breaks....trade on both sides of the
ib
often sees multiple returns to the middle
gheesh...what is everyone snowbound today...? how's the little one new kid...? no rush...u can let us know in the a.m....I hope health has returned to your home..
hey Bruce, she is getting better. she got the flu and ear infections in both ears so miserable as heck. which translates to me and the wife being miserable as well. getting through it.

i see that they finally did manage to take out the lows. it was a grind all day but as time had passed without the high being taken out, the odds of the low being taken out were increasing.

hope folks made out ok with trading. i am still on the sidelines with all the craziness around
sorry Bruce...I'm too new and dumb to
add
anything of value...hope all gets better soon new kid
never say that. i too thought that way but the only way to get better is to present your thoughts or ask questions.
if someone thinks you are misguided, they will ask you and try to correct you, resulting in you learning something new or they will confirm your hypothesis, which will also be a learning experience.
either way, you come out ahead.
that is what i continue to do everyday and it has been a good learning experience
Originally posted by pants

sorry Bruce...I'm too new and dumb to add anything of value...hope all gets better soon new kid