ES Monday 2-9-15
Greenies on the radar:
76.75
66/64
59.5
40
37/35 ------ This one is from 2/4 earlier in the day and it was restested later in the day so I am not sure about this one
31.5/30.5
Special attention to the
gap
that was created by the
gap
up on 2/5
On Friday, the value was overlapping to higher compared to Thursday as well as it continued
one time framing
higher on the daily chart but the market failed to hold above the critical 61.25 level.
Today my focus will be to see if we can challenge 61.25 again by getting into Friday's
VA
or do we go for the prominent
POC
of 2/4 @ 39.25 which is 11 TPOs wide. If we do get that
POC
then we would have stopped
one time framing
higher on the daily, and the rally to ATHs would have at least paused.
If we get 39.25, then next I will start focusing on whether we can close the
gap
from 2/3 or get close to it. That
gap
is rather far away right now and there are several hurdles on the way there so we shall see.
On the other side, if we do manage to get 61.25 and take out Friday's highs, then we got other greenies and ATH in sight so that will be the focus on the upside.
We shall see how the
O/N
plays out and firm up the gameplan in the
AM
before open.
Good luck to all.
here's how I have i...lots of lines but most are 3 points or more apart....Greenie magnets for me are 2066, 2039 and 2029...the overnight has confirmed the 47 number , the 42.50 and the 39....so those are the most important lines to work from so far.....as I type the On midpoint sits at Fridays lows so even though it isn't snapped on my chart it becomes an important target area........it seems since the 2066 is so far away then it would be easier to target the 2039 in
RTH
..we need to just use the lines and signals.....if you found a good short from example off the 42.50 or the 47 then perhaps trying to target the 39 would make sense.....or if we open below the 39 then that would make a good magnet unless u really thought they were going to go for the greenies at 29...
Click image for original size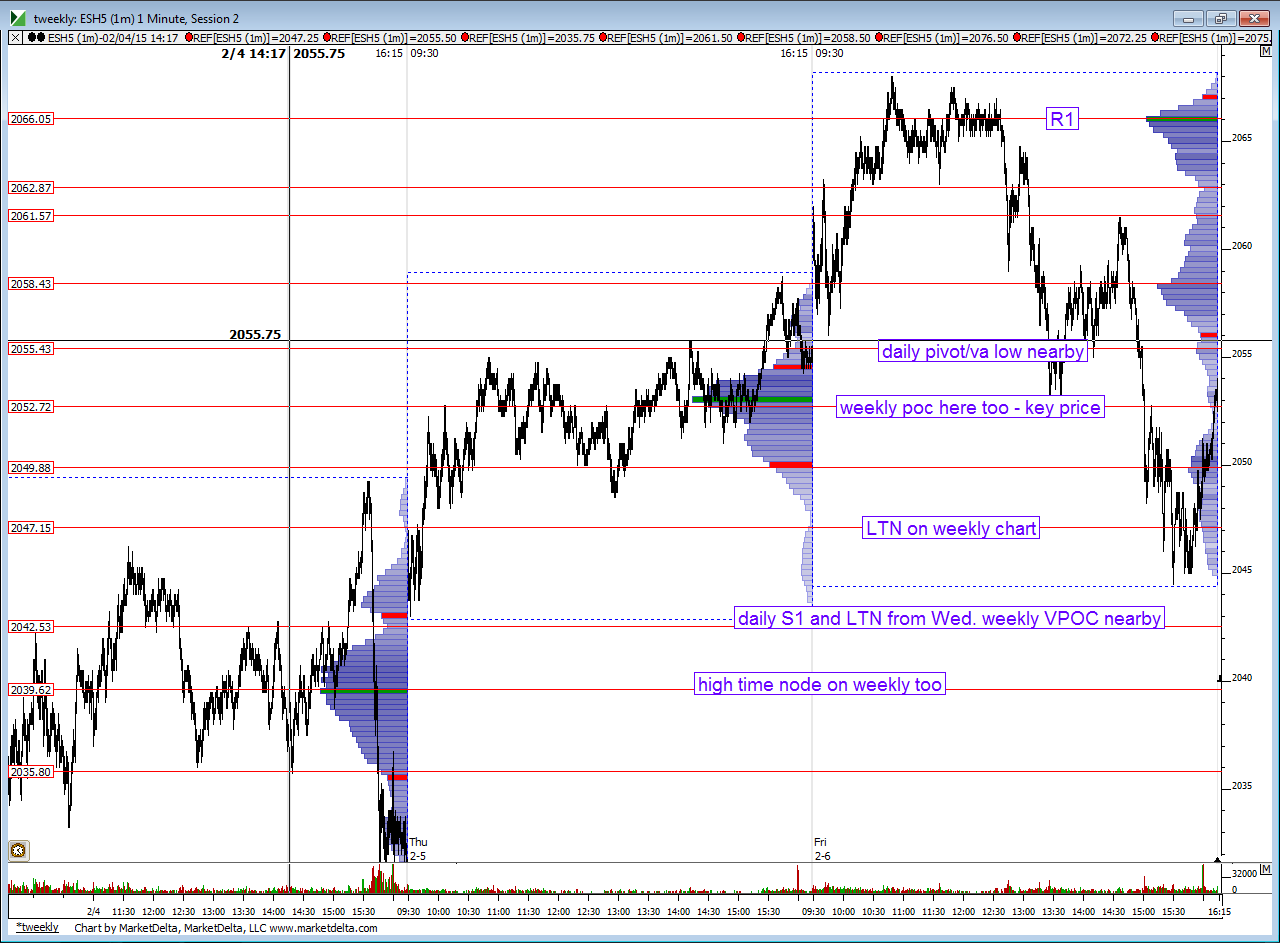 and here are key lines off the upper part of weekly chart......LTN and weekly pivot sits at 2031.50
Click image for original size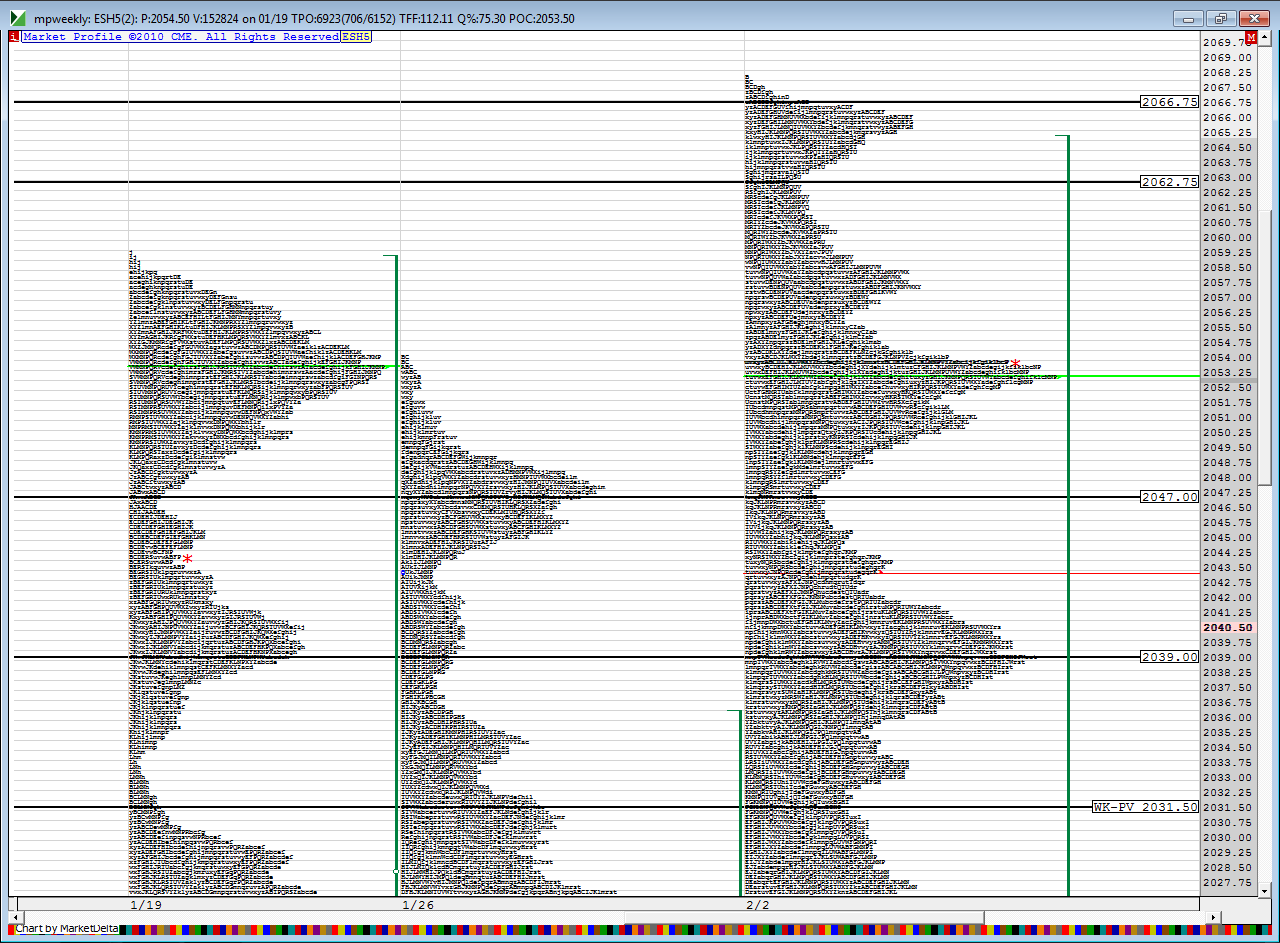 The
O/N
inventory is almost completely short with the current
O/N
low sitting right near 2/4's 11-wide
POC
that was mentioned earlier. As Bruce noted, currently the
O/N
midpt sits at Friday's low so that could be in play this morning
current plan for me is to get longs now for current On midpoint and last fridays lows ..off the 39 - 40 .....the big challenge with this trade is when we open in
RTH
I know they will eventually go for one greenie at least today and it seems like it will be the 39 .......so a bit of a conflict between the
O/N
mipoint and the greenie...it would be nice to tag the low of friday now or soon in On before we open in
RTH
if you bring up your
Mp
chart you will notice that our 42.50 line goes well with Thursdays low which was the
VA high
of wednesday !! u can see red hash mark on my chart above on wednesdays profile....so watch this line...just because midpoint is above u wouldn't wantto be too much of a pig unless u had runners and don't care if we drop back down again in
O/N
before
RTH
opens...
here is a chart for those without
MP
...look at "B" period low from 2- 5 and how well it rejected up and away from 2-4 's
VA high
Click image for original size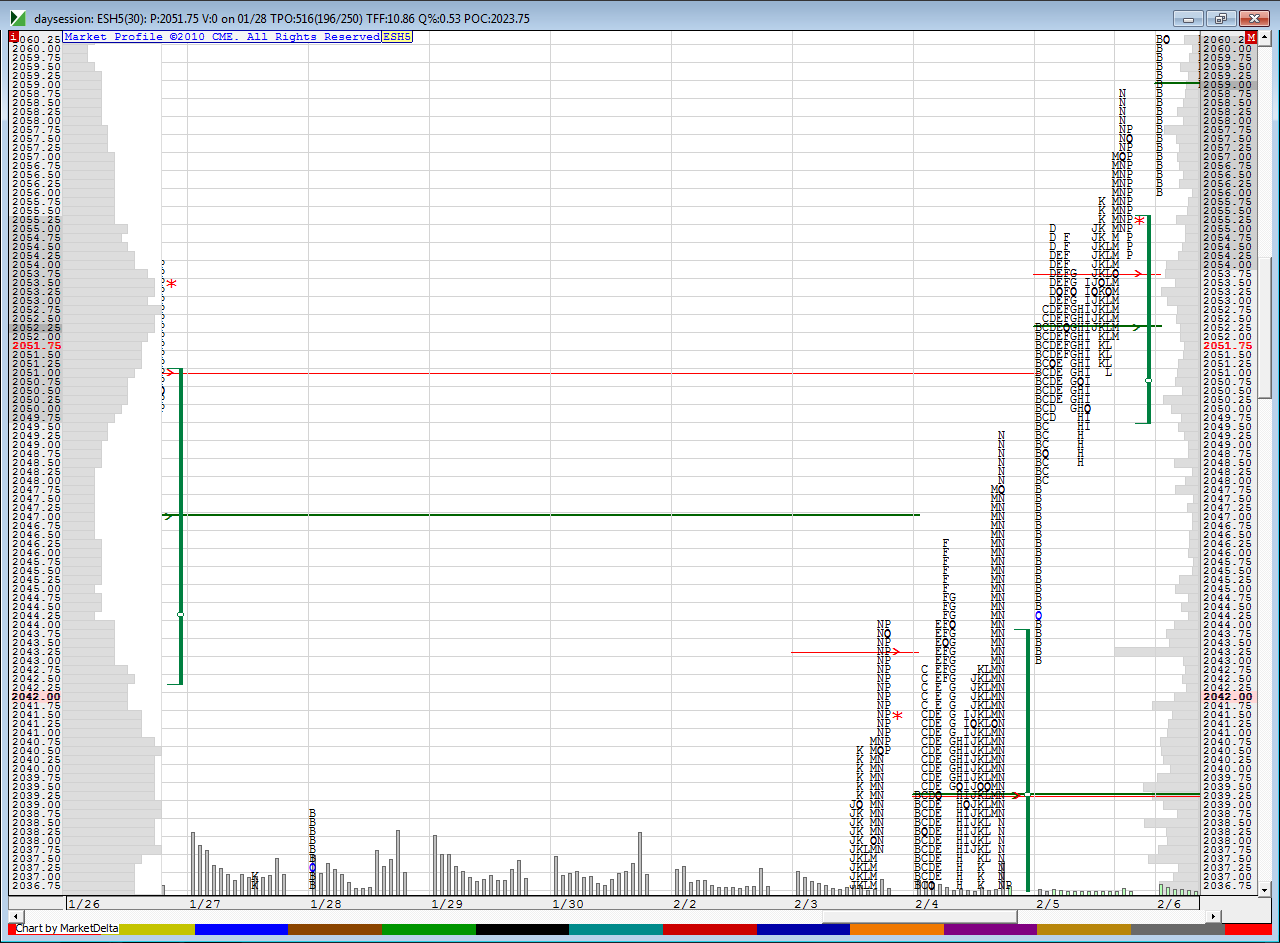 my assumption is that as long as we can stay below 52 - 53 then we should be selling all rallies up...my first shorts started at 47 and 48.50...lets see if we can get back out under fridays lows
what makes the longer term
LVN
dangerous is we don't really know if they will reject from here and go get out 39 or push it up to the 53 and so far it looks like the 53 as last weeks
Vpoc
is holding as support....so keep it lighter is my plan on
fades
...and taking something quicket
Thanks..I'll try!
Watched a bunch of Dalton vids over the weekend...lots to digest.