Singles question
Question from mpjoe:
I'm trading an instrument in which the top set of singles have been filled in but price moved back up. There is a lower set of singles not filled yet. What sort of things should I be looking for to suggest that the lower set of singles might or might not be filled in?
Here is the chart in question:
Click image for original size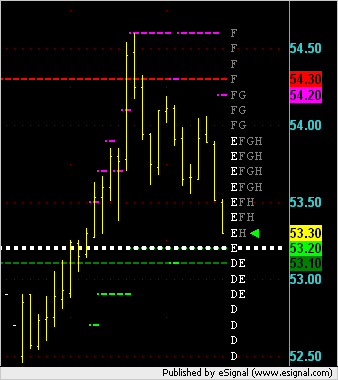 first look shows that
MP
chart you had
range extension
with a failure .You are looking for rotation and for the chart that yuu show it was trying to rotate through G period.Clearly there was a short covering rally
I believe the long off the
Single Print
failed that day. However, from the limited evidence on the chart I would have said that it was a higher than average probability long.
The dark green dashed line is the
VAL
and the red dashed line is the
VAH
. The lime and pink dashed lines are the developing
VAL
and
VAH
respectively. So the long at the (1)
Single Print
at 53.20 was also at the (2)
VAL
and the (3) developing
VAL
and there was (4)
Range Extension
to the upside.
From what you said though Alex I get the impression that you would not have taken the long at this point because the RE was a failed rally on short covering? If that is what you're saying then I don't understand how you see this?