ES Friday 7-24-15
Good morning to all. YD was another down day with value clearly developing lower. Below is a daily bar chart so we can see the action. We can see that we have been
one time framing
lower since hitting all time highs. Apart from the greenies, we can see that 2084 is the top of the
gap
and after that there is a
gap
till 2074.75. This is likely where the market could potentially pause after 3 days of fairly heavy selling. If we did close the
gap
eventually then we would reenter the lower balance area below 2074.75. Else, we the buyers could potentially defend this
gap
and try taking the market back up to break above the
triple
top we currently have. This is where we are going to have to read the market action.
Click image for original size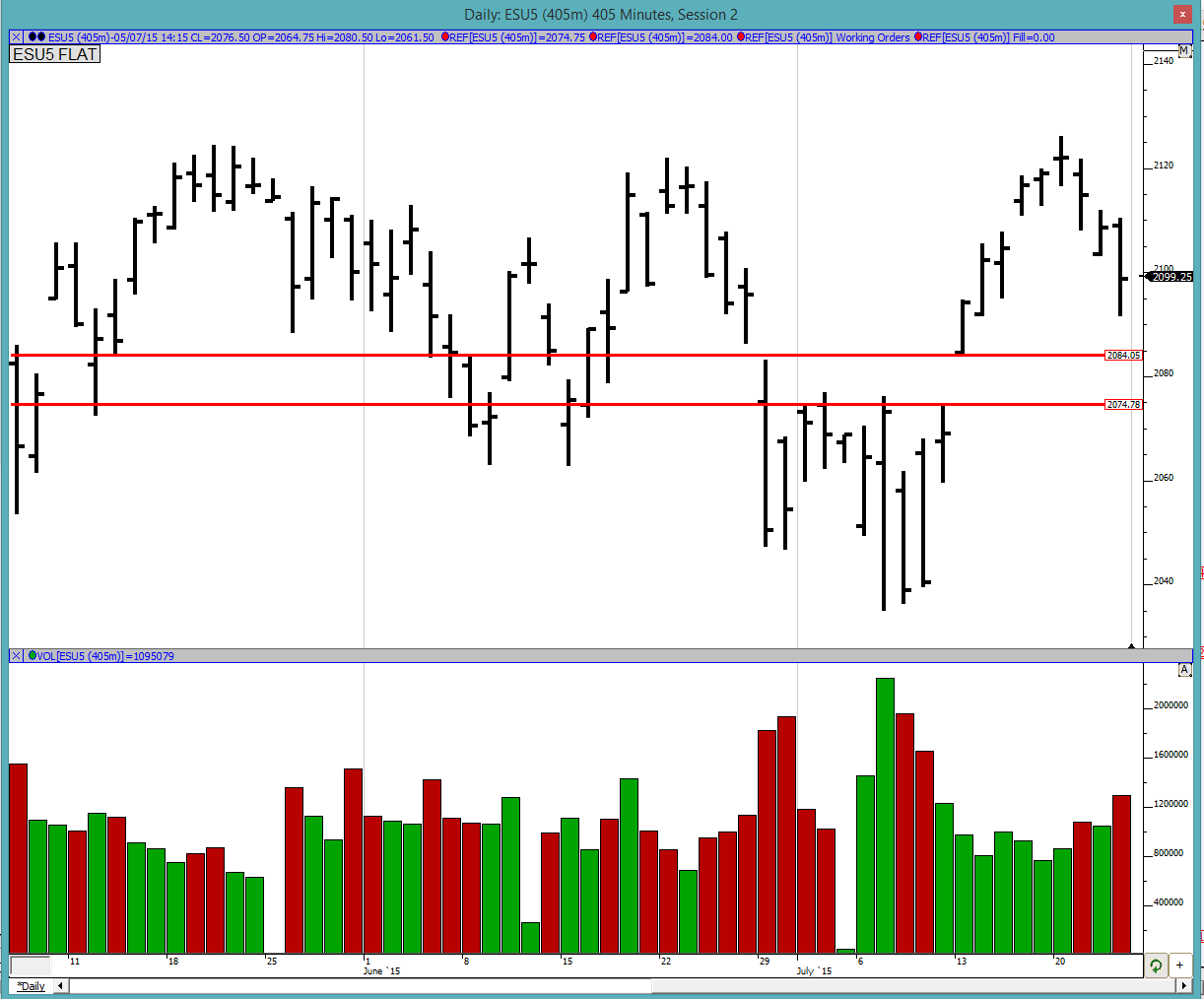 Greenies: We have a new greenie from YD at 2097.5, our original one at 2088/89 and after that is the large
gap
mentioned below.
On the upside, the next greenie is at 2108.25 and 2112.75
Profile: As can be seen below, YD was a double distribution day separated by the
single prints
in the E period. If today's action is below the top distribution (2102) then the bears are likely to be in control and try reaching at least the top of the
gap
. Else it would be the bulls and they would try shooting for the greenies up there.
We can also see that we had both poor highs and poor lows YD with just 1
tick
of excess on both extremes. This indicates that the day time frame traders are still firmly in control and no big money has come in yet. This means that profile references will continue being strong.
Also as mentioned earlier, the
VA
was clearly lower for the 3rd consecutive day so that should be noted as well.
Click image for original size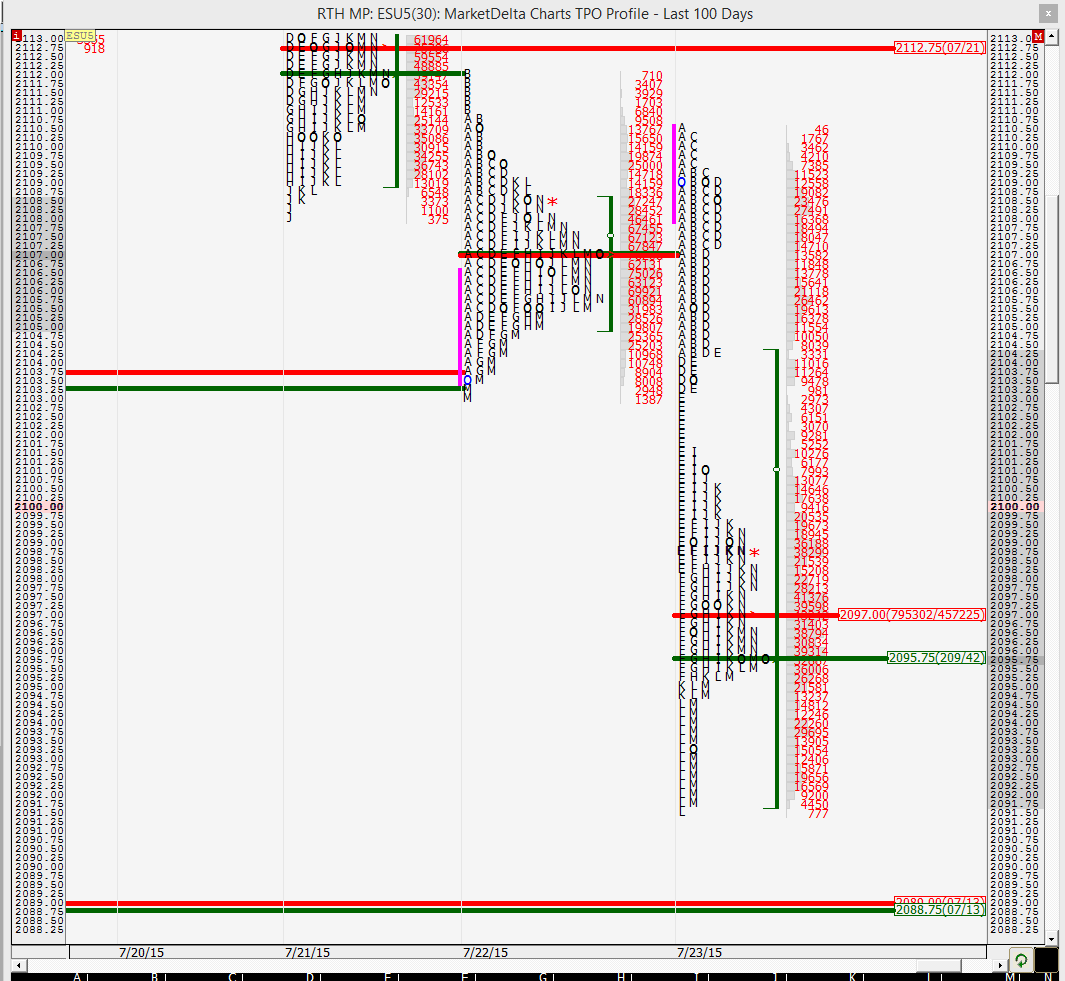 Below is a picture with the profile
split
. We can see that the I period high came close to closing the double distribution but failed. This level is going to be important today on what happens with the market as this is the line in sand that the sellers have drawn. This is 2101.5. So couple this with 2102 and form a band.
Click image for original size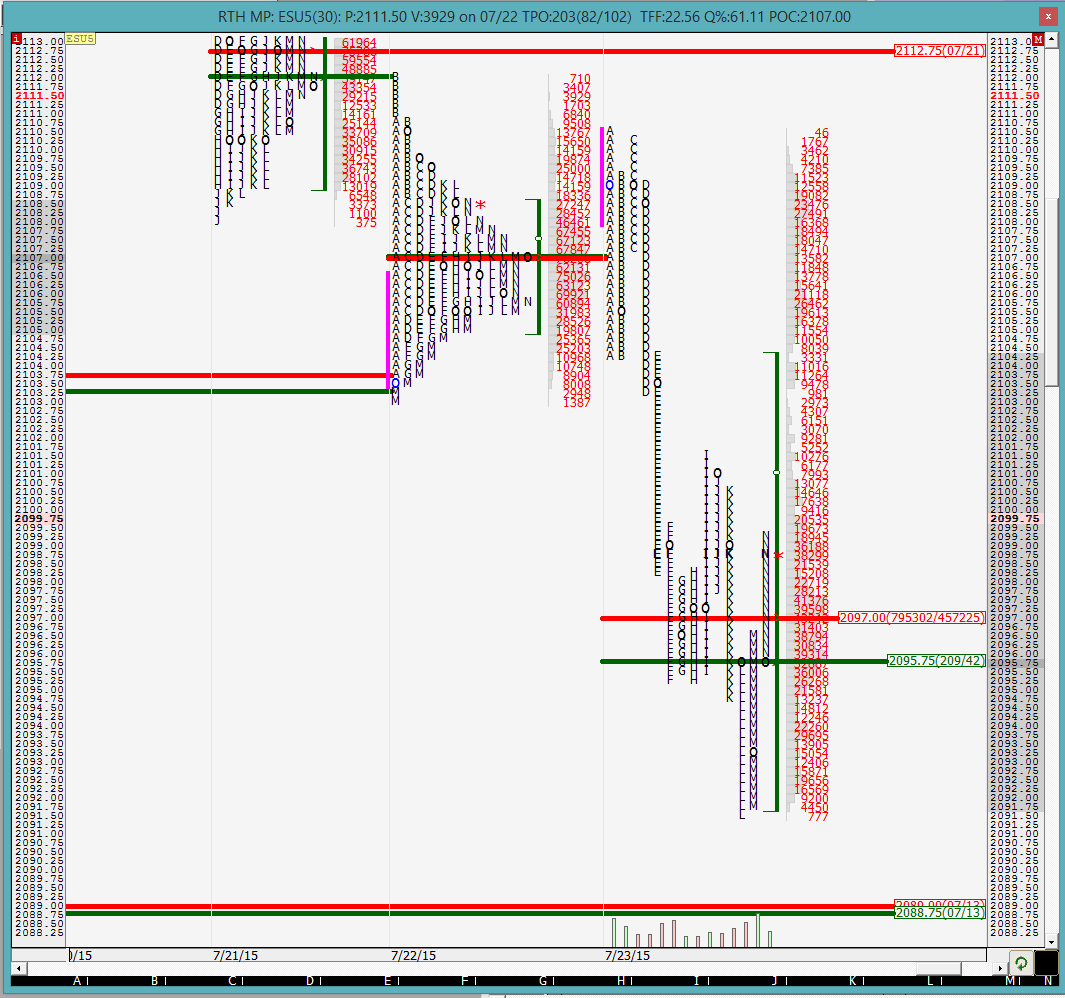 The
O/N
action thus far is fairly balanced but leaning more towards the long side. Also the
O/N
action has been completely within YD's
VA
with not much changing while the market was closed.
Look out for those greenies and good luck to all. I will try posting as much as I can during the day.
drove right to the low of YD. that was a fast drop.. they did lean against that 2101.5 number hard and drove it down
so far YD's low has been defended but does not look very confident
looks like they are going in and filling in some of those
low volume
spots..
30 min
VPOC
at 2092.75 as well as today's low combined with YD's low forms a poor low. There was mechanical buying at YD's low it appears
and boom, we hit the 30min
VPOC
. Shout out to Bruce for that handy tip!
The lows still need to be cleaned up
We have hit the greenie at 88/89. Next stop would be the top of the
gap
at 84 and then the
gap
close itself. That should pretty much be the end of the trading day for me. This is likely my last post since no one else is around to have a conversation with and I have exhausted my analysis for the day
good job nk..keep it up lots of lurking here..soon you be making video..
Awesome work NewKid - very impressive analysis. As duck says, soon you'll be BruceM #2!
Thanks guys. There is only one Bruce and I miss him! Hope he comes back soon