ES 8-29-16
here is how last week looked as per time: Magic number for me in early trade is 68.5...key numbers for me will be 72 - 74 on upside and 64 - 66 on downside. 98 % chance we get either the overnight midpoint or one of the extremes of the overnight....will edit this to
add
more if I have time before
rth
opens
Click image for original size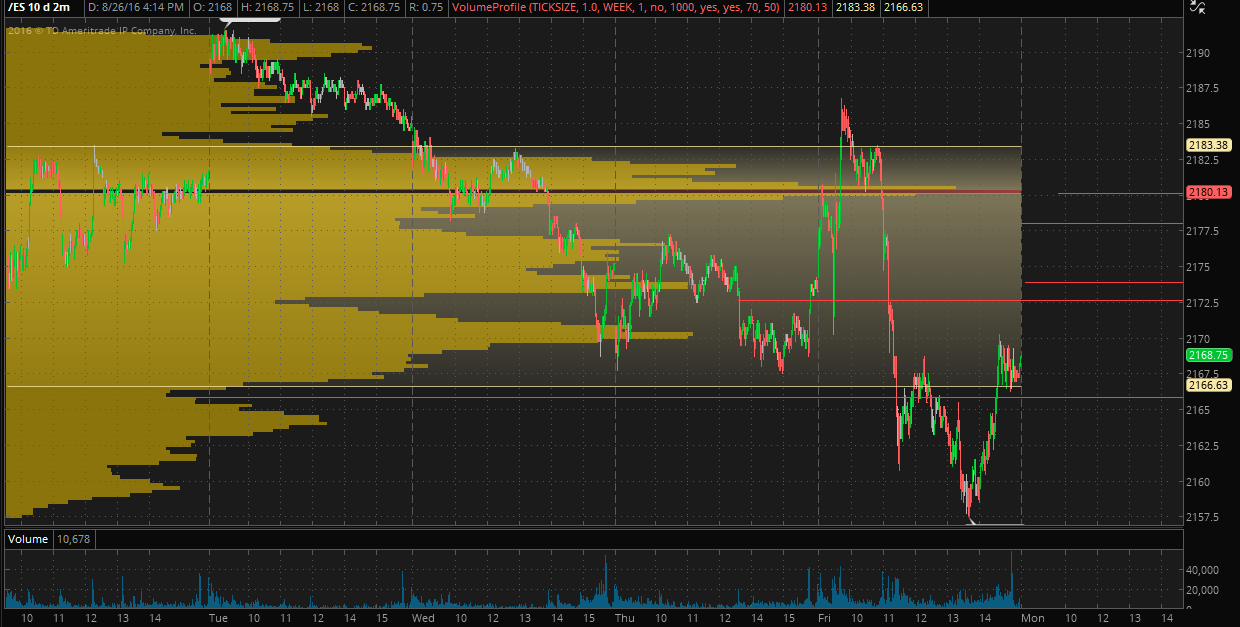 I like the idea of trading for the 68.50 as long as 72 - 74 holds back price...we have Overnight high up at 72 area now too...
I'm going to copy and paste some
pitbull
ideas into this post just to throw out more ideas
I have pitbull threads on the forum based on open print but here is original ideas

pitbull basics

Method was based on big contract and the opening range was called in for. So my teacher
physically picked up a phone to get OR and it was NOT a time period.

Key ideas.

7:30 - 9:30 he called computer session
4:30 from last trade day to current 9:30 open he called overnight

a window run was when market went 2.5 points or more and then returned to the OR

A FULL window run was if we went 2.5 points above AND below the Open - he stopped trading after this

Setups - Wait for a computer session or overnight session extreme to be run out then this

1) If plus 5.5 hits then sell the plus 4 and target 1.5 points ( he always used 1.5 points on big contract)
2) If Plus 4 hits then sell the plus 2.5 and target 1.5 points
3) REverese if we drop down frist and take out computer session or overnight low first then look for buys

4) Exceptions.....if no range is run and we go at least 2.5 points up or down then it is ok to
sell/ buy the open print as long as you are prepared to add to a trade - this is the most aggressive
trades of all and prone to whipsaws
I'm on the 72 short ......thinking weakness of friday will spill to early trade and that midpoint
took loser at 73 after that 4 minute consolidation...now trying from 76....tough start to get back into action....getting above 78.50 will not be good for this
fade
...want to see 74 get retested....
hoping that range contraction and volume contraction will be good for this short if not then they want to see the 78.50 - 80 area...
they don't usually blow through a low time area like that without a retest...that area is 72 - 74 but I'll settle to see 74 again if they will give it....congrats to OR traders....remember there is nothing written in stone that says you have to use the first one minute......if one minute ranges expand when volatility picks up then you can drop time frame down to 30 second or something that seems reasonable....the idea is that you are trading for a probability like the
O/N
range or midpoint........so find a way to get there with a time frame that works for you....
today the one minute OR took out the overnight high which didn't leave much to work with but the plus 4 traders took a little bit out
Bruce, why did you choose 72 to short? TIA.
I was front running the overnight high and planned to average in but once I saw the OR high pop out I decided it was better to not
add
into the trade and eventually took the loss
Originally posted by stocksster

Bruce, why did you choose 72 to short? TIA.

keeping things a little wider today up here which might be a mistake...my plan is to
add
at 78.75 if it prints and then come all out at 76 retest....that will give big mikes 15 minute players their win too....if no
add
then the 74 is still the target...76 has all the time at it now and is the key number to beat
restless today......don't like my 76 anymore...seems more likely to become support and push higher
$tick
low is only at minus 137 ...if that doesn't change and soon then it would wise to just exit
went flat at slightly better then break even but will look again...I have
gap
in data at 76.25...so plan now is to sell 77.25 and 78.75 if it prints......target small profit at that
gap
Usually 2 points or 2.25. I asked, nobody hung around for 2 today. 78.50 sure felt like enough.
Originally posted by BruceM

big mike...today your friends are getting tortured too to get 2 points off 15 minute high but I think it will come.....real question is where do they set their stop on wrong trades.....? what would be their loss point if market goes against them?