ES Tuesday 10-18-16
I have 39 - 41 as an upper key zone...taking shorts at 39.25 now to try for the 36 -37 retest...that is the R1 and a low time spot from fridays trade....41 is a better area for shorts so I'm going in small in pre market trade...charts to follow
EDIT for charts :key areas from upper part of FRidays trade...Note how low time falls at the R1 level for today at 36 area
Click image for original size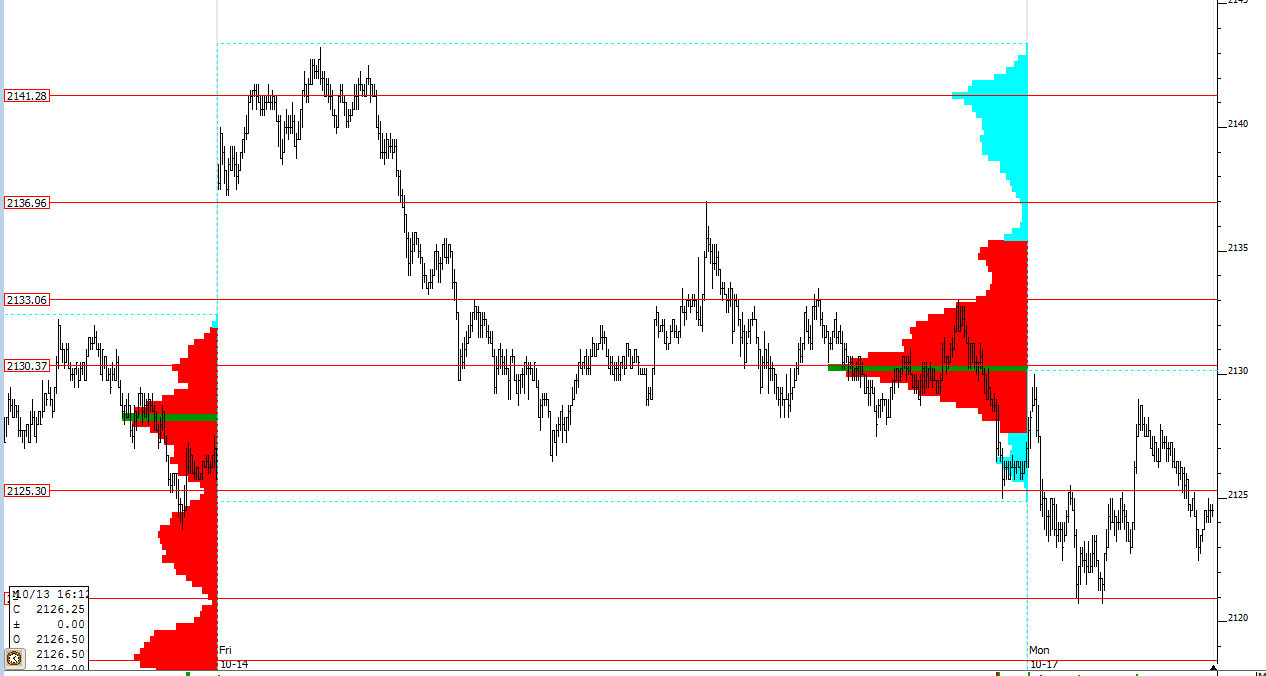 stair step
price action
( no chart shown ) from last tuesday comes in at 46 - 48 which goes well with the R2 today...that is our job today...figure out if it will be the R1 or R2 that prints...??
a few profiles to review...note how Fridays high ends up being near the
split
point between R1 and R2 today ( the 36 and 48 numbers)
Click image for original size
a quick 1 minute video to go over how overnight confirms areas I am watching with the profiles
my runners are trying for 33.50 but I don't have a great feel for this R1 area and we know they will get an overnight high or low too
assumption being made by all that netflix earnings are gonna carry the market up all on it's own...so far a bad choice for those who implied they were long in overnight
sellers want this to stay under that 36 - 37 low time spot as long as possible
I have one contract left...where to put target ? ah heck ..coming out at 32.25...I know we have yesterdays high at 30 and other things that might get in my way and bring in buyers...that's it for me.....not many here...hope all have a great day.....I'm going out to climb trees.....
32.75 is weekly pivot....so my exit was as good of a spot as any I guess
just came back from visiting another forum and I am surprised at how much double talk and false posting goes on...naturally they were long from the overnight and some buying dips.....and naturally not mentioning that we have dropped 7 points off the opening and that is paper money gone per contract....but I'm surprised that more people don't question exactly what they are doing..........it's quite sad to me but i can't save the world.....one poster talks about
OTF
but I can never follow his entries or exits...always after the fact ...ok...my rant is done...now if it pops back up they will still be long ...LOL
thats what i really enjoy about this place..very real..now i need this under 30.75 yup holding a loser again..lol..last month i double my account and this month loss about 60%..yup not good trading..thanks everyone who post
took my loss at 35.75 just for the record..
duck you got to keep stops so you limit losses- better to take a small loss and re enter if you think the trade is right- Trading is a lot of timing
Guys, I am in Mexico for a week so will not be posting much. Glad to see folks have a good day of trading. I agree on the other forums being a lot of hocus-pocus
Enjoy those trees Bruce, is it pruning yr doing, or climbing for fun.....???? and again thanks for yr very informative posts , taken in with enthusiasm every time i get to be online...