ES 6-13-17
OK...end of video was trying to say that current overnight high has stopped one Point shy of R2 today at least so far....my bias is to downside as I do not think they are going to run up to the weekly R1 before printing the weekly pivot at 2428, overnight inventory is long .....and the thin area of fridays profile runs from 2429.50 - 2432.50 but the key are to me is really going to be the number at 30.75........that is key test point from up here and will look to shorts at the 32 - 34 edge now in overnight...going to
add
to this post and make an additional video as I am unsure if my thoughts came across
here is part two...redundant at times but want to drive home a few things and I can't always convey what runs through my simple mind
I
split
out the "I" and "j" period from Fridays chart to show the two separate distributions or at least the key part that fits on my screen and snapped a line at the 30.50
Click image for original size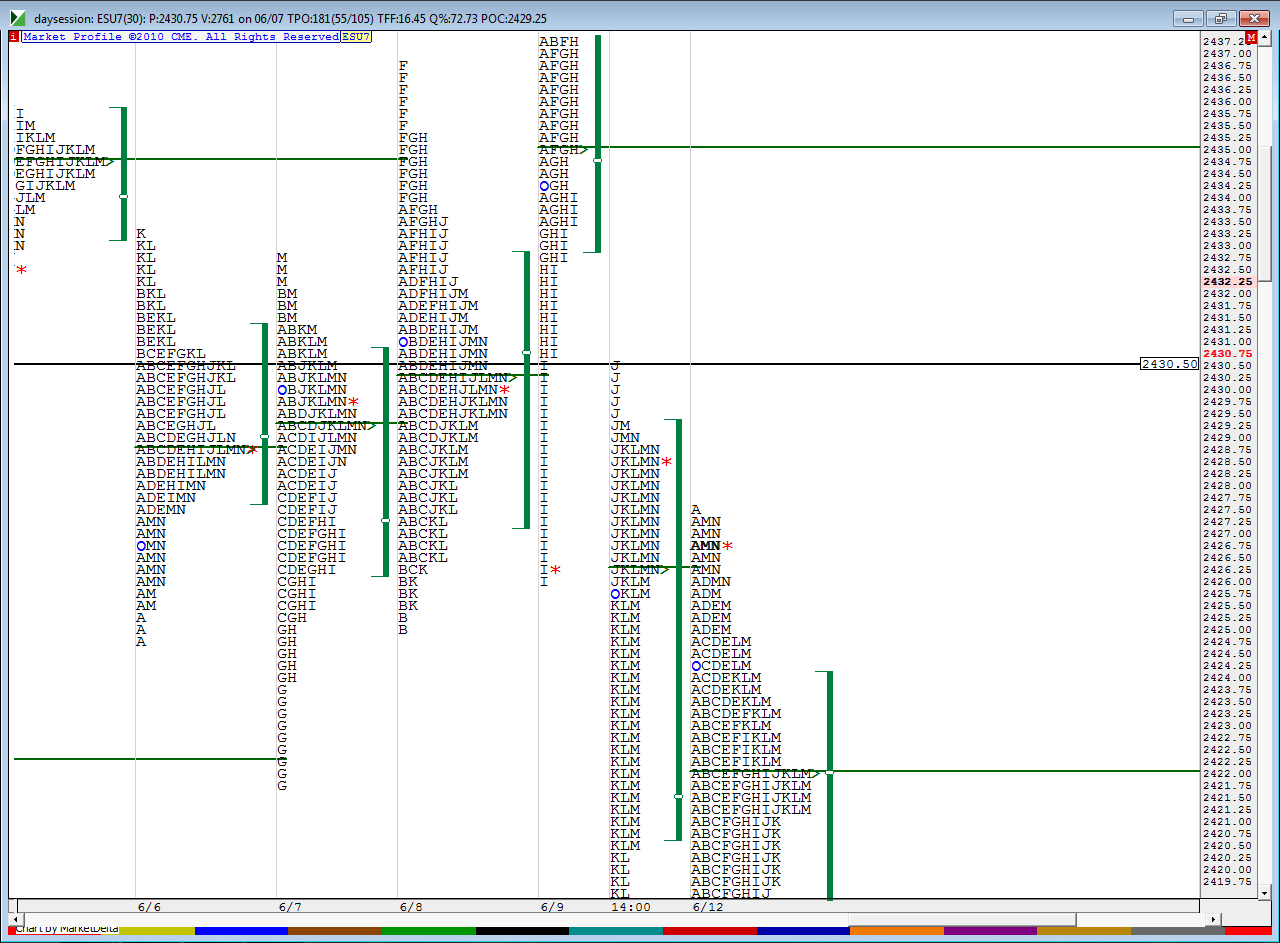 That's cool about Charter Joe...I hope he is doing well.......That Rashke book must have really helped...LOL...just kidding...he was always a cool guy ...would love to hear how he is doing....I feel insulted...he never solicited me for my untold millions as a grunt day trader ...ha !
Looks like he has been posting in May of this year at that site and is down 18% if I am reading all that correctly....not sure....too much info on one page can mess with my head...perhaps somebody else can understand that
Originally posted by Avid

I don't know if I can post this, but here is profile on forexfactory. He created it in 2016

https://blog.forexfactory.com/charterjoe

Is this true about Joe ? I don't think I could handle being down 83% ...maybe it's a different person but i would think if he could post and keep stats on that site then he could certainly post here...........That
forex
stuff has some big swings so maybe he made 300 percent last year.....who knows....he certainly sounds angry now so in many ways I hope that is not him
Click image for original size

Yeah Im not sure Bruce,.. when I reviewed some of his stuff a while ago, it certainly seemed like his language when he was posting here. Perhaps send him a message at FF to confirm???
Ok everyone I am winding this down. Good stuff today. Bruce, I sent you an email a few days back, let me know what you think.

See everyone tomorrow!

just stopped in to take a peak and noticed a
gap
at 33.75 so if u like that 37 low time spot then this would be the place to try the short from....or do it with a short term option...like buy a put slightly
in the money
and cover when/if we fill that
gap
a great example today so far in hindsight as to why
gaps
in the data alone are high risk trades....u really need context....on closer examination I see
gaps
now at 33.75 , 37 even and way down at 30.75........this
low volume
may be playing tricks and giving us more
gaps
then we can handle , therefore it is so important to have some context or some other reason besides JUST a
gap
to take a position.......
ok, my conscience is clear now that I said that !!!