ES Wednesday 7-12-17
Will this be the
gap
up and go day ? I don't know but I will be watching last weeks highs closely for clues this morning. I have two upper areas and those are 2434 and then 2436.50- 2437.75 ...Ideal targets if shorts are going to work will be 2432 and then
a more important area at 2428 - 2429 this is where overnight volume really kicked off to the upside.
If we get a close on the first 30 minute time frame above last weeks highs then I will sell calls with the expectation that we will come back to revisit last weeks highs in some other time period...basically u want to watch and see if they can put in multiple
tpo
's at last weeks highs...
In this volatility trades off the upper zone should target that 2434 number and then maybe try to hold for lower if u have runners. I will edit with key Ym numbers in a minute
EDIT
YM
key upside 21453, 21470 and then above that is 21482.....if sellers step in then on downside watch 21420- 21428 as a key zone
good luck today..we may need it
my bias is to the short side to test 2434
I'm short 39 just above todays r2 level..as Ym hits it's R2 level .trying to get a
rollover
back to OR high at 36 ......is this the break from last weeks inside weekly bar ? Be careful I tell myself!
planning to
add
at 40.75 if it gets there...poor high will be run and low time area...then will revise target
37 even is target on all shorts now...just sold calls too

edit..revising again to 37.75 due to additional adds
ym will need to digest 21509 so i would expect some battle there
scaled heavy at the R2 restest of 37.75 because I averaged into this trade and also because
YM
was retesting it's R2 at the same time...we really want to see 40.75 hold back rallies and that 21509 on
YM
now if runners have any chance up here
for anyone who has read my posts over the years you will notice that a very high percent of the time when a zone or price I marked off on the chart "doesn't work" meaning that price doesn't stop there, then we get reactions back to those prices from the other zones ...so in this case even though the 36.75 - 37.75 didn't stop price we came back down to test the area from above......a critical point you can hopefully use in your own trading if you have good numbers / areas to work from
a close up of June 26th....look at the high and low time areas from this day and why price stopped up at the 42 area today ...at least so far....and also the 2438...another reason I had 2437.75 on my radar
Click image for original size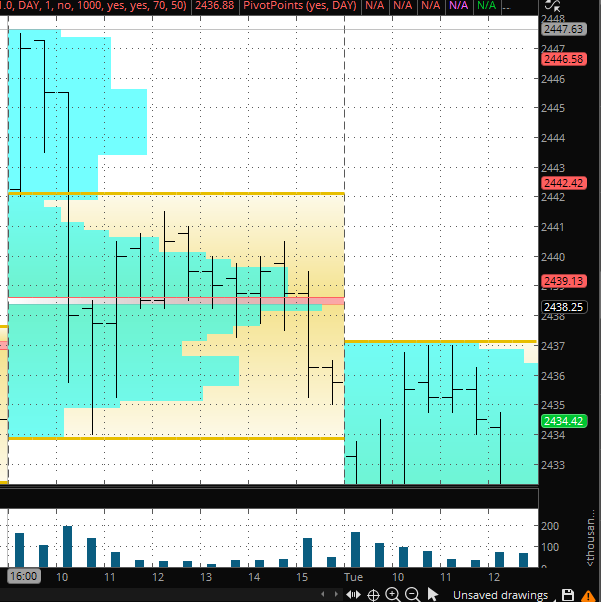 the
single prints
from that day were at 2442 and the
VA high
as per volume was 2442...so lots of confluence and I should have mentioned it this morning but just didn't think they were going to push it that far
big
divergence
in
ES
and
YM
....
YM
was only going back up to it's R2 from underneath as
ES
was trying to get back into low time at 41 - 42 and was above it's R2...hoping we can get the good sell now or at least to that 36.50 ....LOL !!
the calls I sold earlier...I haven't covered them but they were up $260 at one time.....I feel like I may regret not taking these off when I had the profit
Click image for original size