ES Thursday 7-13-17
Relative
low volume
and low range on a breakout yesterday leads me to believe we may need to retrace a bit... plan is to hold my calls sold as we have yet to print multiple
tpo
's at last weeks highs of 2436.50. In general I favor short side which is not surprising as a fader ...2346 - 48.50 is key on upside ..
right now daytrades are assuming we will come back to 39.50 - 40.25 as we have vpoc,s , pivot and settlements there...
R1 goes well with yd's high at 2344 and breakout traders would want to break that out and keep going up...reverse is true for downside at yesterdays lows on a low range day with S1 at the lows
EDIT :most inventory is net long so expecting some downside adjustment is statistically wise
edit : here is the chart from 6-26-17 for reference and what we are working with above YD's highs
Click image for original size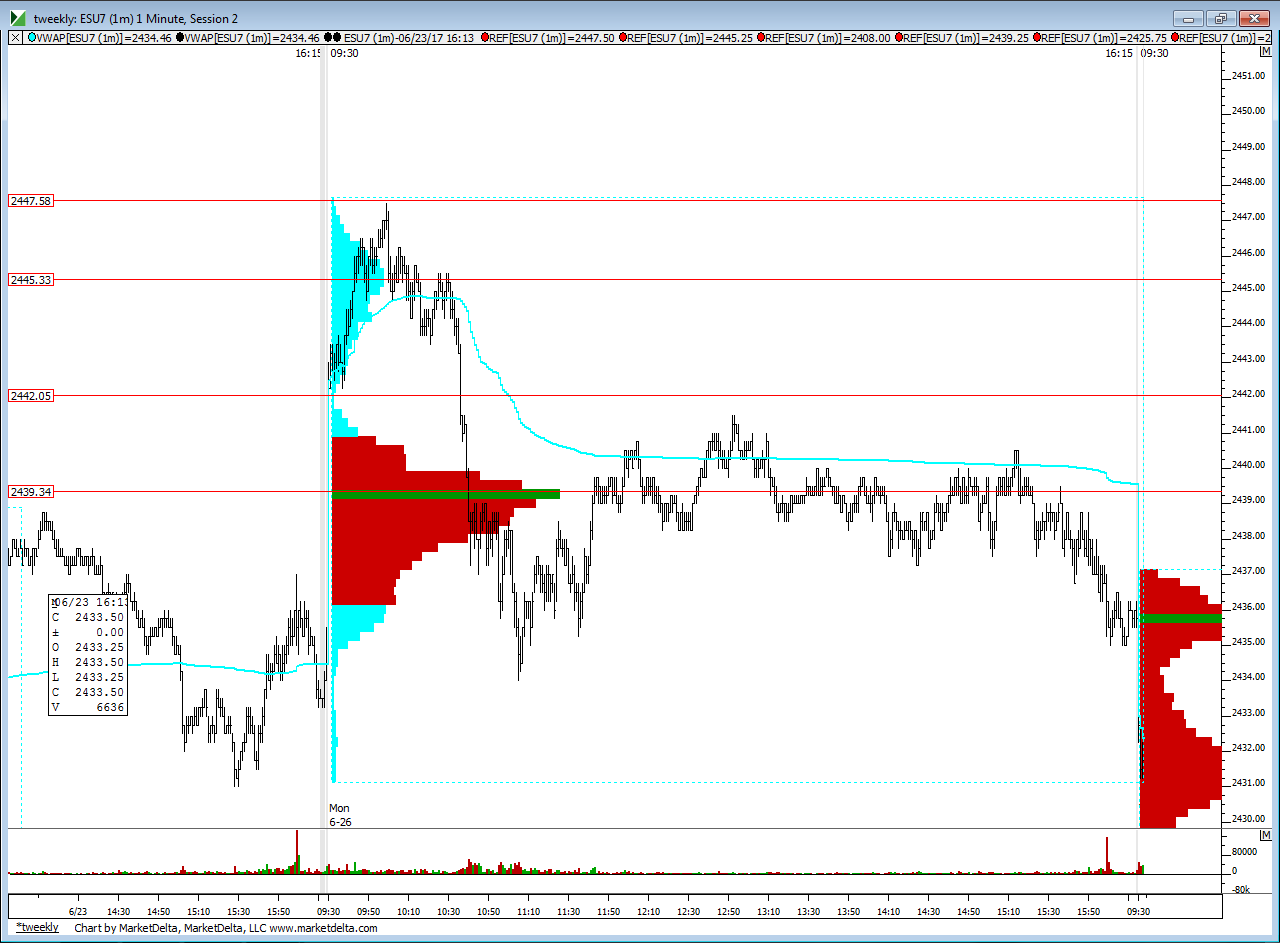 day trades are shorting 2344.50 now
target is only 42.50...but we'll see if low range breakout traders have some muscle after a
gap
and go day
I'll lean on 45.50 if needed...u can see my chart above why
if we don't return to the open then we will have two open and drive days in a row early in the day which is somewhat rare
no high
ticks
and Ym can't even get out of YD's highs...so
divergence
again and
low volume
on Break of YD's highs.( and no high
ticks
to go with that )....no overnight high or low run yet and runners will try for the
O/N
low////which seems so far off and almost impossible in this low volatility...
one of my posts above meant to say a return to opening range high....not open print
next runner just came off at one tic above overnight low....so how about my 2436.50 ??? wishful thinking perhaps
only disappointment is that I never got to
add
on but sometimes that is a blessing too....now to dump those calls sold at some time between here and if they can push to 2436.50 retest to put in more
tpo
's at last weeks highs
gotta watch this 39.50 - 40.25 closely now
hello bruce good trading as usual. i guess you are done for the day cause it 1100?