ES Thursday 10-26-17
Video of areas....will post a hard copy in a minute....trading today to get back into upper edge of bell so 58 - 59 is key to me this morning as a target zone
key bell curve that sellers would want to try and get back inside.....flip side would be buyers to test down into it and then reject and come out the top side of it again..
Click image for original size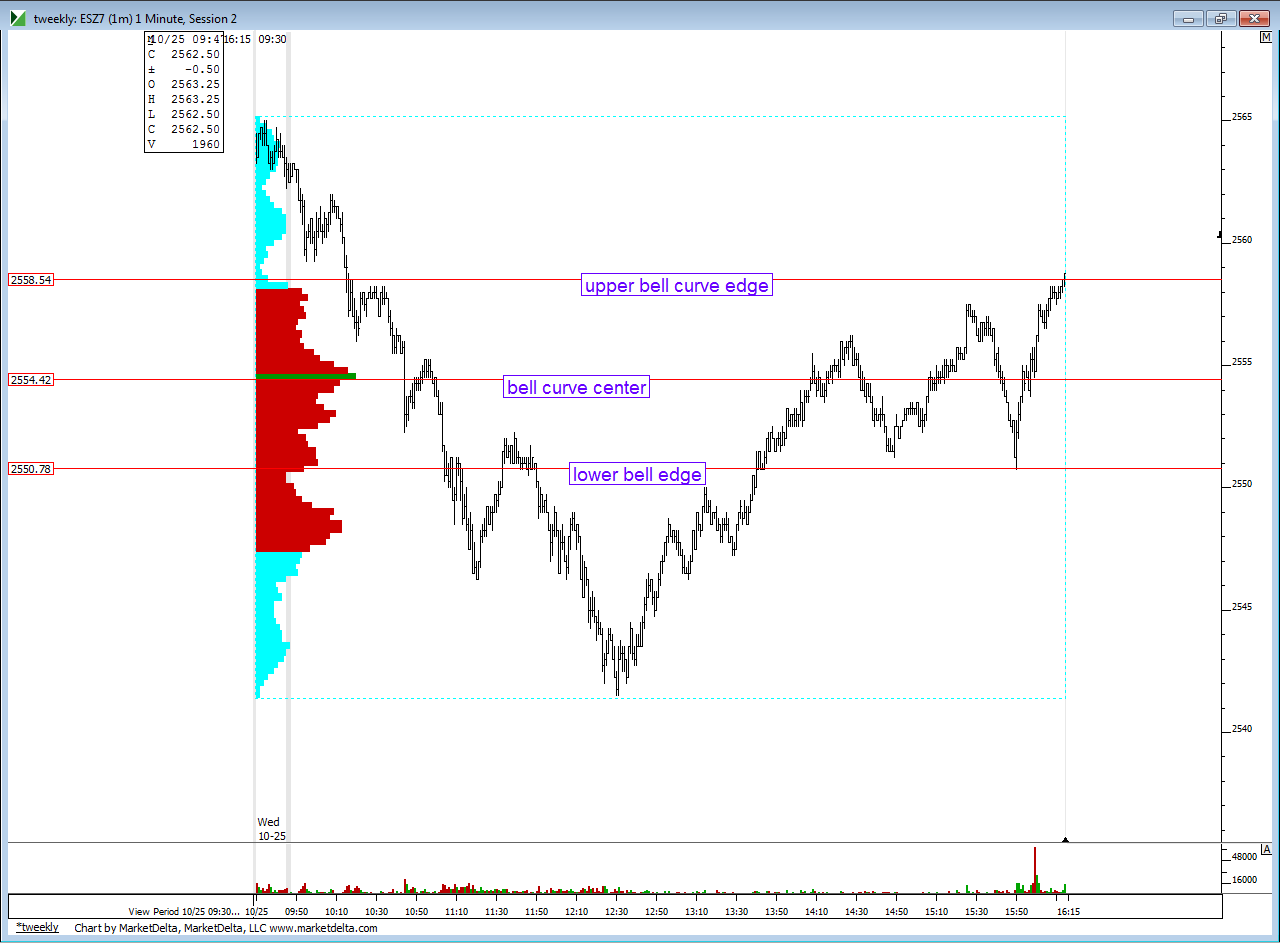 my suggestion today is to take OR trades until you tag 2568 or 2556 on runners only ....That will eventually work....especially if we open up near the midpoint of S1 and the pivot
Nice call/vid Bruce. OR out @ 60.0
OR traders would already have taken profit on short side and would be trying for more......watch that 58 - 59 ...that would be close to a minus 4 too
don't forget ur probabilities...so be a
pitbull
and take the trades ...u will get a plus and/or minus 4 today and you will most likely get a pivot or S1 test ! stay with the OR...it's ok to take small one point or 1.25 point losses if you can get a 4 or 6 point win !
will take next 62.75 long
Nice job to those who hung onto -4 Bruce's level as well.

Off to the dentist, aaarrrrgh
I'm hoping some just took the trades.....you had low risk and high probabilities today.....there was only one loser if you took all breaks of the OR range and targeted the width of the OR.........but I know many are smart and can understand the probabilities of the overnight high and low , the overnight midpoint , the plus and minus 2 and plus and minus 4 ( which was awesome).....just to name a few...so here is a recap with ideas and some things I was looking at...I didn't take all these trades but pointing some things out for those who want to review

good luck Mike......
Originally posted by Big Mike

Nice job to those who hung onto -4 Bruce's level as well.

Off to the dentist, aaarrrrgh

thanks....worth a try...I currently have the local marble carving studio researching it.( yes, I actually have one in the town the property is located).......they tell me it is grey marble and more than 80 years old.....they are waiting on a few "experts"
of the time period....fascinating stuff
Originally posted by day trading

Bruce - I ended up with a fancy chandelier which I didn't want in the house that I currently own and I took that to a couple of consignment stores in the back of a truck and asked their opinion about it and eventually left it with one of them. They take a hefty fee of 50% of the sale price but then the do have all the customers coming through the door and they do the work of selling it. I wonder if you could send that image to your local consignment stores? Mine sold within a few weeks.