Tool Pack PROBLEM
Guy,
I subscribed to the Tool Pack more than 1 week ago. I provided the requested information and have not been permissioned. You have already charged my account for $25 and I have not even had an opportunity to evaluate the Tool Pack as offered for one week.
The money has been taken from my account and has been paid to you, yet I am still unable to use any of the tools.
Please let me know what you intend to do about this situation.
I have sent 2 emails to you about this problem and have not heard back from you.
It is currently 7:22
AM
EST, Nov. 29, 2006.
If I do not receive a response by 2:30
PM
EST, I will post again.
If anyone is personal contact with Guy, please inform him of the situation.
Thank you all very much.
John Lee
[email protected]
Hi John,
My apologies for the problems that you have had. The problem is very simple. I have not received your emails with your
eSignal
username so I have been unable to authorize you.
I have refunded your payment and you should receive a separate email from PayPal confirming this.
I am going to send you an email now and seach through the spam folders to see what might have happened to your original emails.
My apologies about this!
Hi John,

I sent you 2 emails today. Please let me know if you received them or if you emailed me back by posting to this thread.

Thanks.
Guy

I sent a reply email back to you.

I do not know if you received it or not, but I still do not have permission to the Tool Pack.

The username is : << removed for security >>

Thanks,

John
John,

I'm still not receiving your emails but I have now authorized you. The ToolPack should work for you now.

Please post back here if you have any problems or questions.

Thanks!
Guy,
Thank you for handling the matter, but I just logged into
Esignal
, and still do not have authorization to use the Tool Pack.
Is there something else I need to do, or just wait for
Esignal
in the morning?
Please advise at your earliest convienence.
Thank you again.
John
No, it should work immediately. It is possible that the
eSignal
username is not correct. Please can you check that against the one that you gave me.
I checked the username again, it is the same one that I emailed to you.

Username : jl010180

The first characters of the username are the letters 'J' and 'L' in small letters the rest are numbers : zero one zero one eight zero

I think if you do a copy paste it should come out correctly.

Thanks,

John
Try and do the following:
Open a chart and set the symbol to "
ES
#F=2" and the time frame to 30 minutes. Then right click on the chart and from the menus select Formulas -> Downloads -> AltDayColor.efs
Does each day change to a different color like the chart below? If not, do you receive an error? What is the error that you receive?
Click image for original size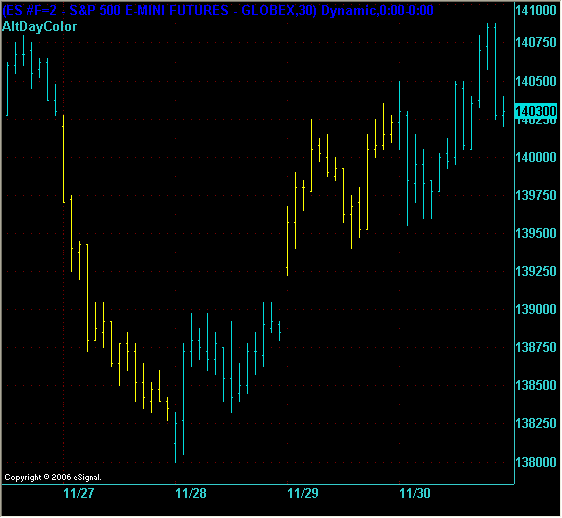 Hi Guy

I did as you directed with the altdaycolors, I did not receive an error message, instead it says "Sorry. You are not authorized to use this indicator. Double click this line to go to a web page with further information."

John

I've sent you an email with a new version of the ToolPack. Let me know if you receive the email and how it works out.

I get the feeling that perhaps there is a firewall or proxy preventing your indicators from authorizing.