Wednesday 12-05-2007
this 78 are is my zone from Monday so I'm shorting in overnight..concern is Monday -Tuesday range break concept and fact tha they couldn't break weekly pivot below at 60 area...implying strength..73-74 is
single prints
so support..and my target
Here's an image of the
gap
up this morning. Let's see if this fills in...
Click image for original size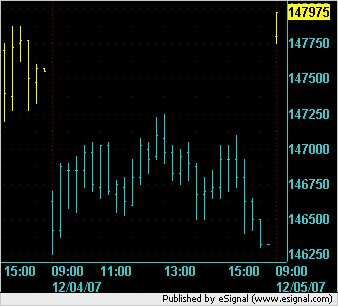 for
add
ons I would prefer to see them take out the overnight high near 81..may not get the chance
primary trend Z(60 minute chart) is reasserting itself, careful on the short side.
NQ
looking at 2100 as initial resistance above
ES
looking for 1484-85 zone for resistance
ER2
770 area
i got the
add
on at 81.25 ..now first target is
triple
run out at 77.75..actually 4 bars in a row there...
Although we're making higher highs (on the 15 min) it looks like it's stalling.
Click image for original size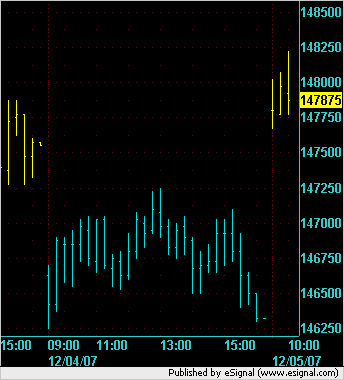 looks like we will have to wait for this
IB
to finish forming then see which way it breaks from there...
I agree - you guys did a great job of a difficult situation and turned a profit at the same time.