Thursday 12-6-2007
...keep the ideas flowing

President Bush is scheduled to announce the housing market bailout plan today, so if recent market history is any indication the market should be firm leading into his announcement.

...plan for the day: stay flexible and wait for confirmation !
Bush is scheduled to make a statement on the housing industry at 1:40 p.m. in Washington and Paulson speaks at a press conference later today.

[url]http://www.bloomberg.com/apps/news?pid=20601070&sid=aLlGHBiKoK1U&refer=home[/url]
watching that key 95 area as it is now overnight high and in window around the 1500 key number

opening inside value... proceed with caution
2100 level in the
NQ
might be worth keeping an eye on
ES
: 1477-79 support zone, resistance at the 87.50
VAH
and the overnight
globex
high Bruce already mentioned
looks like the market needs to do some work up at these resistance levels we mentioned
note: the 2100 level in the
NQ
did hold as support
edit:
ES
swept through the
VAH
market has stalled half way between the
VAH
and the
globex
High... given the strength of that initial upside impulse through the
VAH
, Bruce's 95 target looks reasonable from this level
Here's what the action looks like so far on a 5 minute chart. Just
RTH
data.
Click image for original size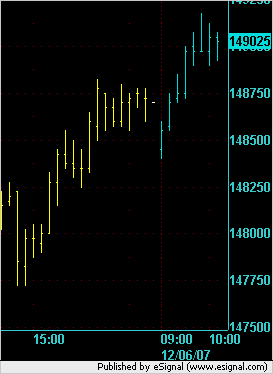 thanks for the chart DT
good luck with the short Bruce
since I have no signal at this level, I have decided to wait for either a test of 95 on the
ES
, or a break back below the
VAH
Today's action as depicted on a 5 minute chart. The chart also shows the developing
value area
lines and the developing
POC
. The 2 white dotted lines show
Single Prints
that formed on the chart that has not been filled. Because these
Single Print
are close together they may form a support area especially if this is clustered with other support lines.
Round number theory would state that 1500.00 would be natural support and with the 2
Single Prints
directly below it adds some credence to this support area.
Click image for original size