Wednesday 12-12-07
Wow..futures up 34 points..in overnight.. I'm a lite seller at 1512.50 trying for those stops at 07.50
will need to re-evaluate if /when they clear out overnight highs in 17 area...if target isn't hit first..this is why I keep it small in overnight..at new day session lows I will pull off two contracts and get to break even on other two
Here's an early chart of today's action. Notice how the
single print
(dashed red line) formed the resistance area this morning.
Click image for original size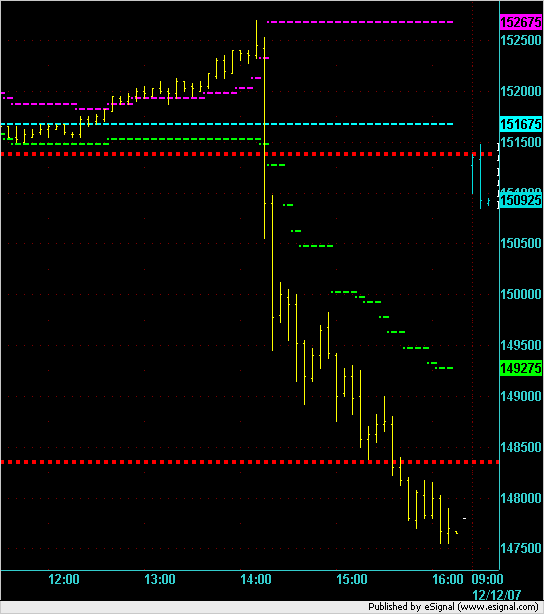 thanks DT ..and your
POC
from the daily notes page was/is overnight high at the 1517 area..now we have key number window above the 1500 number ( 2.5 and 5 point) to deal with...no buying for me today.....I have my short goggles on again
I've mentioned before about them breaking the hour highs and/ or lows...this obviously applies to the 30 minute...and it seems like we may close this first thirty minute period well inside it's range....so Billion dollar question is:

Which way will they break the 30 minute range and can we get on board for it?...I'm pressing the short side
to me this is when trading gets a bit frustrating...conflicting bits of data...I know they Defend the key numbers ( sometimes without much success) so while I'm looking for the 30 minute low to break just above the key 1500 number...this makes the trade harder and higher risk as the downside is limited on runners..


ok this post is late.......can't get it out and trade...concept is important though
more conflicting concepts to ponder...:
We just had a 6 point pop up off the low at 1500.50 ( key number defended) but they tend to run out the hour highs and or lows quite often and they also tend to break an overnight high or low.....the hourly highs is up at 1515.50 area so this get tricky...we are almost at the 50% point of hourly high and low..
Other things to mess us up....big day yesterday so some consolidation is due but we also had a huge
gap
up which implies some type of trend...
I'm still keeping short goggles on..
entered a short in the
NQ
against the
single prints
from the earlier breakdown...
Thanks
quote:

---

Originally posted by pt_emini



quote:

---

Originally posted by BruceM

Could you tell me what specifically you are looking at to determine that the volume is coming back in? Do you use a MA on a certain time frame?

quote:

---

Originally posted by pt_emini

volume coming back into the markets... trailing stop to 14.5


---




---



Time and Sales


---