ER2 Levels
I will try to post some levels that you may or may not find useful. The way to use these is to keep the prior day and the current day on your chart. I will try and post the current day before the first half hour of the market ends since the opening of the market is necessary for the generation of current levels. For Friday the levels are.
White=744
blue= 746.4/741.6
cyan= 738.6/749.4
violet 754.2/733.8
yellow= 759/729
cyan= 763.8/ 719
red= 769/715
The colors I use for the current day, and for the prior day I gray (dash) them out but they both carry the same weight.
Use them as you would any
S/R
points, however once breached, the market tends to trade to the next level and if rebuffed tends to trade to the prior level, but use your OWN observational skills.
Since a medical marijuana commissary opened up down the street, it begs the question of "will getting stoned help my trading". Still have to get my card though. (kinda expensive $80 quarter ounce)
Thing of Beauty. Not making this up folks, these levels were posted 15 minutes after the market opened
Click image for original size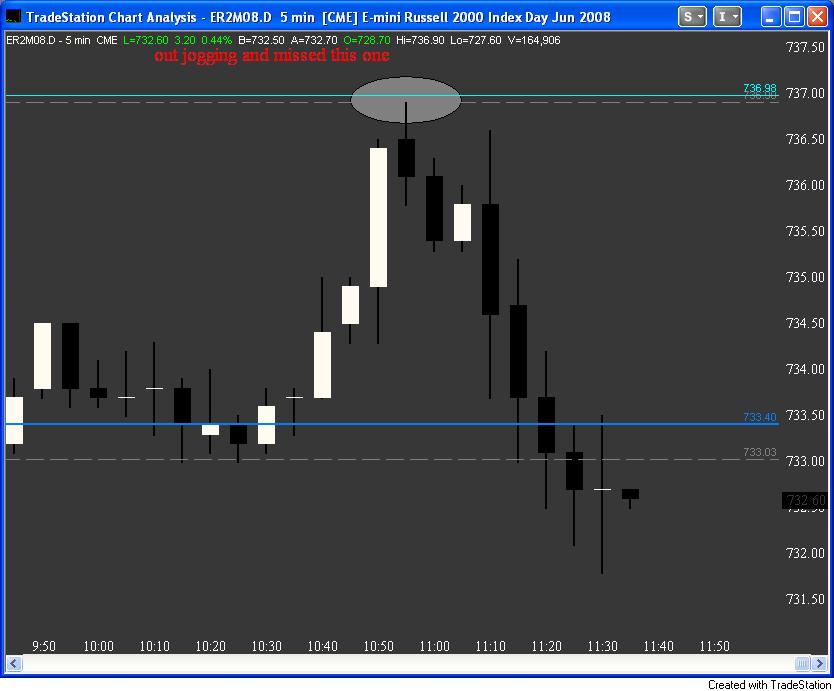 If someone wants to replicate any of this just snap lines at the 15 minute high, low and midrange of the market you trade.....then you can take the distance between the midrange and the high and/or low to generate additional levels by adding to the high or subtracting to the low of the 15 minute bar. This will get you close enough and you'll have plenty of levels......

This is an old method but will work like anything else if you have good entries and proper Money management..of course having other areas that coincide with these levels will help too..ok nuff said

Good for reference, keep the charts coming
Steves: That usually happens when you're not logged in. Try and log in to the forum and then view the previous pages again and let me know if that resolves the problem?