es on 8-14-08
covered my short at 1277.75. Got really lucky here. 15.25 handles on an overnite swing trade.
Looking for a rebound to 1284-86 to sell it again. Still hoping for a minor cycle low around the 15th to push us into the 1263 area.
I rarely swing trade because i dont have the dicipline for it.Couldnt sleep last nite and almost exited last nite at 1288.50.Was hoping to get help from the 8:30 news release. No particular reason igot out when i did, and thats why im agood trader not great.Better play would have been to lower my stop to 1291 above the
globex
high and hang for the 60s.Minor positive divergences on 1 minute chart but not any other time frame. Thats why i respect you sir, and why ill never get rich at this game.
Click image for original size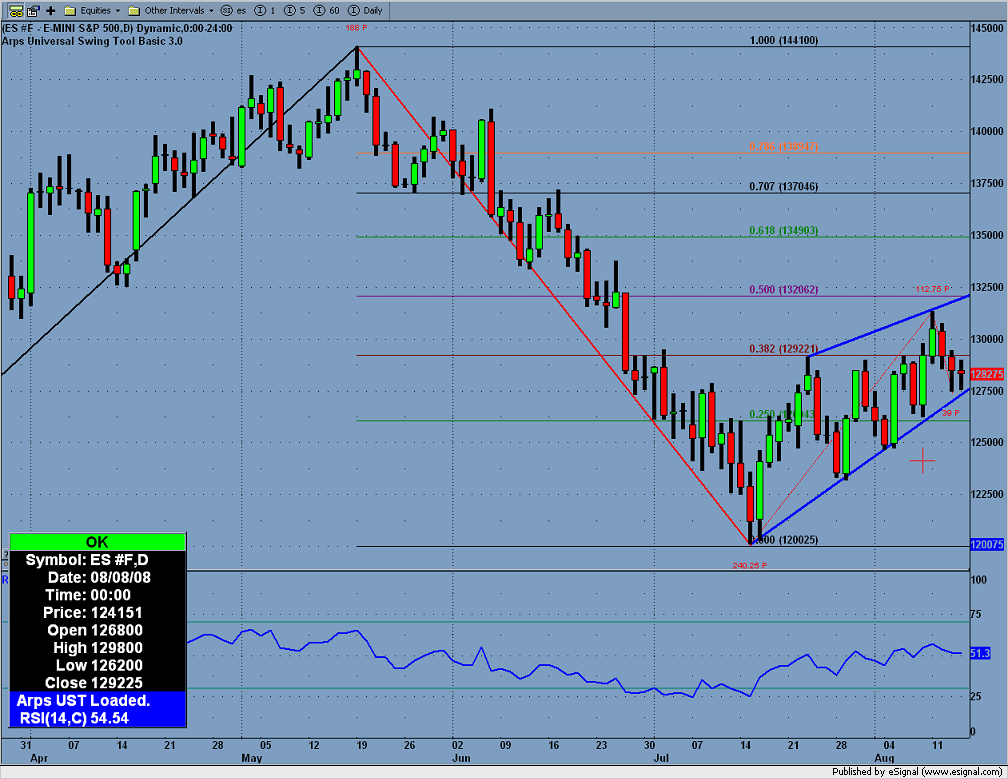 Even though markets look to me like a 80% chance of breaking this up channle, most will long it....So you did good getting out.
Nasdaq up with spoos negative.That
divergence
keept me from selling the 1283 area.It would have been a nice scalp however. Next possible short scalp coming at 1289.50.Thanks for the chart joe,I See this rally as a
bear flag
however which may or may not be complete.
I hate to say it but this looks like a trend day up so far to me.....no break of the OR low....91.50 - 93.75 is critical for me based on volume from yesterday....a failure at this
Va High
should target the 81 area as that is where they PUSHED it out from
think ur right bruce, still no divergences on the 1 min. or 5 min. chart. Thats why i havent pulled the trigger yet.

low volume
into the high volume area from yesterday is suspect...I'm certainly not expecting
any fast pushes through that zone....
Ticks
are confusing today...big
divergence
but yet we haven't
seen many low readings today which implies strength...
Hold my feet to the fire if I'm wrong but by my count the 3rd wave of the 2nd impulse of the bull failed on its 5th wave. If I'm right we're due a triangle in three moves ending on the C wave/impulse 1 wave 1 of the bear. It's hung up in the leg cross-channels of the chop after the 2nd impulse 2nd wave pullback dropped from 1313.50.

I'm not saying short the market just yet. But it's lookn' good! ROTFLMFAO