Channel surfing the ES
This is by no means a buy/sell black box system but is a set of
EMA
parameters that alert me to a coming movement. Picture it like this the red line is the
pivot point
, the blue are the extreams like a dog on a rubber leash it'll go back and forth. from blue to red to red....
Parameters are 610
tick
chart 89 period
EMA
with a H/L divided by 2
EMA
, off set .618% enevolpe....
I am still searching for a good enevolpe for my bread and butter 30min
ES
chart.
Click image for original size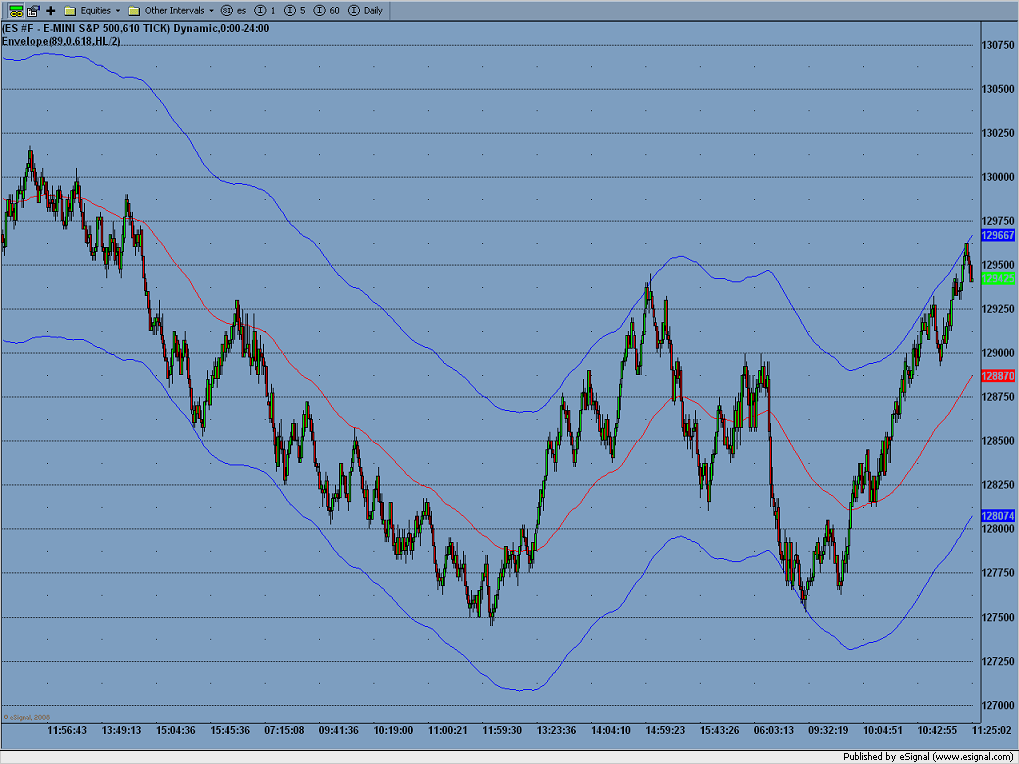 This 89
EMA
(close) also works wonders on a 1 min. chart. But I can't generate these envelope as my trading platform has only Bollinger bands. Any advise on their settings that can correspond to your envelops
A tweak shouldn't be hard to come up with for bollinger bands if the OP doesn't have one. The only difference between the two is BBs use a standard deviation and the envelope a fixed percentage.

If we find out what platform is being used I can probably find plug and play code on the net as a first option.

We really should bang this one out all across the board for everyone because I immediately rid my rig of a lot of analysis paralysis junk in favor of the envelope, and a few choice charts and indicators.

Thanks for the offering, Joe.
I tried a number of parameters, none came close. Thats odd becuause every platform I have used always had envelopes.
Your welcome SPQR....make sure to use a
tick
chart,
gaps
mess it up. ans normal min charts mess it up on the
globex
And also like anything else, this like all things shouldn't be traded as a stand alone, steps should always be taken to avoid tunnel vision, but not to much to cause paralsis.
@kbi - Does your charting platform allow you to vertically offset your lines? If so then
add
2 more
EMA
lines with the same settings and vertically offset them, one up and one down, using the 0.618% that CharterJoe is using.
@CharterJoe - Have you ever tried using volume charts instead of
tick
charts? I agree that
tick
are better than time but also think that volume are better than
tick
...
I agree DT. On a suggestion I nearly replaced my 5000T and 10000T with a 10000V, and, it seems to be more manageable swing channel tagging than a 10 minute chart. It's looking promising being really useful using Joe's parameter, too.

Give that number a try if you haven't already.