Channel surfing the ES
This is by no means a buy/sell black box system but is a set of
EMA
parameters that alert me to a coming movement. Picture it like this the red line is the
pivot point
, the blue are the extreams like a dog on a rubber leash it'll go back and forth. from blue to red to red....
Parameters are 610
tick
chart 89 period
EMA
with a H/L divided by 2
EMA
, off set .618% enevolpe....
I am still searching for a good enevolpe for my bread and butter 30min
ES
chart.
Click image for original size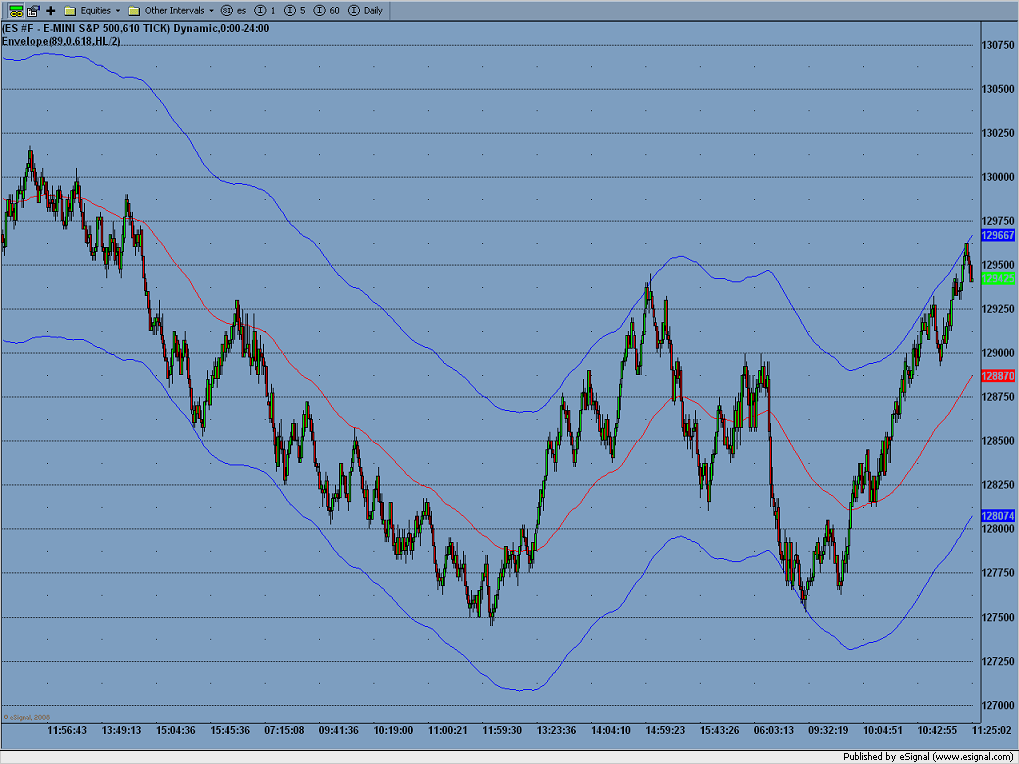 Not sure what the average number of contracts per trade is but you'd have to multiply your
tick
chart by that number to get the equivalent volume chart.
As a quick explanation: If there are exactly 2 contracts per trade then a 100T chart would represent 200 contracts per bar and that would equate to a 200V chart.
Thanks DT. That proves problematic in that as retail traders we don't have access to at the book data. The numbers shown in 1.5 and even 2.0 insofar as I know are retail and market maker specific.

How would you suggest placing it all theoretically correct?

As a side note I swear by the 10000V in the interim.
Just take the total
ticks
in your time period (I use 9:30 to 16:00
ET
) and divide the total volume during the same period by the total
ticks
to come up with your multiplier.
I use GSTrader platform. So how do I go about offsetting 89 period EMAs. All I have is a period setting option for moving averages with flexibility to use open/ close/ low/high as source.
"@kbi - Does your charting platform allow you to vertically offset your lines? If so then
add
2 more
EMA
lines with the same settings and vertically offset them, one up and one down, using the 0.618% that CharterJoe is using."
If the only option that you have is the period option then you probably don't have the offset option. Ask the support guys at GSTrader if you can do that and/or point them at this topic if they don't understand what you're looking for. Show them the chart that CharterJoe created.
With respect to DT I just can't bring myself to do away with the 10000V chart.
55
EMA
: green
144
EMA
: red
377
EMA
: blue
Envelope pivot: silver
.618 overbought and oversold extremes: blue thin lined
S&P
price oscillator overlayed on the squeeze.
MACD
underneathe.
There's nothing not being resisted or supported, and that, my friends, is art.
Thanks again, Joe.
Click image for original size