Best Trade of the Week 3888
Best Trade of the Week 3888
I don't know what came over me last night. I was hitting 3 contracts and scaling out. Some didn't make it, stopped at BE +1
tick
or 2 pt stop. Some just bailed out at +3 pts, minimum target was 5 pts. But this is the best by far. Ran accordingly.
I must say that the 610T chart is a lot easier to spot crossovers than using the 1 min. I was trying out the whole weekend simulated data feed using last week's data.
Hi LA. Are you still using the same method that you posted on the "Trading the 54ema"?
I was wondering how you work out your targets please? Are you using price projection or fibs?
Great trade though.
I am using the 3 and 9
ema
crossover with
Ninja
indicator MAxOver. Just found this over the weekend to use. Nothing spectacular but marks the crossover points. The 54
ema
works well on the 1 min not on the 610T chart. I have discovered that it is easier to anticipate a crossover using the 610T than using the 1 min. The 1 min can be very frustrating to read for a trend.
I'll change the chart to the 1 min with 54
ema
with regression channel at lunch time to trade the consolidation volatility. Does not always work. Like yesterday, I failed in a reverse and so I scraped the trade.
As for the targets, I did not use the fib extensions. I am still amateurish at this. I just took a simple 5 and 10 profit target with the last one at 11 as a free to move target.
This trade did make me anxious twice. Once when the crossover downward happened(see the red marker downwards), then it went up, relief. I was about to put that "broker free lunch trade" BE +1.
It trended steadily up to +5 points. I took one off and moved the stop to the recent crossover.
When I had my 2nd at +10 points, I got greedy and moved the target to 872. It rebounded and this time I asked for more at 873.75 and moved the stop to 869.75.
I figured I was winning so I am assured of the 10 points, I just need a bonus. At this time the anxiety was getting the bonus. I was denied but it was exciting.
Mean time I was taking some scalps along the way up. I have to check the records, I think I raked in another 9pts.
I took another 4 pts at
Globex
before 2359. It was a good day.
I hope the fires in OZ are under control.
Following
VO
's
ABC
technique.
Though my entry was wrong. I was anticipating an
MA
crossover. Gave 2 false signals.
Then an
ABC
was formed and I took profits from there.
Click image for original size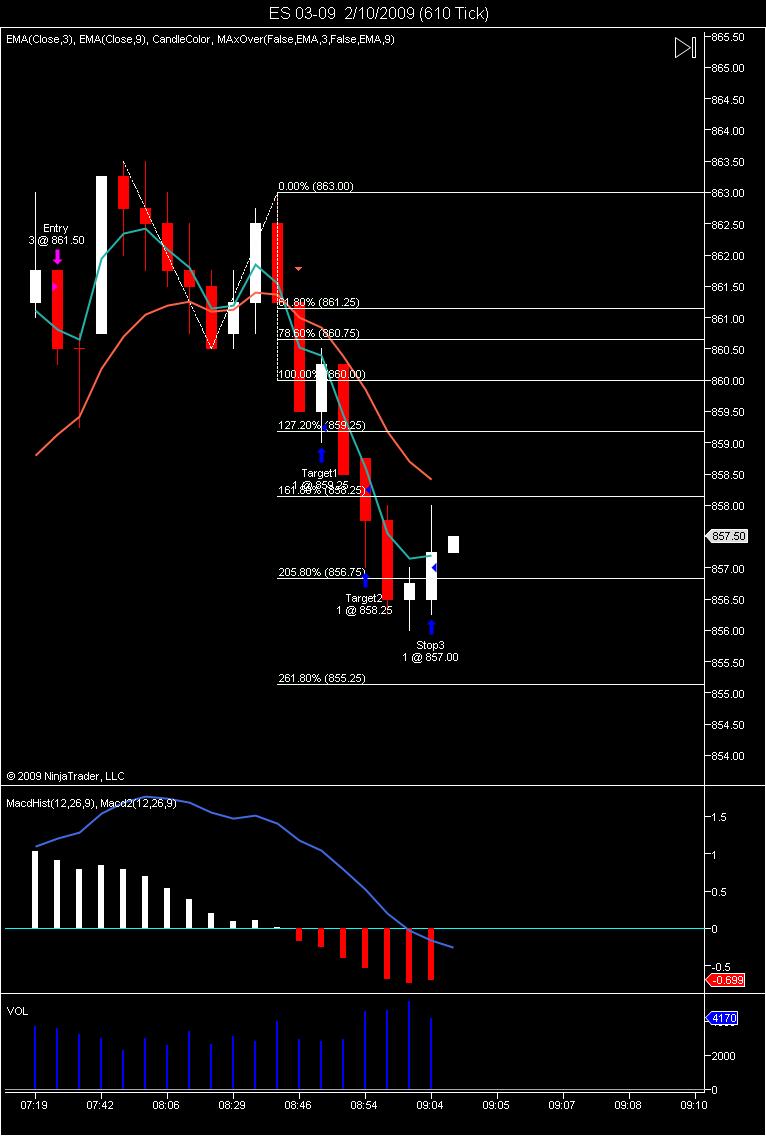 Bear with me. This is a big image.
My entry was based on the crossover 3 and 9
ema
on the 610T chart. It shows less influenced by noise.
Then I saw the
ABC
formed on the 5 min chart and plotted.
I took profits at 61.8% ext. 854.50 but I asked for more at 854.00.
I did move my stop but looking at the
ABC
, I want to trust that all the signals of previous days, the market sentiments and the fib extensions is projecting lower. So my stop stayed above 860.00.
I added on the retrace at 859.25. Just 1 contract. I was confident on the bearish weak market but who knows, never put all the eggs in 1 basket.
I took more on this big scalp at 852.25.
Took the 2nd target at 844.00 figuring that I won't want to wait for the retrace to play out. 16pts is enough. Originally it was at 161.8%, 841.75. Got imapatient, I am not giving back this gain. It was 16pts!
I played the last contract using daily pivots. Placed it just above S2 at 838.25, S2 was 838.00
Finally reached it.
I did some scalps in between. I scalp on the faster 233
Tick
chart. Still easier to read than the 1 min. Though I still reference it.
50.75pt gain. This is a good haul.
Click image for original size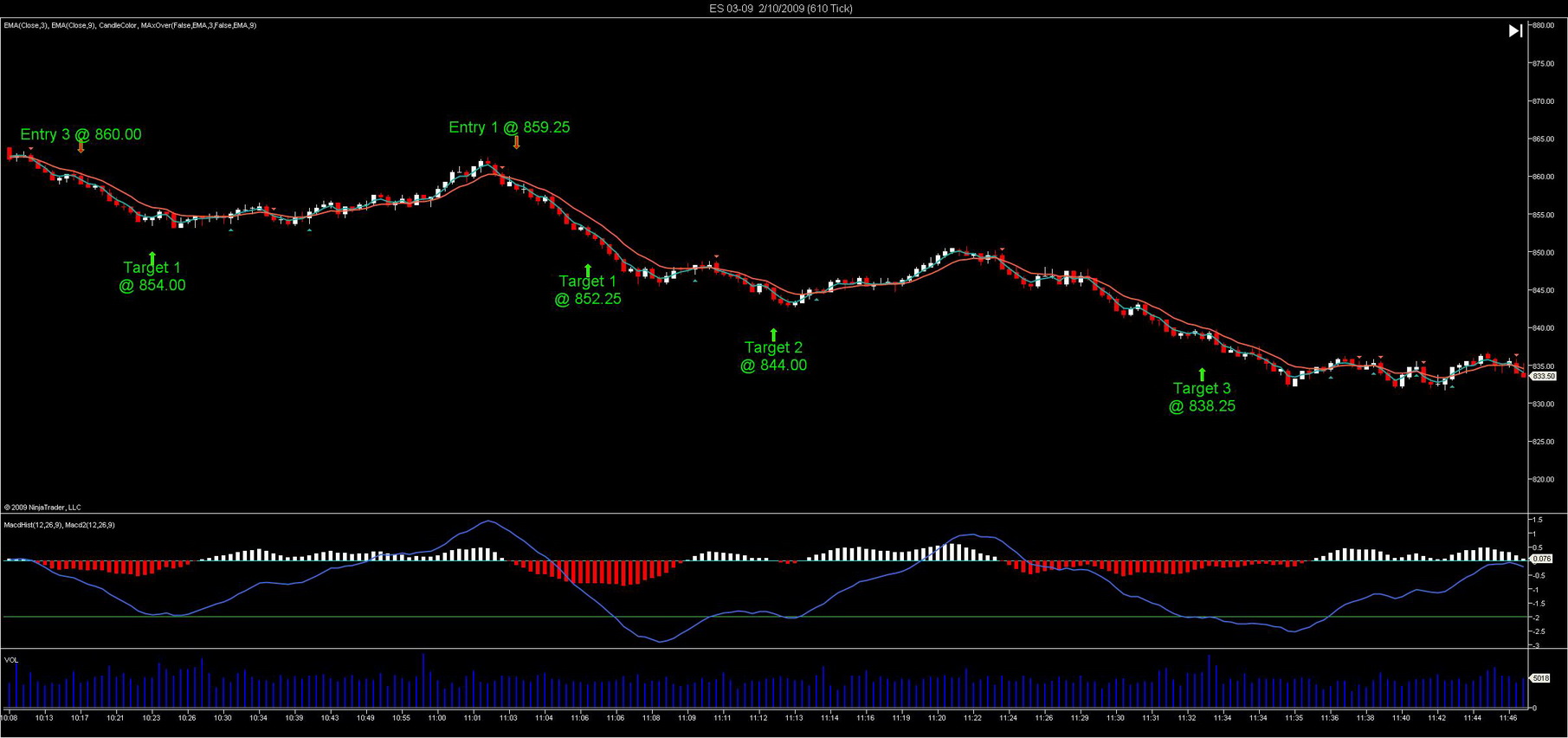 Click image for original size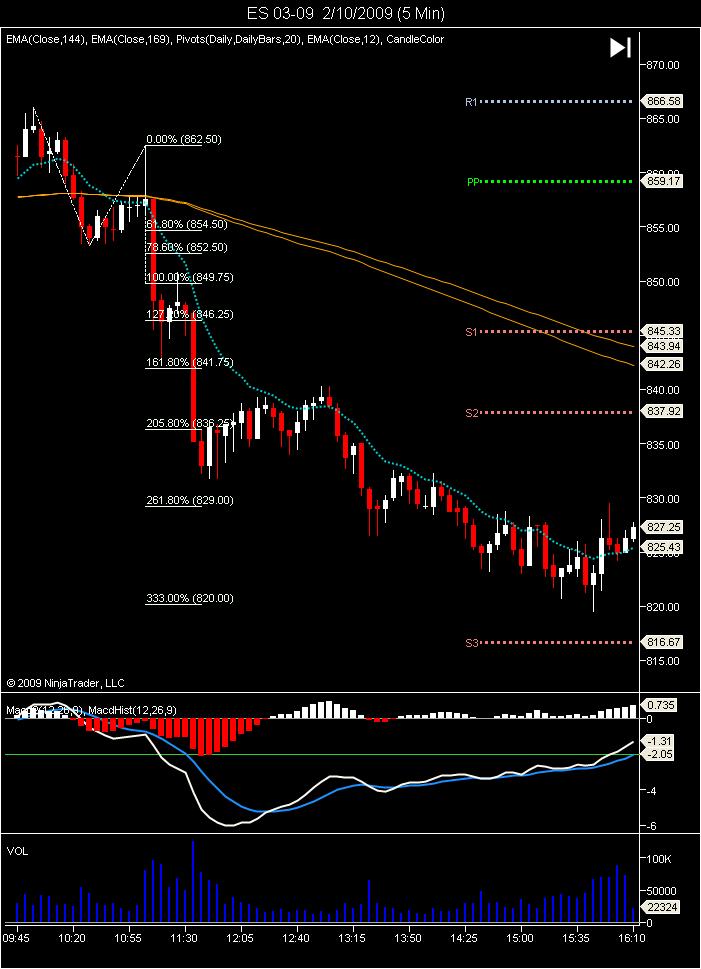 A lot of what could have happened if I played the last contract to 820. But gain is a gain and we should walk away with gains, greed can work against all that work.