Best Trade of the Week 3922
Best Trade of the Week 3922
Vo, I was wondering how you handled the retrace from 737 back up to 740.50 (Roughly) I thought the stop may have come into play.
Do you move your stop at each fib value, or only the major ones? (161.8, 261.8...)
Great trade though, and well done for sticking to the rules.

Vast if you notice, there are 2 sets of extensions on the chart. 1 for the bigger
ABC
and 1 for the smaller. I basically used the bigger extensions with the fib
ma
. Price was kind enough to find its way down to the 261.8% (100% of bigger or 1st target) of smaller where I peeled 1 off. What we know from experience is that when price has made a move to that level it likes to retrace and find its way back to the 161.8%. Look where my fib
ma
is at that point. Right at the 161.8% - and right where my stop was.
Two from this week.
Note the different position management strategies employed.
Friday's afternoon trade: enter "all-in", then scale out in 3 parts, Reward:Risk ratio noted.
Click image for original size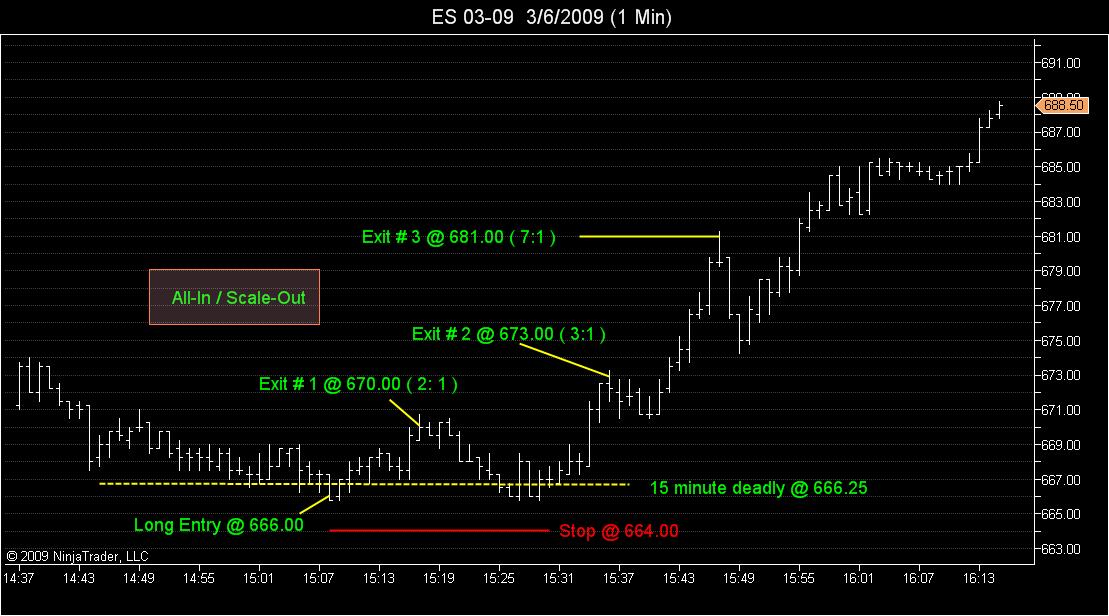 Tuesday afternoon trade: scale in 3 parts, exit "all-out"
Click image for original size
Nice trades
PT
. I was just reviewing yesterday's
PA
and was wondering if you could tell me which 15 min candle you used to get the 666.5 deadly low, and what were the high and low for the projection. I noticed some discrepancy on my
ninja charts
(60 min) and want to make sure the 15 min chart is accurate. Thanks for the great input and assistance in the room btw. Einstein
My small contribution to the forum. No big winner, but I followed the rules.
The other is a trade I chickened out of by not sticking with the plan.
Trade the plan and trust it. It is the only way to realise real trading results to the back testing results you have.
Click image for original size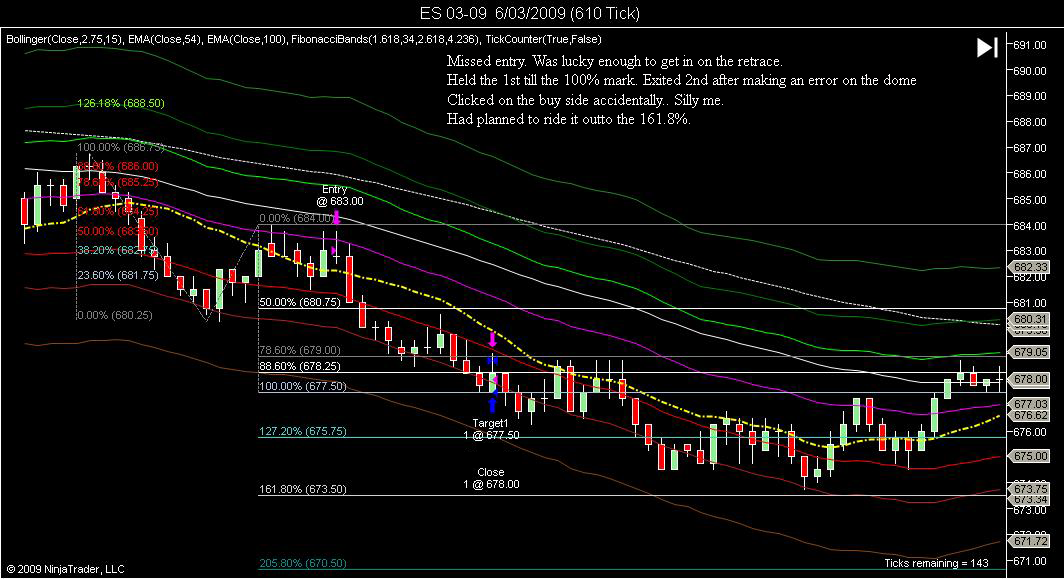 Click image for original size