ES Monkey Wkend Charts 5-17
ES Monkey Wkend Charts 5-17
ES
Daily Chart ... blue lines for uptrend channel ... price at lower end currently. The black line cutting across is a midline from an Andrew's Pitchfork drawn apprx. a month ago and has functioned as an uptrending bigger picture
S/R
to date as price has traded both above and below it, using it as resistance and also support ... with any penetrations being a WR day pushing to the other side for trading (2 or 3 times over the course of a few months).
Click image for original size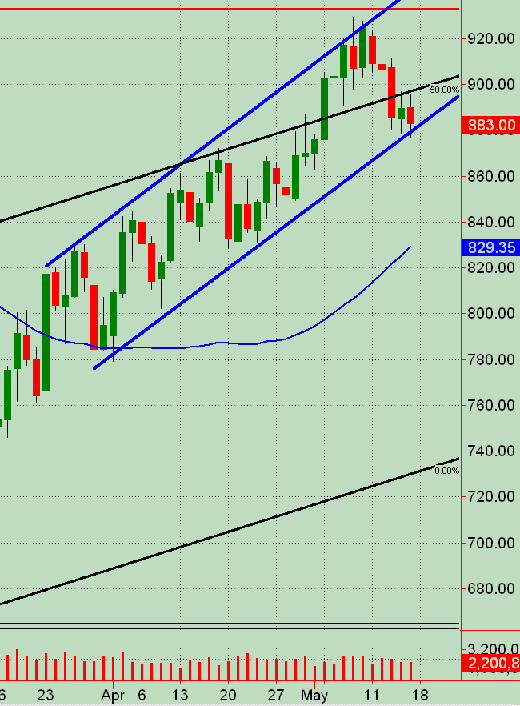 ES
30min Chart on 24 hour data has contained price very well and still keeping the same drawn lines intact for now.
Click image for original size
ES
13min chart with
Price Action
potential
Support/Resistance
levels(zones) drawn in as horizontal blue price lines. Again, this is just an overall "map" and template for drilling down into other details with intraday trading strategeries (that could include
MP
, Fib, Floor Pivots etc.). Looking for confirmation/clusters to bolster these
S/R
areas ... and also whether it's a "trend" day or "reactive" day.
Open to any feedback and others' analysis and charts. Have at it!!!
Click image for original size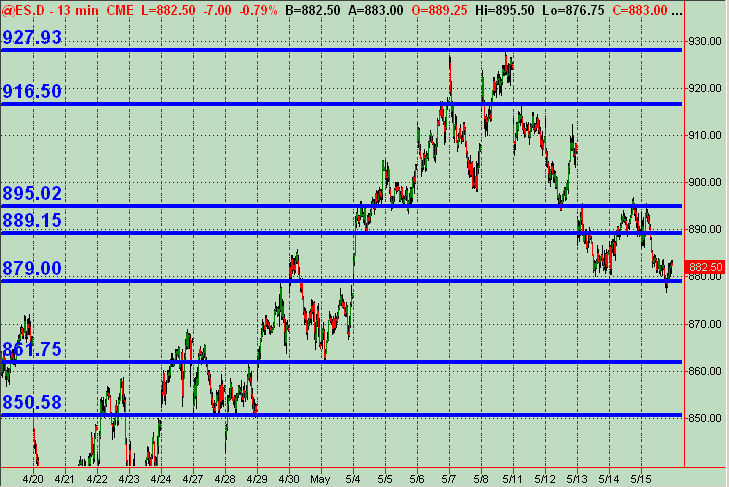 Hugo, your analysis for some reason sounds familiar. You've packed a lot of components into your description. Could you post a chart (or more) ... would be helpful in understanding what you're describing. Thanks for your input and feedback ... and look forward to your charts as they would be most helpful to better understand what you're seeing. BTW ... do you know SPQR by chance ... just wondering?
Nice call
MM
( and charts too).....I'm deleting Hugo's posts as it IS SPQR back for more punishment and more non-sensical rantings....I confimred the
IP
's.
It's a strange thing that SPQR needs to keep coming back here. I thought he was already back with a different
IP
address but HUGO shared the same
IP
address. You'd think they's be smart enough to discuise their
IP
. Not sure what they need to prove......I guess some need to prove how smart they are...some like to use fancy words and escoteric concepts to impress others......I'll keep writing like a 10 year old.....!!
.
Hey Bruce! Yeah, all it took was reading half way thru the 2nd "Hugo" post you deleted and I figured out what was up. Some folks just don't make much sense in a variety of ways.
Anyway, here's one more chart I wanted to post. It's the
SP
-500 Index Daily Chart ($INX, $SPX). This offers a little bit different perspective, and may help
add
to the "map" of the big picture. I hope I've labeled it well enough. There's nothing too exotic in the way of analysis ... but sometimes there's elegance (and somewhat accurate mapping) in simplicity. And it also offers a bit of what a lot of other traders/investors are looking at for their own decision making. (I've avoided any "indicators" or "volume" comments etc. so the post and chart wouldn't get TOO cluttered)
Btw, the Trend Channel in black lines will be different than the one on the
ES
Daily chart above since it's drawn from the March low and also is the Index, not the
ES
contract.
A lot pointing to significant Resistance in the 930 area/zone where it's already pulled back from. How much of a pullback or sell off ... dunno. But, here's another way it could unfold. This could end up being the Right Shoulder of an Inverted
H&S
pattern that might mean a more meaningful and significant bottom could be in place. Just an idea.
Click image for original size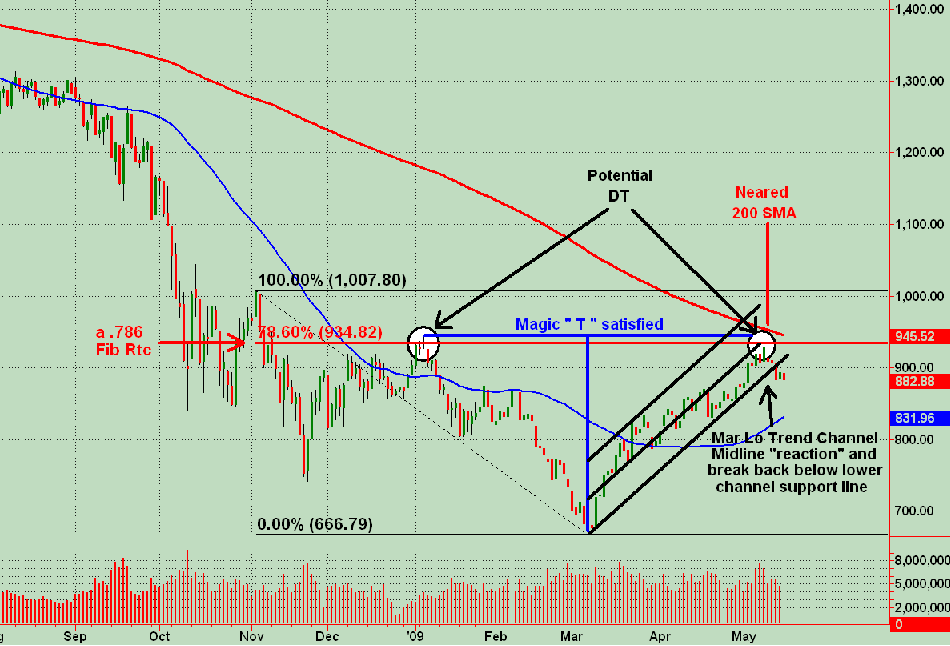 I like the idea of an inverted
head and shoulders
pattern....seems like if we get the "sell in May and go away " crowd then the downside should prevail through summer or at least late July to set up that right shoulder. Lots of
gaps
on the downside to fill....Thanks for these
MM
..I appreciate them.
Hey BruceM or Guy ... labeled this thread without a date (and last wkend's label was similar). if you could, tag the end of the thread with "5/17" ... otherwise it may be confused with other threads and/or postings. Thx!