ES S/R Map for 11-12-09
Not much to work off of for
price action
S/R
above the current mkt making 52 week highs. The blue lines are the
PASR
(
price action support resistance
) price "zones." The greenish lines are the Wkly R1 and R2 Pivots.
After looking at longer term charts and different front-month contracts and any decent levels that appeared potentially significant ... found the 1113-1115 as a possible one above the market.
Also have drawn in 1122.00, which is roughly the 50% retracement from 2009's low back up to 2008's high using the
ES
CONTINUOUS CONTRACT (not actual front trading month prices).
Hope this is helpful! And, as always, open to any feedback and analysis and charts from all!
Click image for original size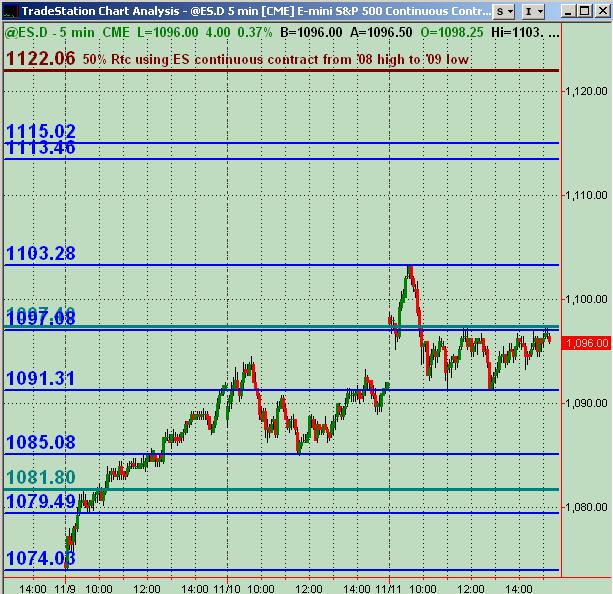 Whoa ... 500th post and another star shows up. So Guy, do I get a doggy biscuit ... or a lump of coal in my Christmas stocking?
Would like some input for any potential levels above the market with analysis and explanation for anyone who has some ideas. If you've not even posted, have a gander ... doesn't matter if wrong or right ... it's about just sharing what you're seeing for now. It's all good, especially if posting a chart ... but if only a description of ideas ... that's totally welcomed too!!!!!!!!!
Been trading into the night ... 60min chart with a few
S/R
price lines ... have shorted some so far with some decent outcomes. Makes for a good picture to combine with the initial post for what's taking place with
price action
.
Click image for original size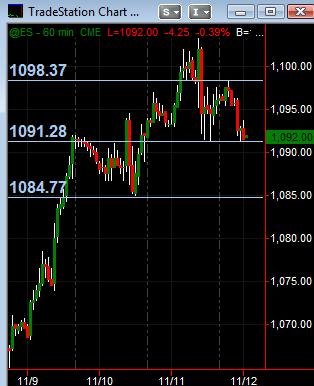 1114 is on my list as well as a good potential pullback zone. Been long since this 93...will jump off some where around those numbers. Made the famous side ways W pattern with the right side spilling lower...on the 60min
on the 95.50's...short...agressive today for one set of
triples
...96 wsas key from yesterday...Volume spikes...blah blah blah
sorry on last post 97.75 was key volume area ...they see them at the lows...go baby go!!! get those
triples
!!