ES S/R Map for 11-12-09
Not much to work off of for
price action
S/R
above the current mkt making 52 week highs. The blue lines are the
PASR
(
price action support resistance
) price "zones." The greenish lines are the Wkly R1 and R2 Pivots.
After looking at longer term charts and different front-month contracts and any decent levels that appeared potentially significant ... found the 1113-1115 as a possible one above the market.
Also have drawn in 1122.00, which is roughly the 50% retracement from 2009's low back up to 2008's high using the
ES
CONTINUOUS CONTRACT (not actual front trading month prices).
Hope this is helpful! And, as always, open to any feedback and analysis and charts from all!
Click image for original size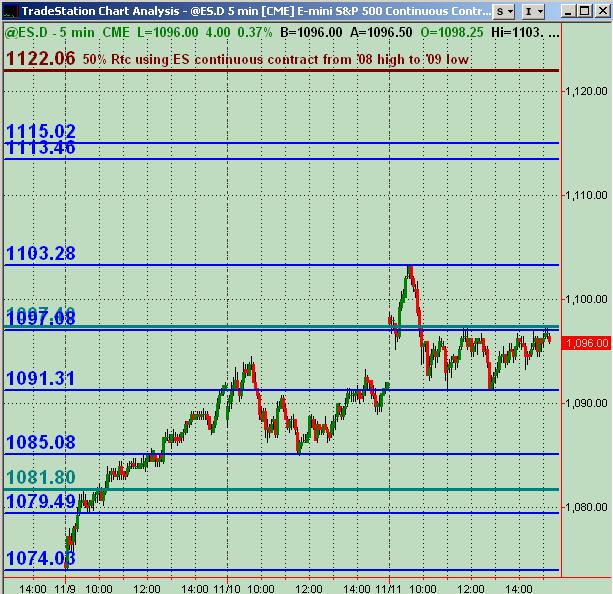 you buyers are making us work harder this week......filling in upper part of the "b" which I thought they would do yesterday afternoon

While I would like to participate as I enjoy these threads trying to trade and bring the forum up and type in anything close to a timely manner is beyond me.
Has a Skype or some other chat room been discussed for the forum?
kooloblue I think still has a live place...I think
PT
may be involved also...I'll look for the thread if they don't respond or see your post here......I prefer to post about concepts Tom but still try to post as close as possible without affecting my stress levels......most of my stuff I've rambled on about a thousdand time before and most who know me know I'm keying off volume, highs and lows and my plus and minus window numbers........yestarday and today the plus 4 - 5.5 zone worked well...especially as we atre trading near a keyy number like 1100a
We did the voice chat room for about 6 months, but stopped over the summer as trading was very slow and folks wanted to take some time off and enjoy the warm weather with family. There was some discussion of starting back up, but we have not done so yet.