ES 12-03-09
Not much to say yet... new highs 241, new lows 4. Doesnt look like a market making a major top to me. That being said today could have strength very early , then decline ahead of tomorrows all important jobs data. Going to rest an see you in 3 hours or so.....
Click image for original size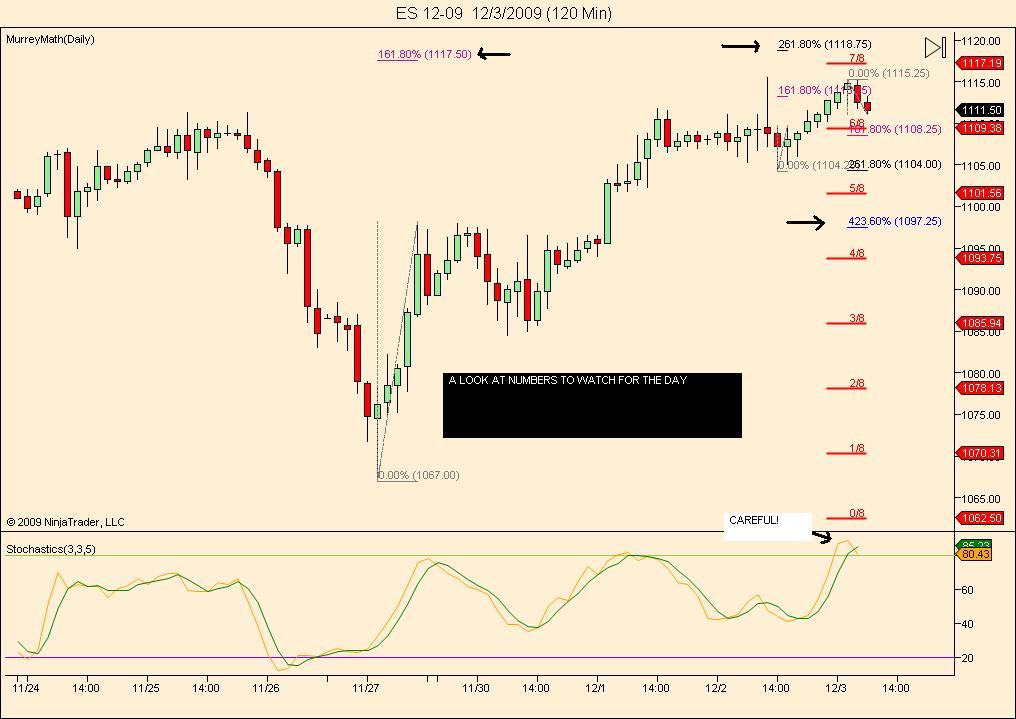 ..
Interesting day, really last couple of days. Rebound to new highs off of the Dubai low. But every time it gets to a marginal new high it struggles mightily. Just doesnt seem ready to go screaming up yet ,does it? should be an important high today or tomorrow! And to
add
to the fun, tomorrow is jobs data day!
Too lazy to post all the charts, but cycles indicate this 13 min bar is a peak! Hourly cycles are neg. for another 1 and one half to 3 hours or so. At least ,i think so.
We would have to spend some time above the 1110.75 level to have a ny chance of a positive crossing of the 5 min averages to give a short term positve bias
Still short one from 1109.00, will
add
another at 1112.00. but its getting late in the day and im nervous about 2:30-3:00 so i wont be in it too long.
I guess i'll bail out at brekeven or so . Its getting too close to a n expected mini low (13.min and 5 min) around 2:30.... sigh...