ES Short term trading 4-20-10
ES Short term trading 4-20-10
I'm selling anytime we go above 1201 in overnight and day session untill the
low volume
at 98.75 - 97.75 fills in...this is also the 50 %
O/N
range which has been a huge target lately
Obvious keys are the ONH at 1202 which is near the R1 today ( nice volumje up there) and up at 1206 - 1207 we have weekly and daily PV numbers....
Down below we have the 94 - 95 which goes well with the weekly PV and the
O/N
low
es really trying to lead this out today higher...but if we look at the key overnight zones in the
YM
and
NQ
especially the 11050 - 11055 in
YM
the struggle becomes more apparent..clearing that and the 2016 - 2017 in
NQ
could set up the long side...till then the longs will struggle
Good morning!..As suspected yesterday, it looks to me like the first leg of a 3 wave decline ended yesterday at 1179.75. now the up leg , and then hopefully , one more down leg (1167?) to finish the correction. this should take 4 or 5 days to play out.My original target for this up leg was (is) around 1205-6 so we are getting close. Remember that i could be completely wrong on all of this scenerio! All im really certain of is that higher highs than 1210.50 are out there. New highs , advance decline, etc at the last high has already clued us in to that.
Market is in balance: 1201.5 has been keeping buyers in check, but sellers can't gain any traction below 1198.
the
gap
1196-1195 is becoming more significant.
My bias is to the downside, but I will wait for the break of the range before taking any trades.
AAPL
is now 15% of
NQ
. I think mkt response to aapl earnings tonite will determine whether last Friday's highs is the top, or just another wall of worry to climb.....
Here is what I was using for the overnight short and
RTH
shorts, the
low volume
area I mentioned.....What made that area even more important in the
RTH
session was that we gapped up higher by 5.5 points so 1/2 the
gap
becomes a great target for the smart traders...that
gap
target fell right into the 97.75 - 98.75 zone.
Click image for original size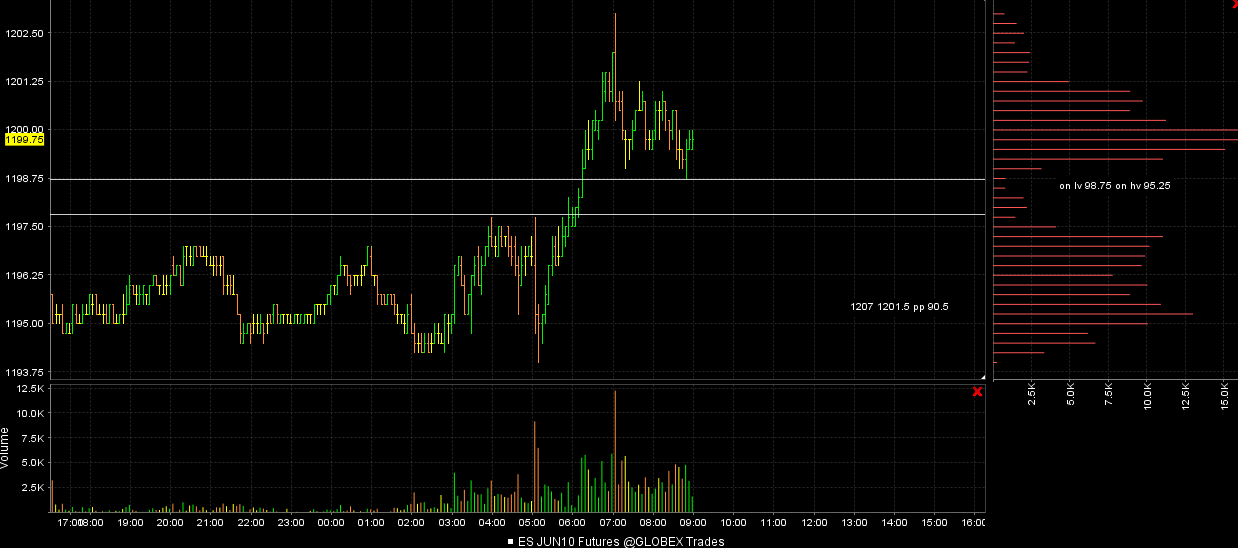 ES
and
YM
above the key zones and
NQ
is trying to bust through but I don't like the symetric look of the profiles which implies they will try and sell rallies so I'm standing aside on any longs still. I also don't like that low in the
ES
...they get tested a lot....
A long trade originated at 1198.75 and a short trade has come in force at 1201.25. Both are valid for 4 pt profit with a 4 point SL