ES Short Term Trading 4-21-10
ES Short Term Trading 4-21-10
Here's my Monkey
S/R
price levels from what I see. The Red lines are the "regular" potentially significant ones while the Magenta ones are somewhat significant, but a step down from the Red ones. Here's the 30min chart of 'em ... a map for Wednesday.
Click image for original size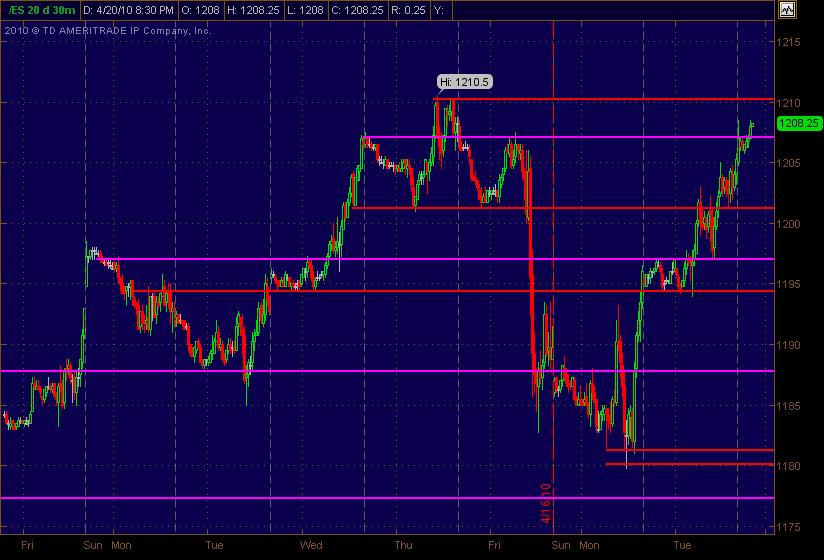 I need alittle more
price action
to be sure ,but Monday ,the 26th is beginning to look important!
1202 will be good. Will be right against the resistance trend line in the 60M chart. It is also very close to the 78% RT from previous down leg to 1195. Probably before closing. Will see, just my guessing.
Hope so... one off at 1199.00..plus 1.75.. and stop raised to breakeven (1197.25)on the other. Up almost 8 handles today..nice day.
Originally posted by phileo


GLOBEX session is reacting favorably to AAPL earnings beat. Today was almost a trend day, esp. if you looked at it after the 1st hr of the session.
Key levels that I will be watching for a trade:

1211: Thurs hi overshoot
1208.5: gap fill resistance
1206.5: composite Hi volume node + last Wed. close
1201.25: composite Hi volume node + morning range hi
1198: Mon. morning range low reaction
1196: composite low volume node + gap fill support
1193: major resistance area from previous week and Friday + 38% Fib RT

Just noticed that 1201 is yesterday's open. This will be important whether they can close above or below it today.
out the other half at 1201.75... plus 4.5 there... getting too late for me. Wow , textbook scalp set up (imho). See ya tomorrow!
Originally posted by ak1

As we are near the open so I think we are going to see a choppy open. So the oscilators are going to make money. Also SP yesterday open at 1186 needs to be tested. The only thing preventing it is the 1203 area which is a swing low

Originally posted by ak1

Oh!I meant in terms of touching open, highs and lows. If Dow touches one and SP doesn't then we have a divergence that is met the following day. Just a trading bias for the next day.

Sorry folks yesterday's (20/04) open was 1195.75 not 1186. This level was finally touched.So if we notice any diversion between
SP
and Dow and use it to enter we may profit.