ES short term trading 4-22-10
ES short term trading 4-22-10
And a quick look at the very short term set up.. you want to buy when price exceeds the lower regression band and it hits a projection...
Click image for original size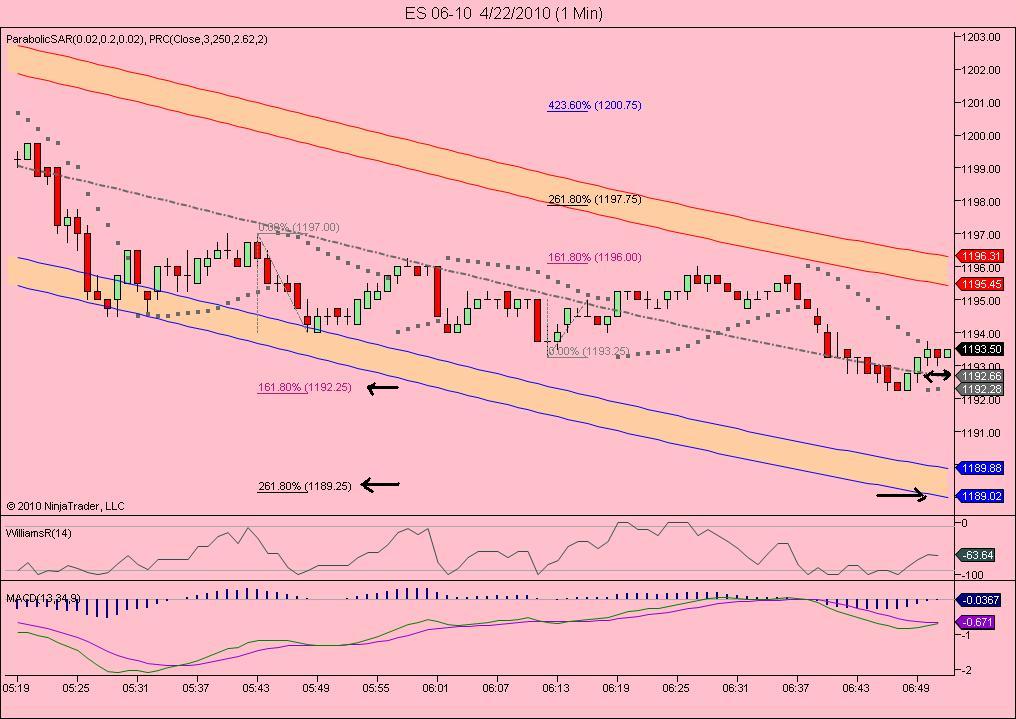 here is how the two day shaped up...notice the nice symetric volume histogram......trends tend to come from this but was hoping that would happen in the day session....no surprise that the high volume up at the 1202- 1203 initiated the selloff overnight
MM
, I agree it seems that the overnight is stealing some of the better trades
the 1195 - 1197 has shown volume in the overnight so that is the current key area which includes the two day breakdown point and 50% of the overnight range.....report at 8:30
Click image for original size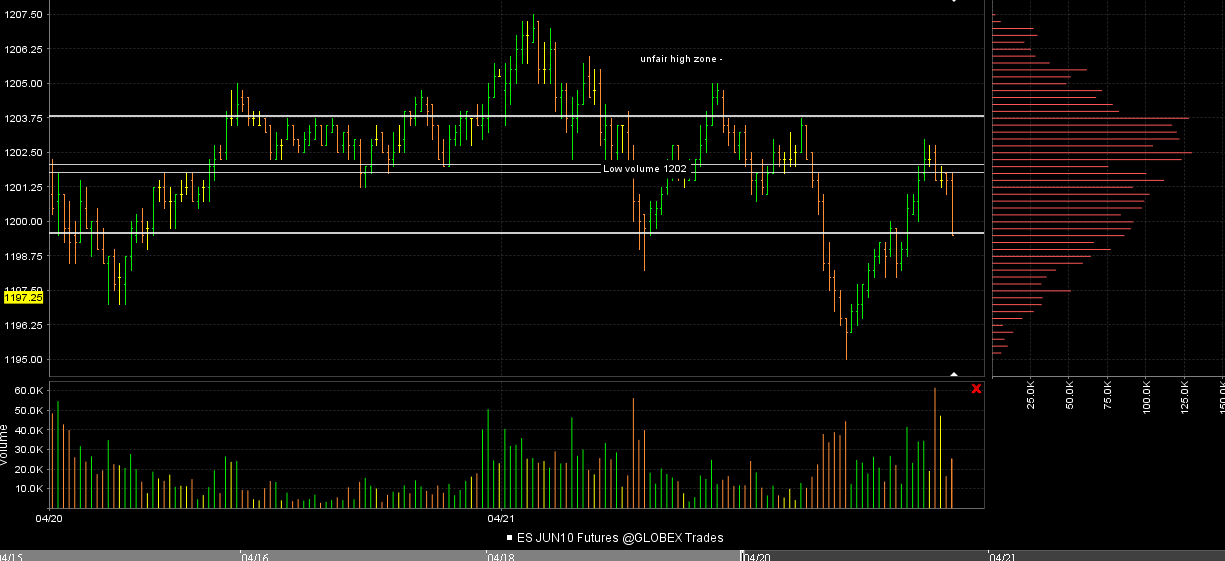 89 - 87 has some confluence of numbers as it is a
low volume
area from Mondays trade and then I have
low volume
at 85 and that is also the weekly open.....In the back of my mind I'm looking at Fridays range as one big zone as excursions above and below that range have been met with selling and buying...so until we reslove that we are just stuck...we need to see where
RTH
opens and based on the average ranges try to fiqure out if there is enough power to break out with confiction
got 95.25 and last contract at B/E....that was highest volume bar from overnight so someone sold that fairly hard...
Hey Bruce,
The overnight/
Globex
sessions have definitily been moving much more lately. This may become a regular thing as the market keeps evolving, but have notices especially in the past few weeks.
It was Phileo who'd originally posted yesterday with the observation, "Might be just my bias, but it feels to me like the overnight
GLOBEX
session seems to be taking away more and more of the
RTH
trade opps.....," and I agree with him. It seems that some of the overnight moves kind of suck some of the juice (and setups) from the
RTH
price action
here and there.
May make for an adjustment in my sleeping vs. trading schedule when I trade the
ES
... still mostly doing stocks which is a clock-in/clock-out job ... for now.
Thanks for giving credit where it is due
MM
...
Daily S1 = 94 and weekly PV at 94.50 so lots of interest down here...no if only the report will cooperate
I've got a minor
Price Action
Support level around 1188 that's coinciding with the Daily S1 fwiw. Have been keeping an eye on the
YM
and
NQ
as well, seeing which may be leading the way (or not). Should also note that
YM
got down near 11,000 ... might perhaps offer some semblance of support. And actually, for the
ES
, that's more like a 2-point minor support "zone" from 1190-1188.
holding 4 longs from avergae 93 now..( new campaign).targeting 95.50 first in
RTH
...50% will be next target up top IF we get the rally....will be watching 89 if they run it down first
Originally posted by redsixspeed

1213.00 on the radar....

==================================================================
SPX hit 1213.42 and we have stalled