ES short term Trading 5-03-10
ES short term Trading 5-03-10
Lots of numbers in the 88 - 92 zone..Confluence of weekly and daily PV numbers and the HVP is there...The weekly has HVP at 1189...should be a good magnet for those who can find longs. Right above is
low volume
(94-96)off the weekly so we need to watch that area closely if/when it gets up there. I personally wouldn't favor staying long above 92 as then we start falling into the
low volume
air pocket
of the weekly.
We have previous weekly lows, key round numbers and S1 falling in the 75 - 77 area.
1200 - 1203 is next resistance as we have key numbers, HVP and the R1 level . That will be a challenge I think to get to on MOnday.
Lets see in the morning what has happened overnight...I'd like to see lower prices
O/N
to set up long trades in the morning.
Good luck tomorrow everyone.
I was able to hold two contracts and just covered them at 91.50 but more important than that is a few things.
1) I added to this a THIRD time which would be too much for most but in an afternoon trade I go lighter initially...so this first position at 95 was for only three contracts
2) I sold into the 1200 and slightly above on the LAST
add
because we have that ledge at 92.....all those 5 minute bars with the same low.....it's just a matter of "WHEN" not if they will run that out.
3)I've notice they will run it 8-10 points off a ledge so
add
10 to 92 and you get 1202...I had a key weekly at 1203...see the weekend thread..and we had air below...why stay long?
3) and sometimes we just get lucky on runners.....
here is the chart
"Those 92's are toast".......... breakfast has been served!!
Originally posted by BruceM

short on the 95.25 for those 92's...could take all day...High $tick....careful...these can fail as too obvious sometimes

Click image for original size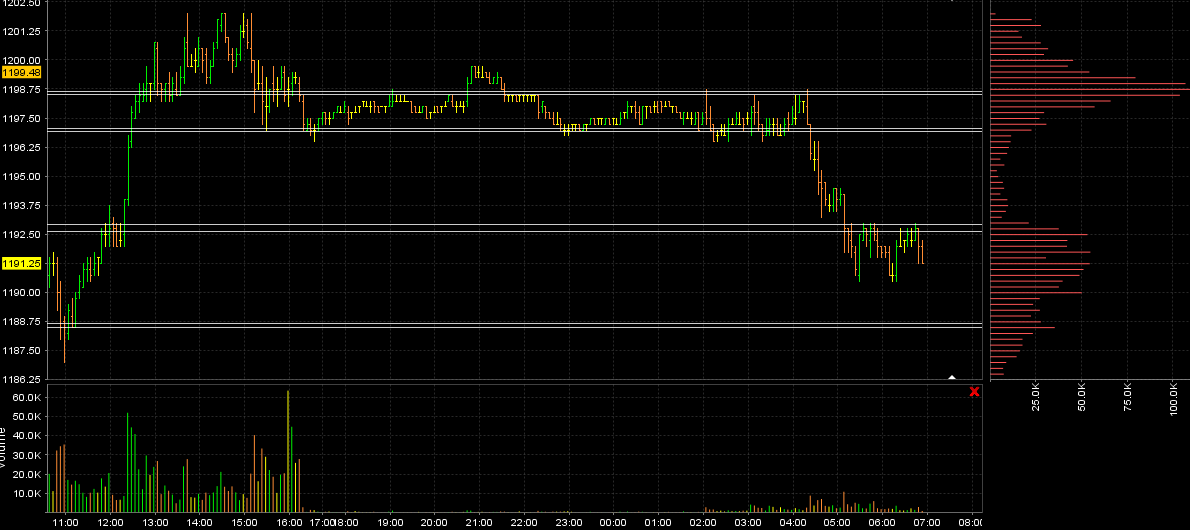 Originally posted by BruceM

There is no "air" there as I define it but perhaps you could elaborate...nice opening trade you took today..well done indeed.


Best air that needs to get tested is 94.25 - 95.50 from Mondays trade...the same spot I had my initial short..that's a cool zone

Originally posted by ak1

Can they march on without touching 1192????? We have 1 tick air there.




If we take a 30 min candle chart and apply a buy or sell (given the open of the current 30 min candle) at high, low and close of a previous 30 min. candle with a 1
tick
profit. Each level should be profitable. If not we have air. As the market can rally it is not advisable to do it in a live account. Run a demo account side by side to diagnose it.