ES Short Term Trading 5-21-10
ES Short Term Trading 5-21-10
With the mkt getting so volatile and funkadelic, thought I'd just go to the big picture with a Daily chart showing the 50 and 200 day
sma
's along with what I'm seeing as significant
Price Action
S/R levels
in Red. The chart is a 3-year Daily (Continuous Contract) chart including a
Volume Profile
.
Don't really see a pattern of classical or more recent origin other than a potential forming of a
Head and Shoulders
... potentially a "Rolling"
H&S
. For the short and even intermediate term (almost), the mkt is "oversold" ... whatever that truly means.
But since the
Flash Crash
and all the subsequent volatility and erratic price movement, it's even more challenging with Op-Ex Friday. I still think that
MP
has been describing the market the best, especially as translated by BRUCE!
Don't forget to also track intraday the
NQ
and
YM
, looking at relative strength or weakness compared to the
ES
. Others have commented on
NQ
being a leading/early-warning of where the
ES
might travel during the trading session.
So here's the chart. Fyi, I trade stocks mostly and this functions as a market map for me ... which is also why I don't post much intraday unless I'm more focused on and TRADING the
ES
.
Click image for original size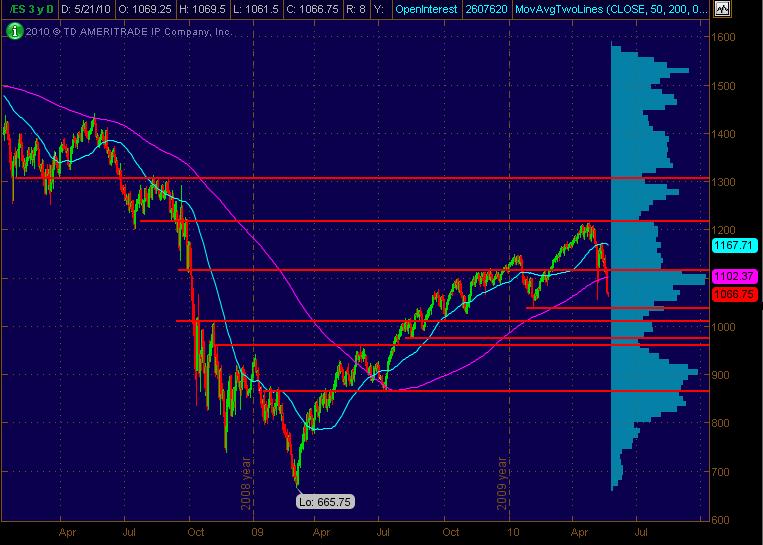 Originally posted by rburns

Im seeing 69 area as major resistance besides being the previous days close.

I see the same area 1068.25 to 1069.25 is my resistance too and just in case I filter the resistance area with my
RSI
above 70 as an overbought zone 1 candle before my zone get printed.
a failure at this 56 number will run it down to the 50 but so far so good...same way of thinking that a break above will go for the 62.50
Originally posted by feng456

Guys what is a good way (maybe tried and tested personal experience?) of raising one's confidence?

Feng, I tried to answer your question here:
http://www.mypivots.com/Board/Topic/5713/1/how-to-build-confidence
I thought it would be better as its own thread, so as not to hijack this one, and to have it where more people would read it.