ES Short Term Trading 6-23-10
ES Short Term Trading 6-23-10
Here's what I've got as a
Price Action
S/R
"MAP" ... the Red lines are potential significant
S/R levels
with Magenta semi-significant. The Cyan dashed lines are the Wkly Pivot levels. The Light Blue bars on the right vertical side of the chart represent Volume at Price on this 30-minute, 20 day chart:
Click image for original size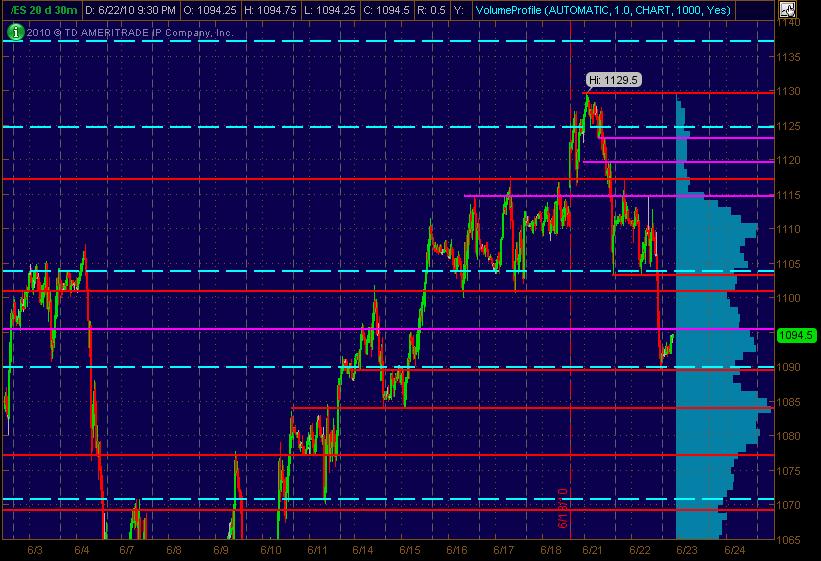 Hope this is helpful to all ... and definitely follow
MP
analysis and your own analysis where things may line up and
add
significance at price levels for getting off a decent risk/reward trade.
And don't forget ... Wednesday is
FOMC
day ... stands for F*@K(ng Overall Massive Catastrophe for ____________ (fill in blank with your favorite pet peeve)!
Originally posted by phileo

long 1091.5

playing the open (in case anyone is yearning for a reason)
target 1094 this time. stop at 1090.5
PPT
getting whacked by
HFT
sell programs. Most of the
FOMC
breakout has been retraced. 1085
hvn
will be a key level of defense for the bulls.
Talk about a roller coaster ride....
But euro is still hanging on to its gains above 1.23
That might be a good tell going forward.
amazing...the 10 a'm reports created more volume on a one minute spike then the fed announcement...
87 - 89 get top billing from todays trade.......
Originally posted by hari

2:23 bought at 1085
2:31 sold at 1090.50

fastest 5.5 pts ever for me :)



Originally posted by phileo

Euro is in a buying panic!!
TICK at +1400 !!

what the heck did big Ben say ??

fastest 4pts I've made all year