ES Short Term Trading 6-23-10
ES Short Term Trading 6-23-10
Here's what I've got as a
Price Action
S/R
"MAP" ... the Red lines are potential significant
S/R levels
with Magenta semi-significant. The Cyan dashed lines are the Wkly Pivot levels. The Light Blue bars on the right vertical side of the chart represent Volume at Price on this 30-minute, 20 day chart:
Click image for original size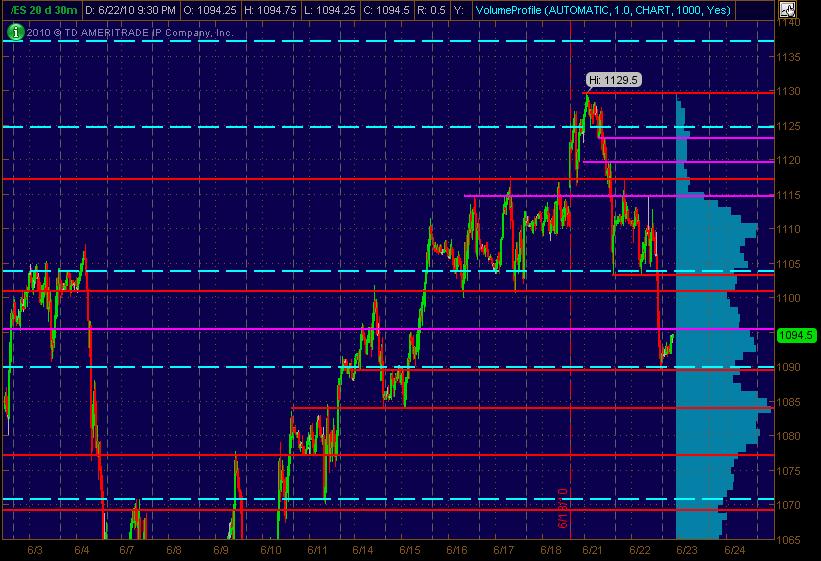 Hope this is helpful to all ... and definitely follow
MP
analysis and your own analysis where things may line up and
add
significance at price levels for getting off a decent risk/reward trade.
And don't forget ... Wednesday is
FOMC
day ... stands for F*@K(ng Overall Massive Catastrophe for ____________ (fill in blank with your favorite pet peeve)!
And stock wise after going thru 1000+ daily charts ... well, most of 'em look pretty sucky ... weak in terms of major moving averages, lack of decent patterns and not many showing decent relative strength LONG. But, if the market does rally, here's the few equities I've got on my radar:
BIDU
- would prefer a pullback, but can do without it
NFLX
AAPL
- very index direction dependent
CRUS
- ummmmm, high risk on this 'un I think
SNDK
VMW
AVB
?
VMW
?
Again, how the "long picks" perform intraday collectively can provide an overall (and early) tip as to what the overall market is going to do in the short term intraday ... while also tracking the
$TICK
and other indices intraday. Again, hope this is helpful to both
ES
(and other index futures traders) as well as any day/swing equity traders hanging around here!
The Klunky Monkey
waiting for the econ.numbers to come out, then will look to buy 1086
gap
fill from last monday (Jun 14)
Originally posted by phileo

waiting for the econ.numbers to come out, then will look to buy 1086 gap fill from last monday (Jun 14)

um... maybe not... bad numbers, wait for the dust to settle first.
Full
3 war
just hit Too....certainly not as reliable as price points.
Big volume node at 78 - 81 from composite...hopefully to prop up the market....
air above so u know why I did that...still don't like
fed days
...they can just start a trend andf keep going
runners will stop at 80.75 ..then I'll try one more long and call it a rap until Fed announcement
amazing...the 10 a'm reports created more volume on a one minute spike then the fed announcement...
87 - 89 get top billing from todays trade.......
Originally posted by hari

2:23 bought at 1085
2:31 sold at 1090.50

fastest 5.5 pts ever for me :)



Originally posted by phileo

Euro is in a buying panic!!
TICK at +1400 !!

what the heck did big Ben say ??

fastest 4pts I've made all year