Emini S&P Trading Using Elliott Wave Principle
Emini S&P Trading Using Elliott Wave Principle
Hi all.
I am new to the forum and have started this thread to discuss trading the E-mini using the
Elliott Wave Principle
. I desire a high quality discussion.
I have attached the daily chart containing my operative count as a starting point of the discussion. I believe that the decline from 1216.5 was a Leading Diagonal rather than a 5 wave decline. We are currrently working minor wave 2 up in a zig-zag.
I'm looking forward to everyone's comments.
Click image for original size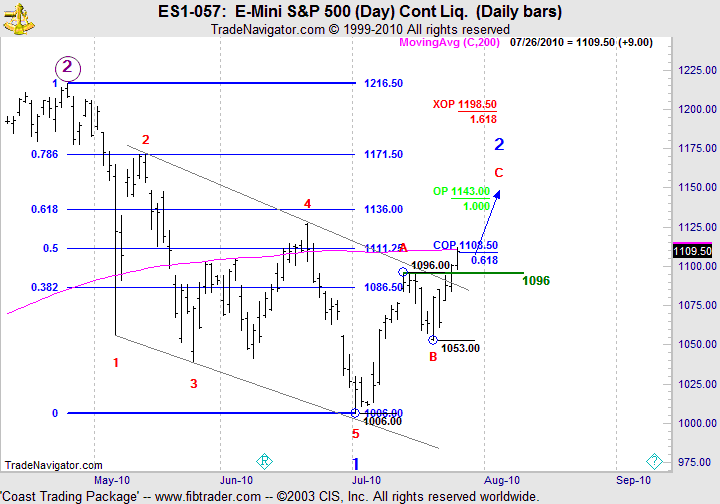 It certainly identified the breakdown and change in trend.
Originally posted by DavidS

I liked that critical support number.

I received an email from
EWT
basically insulting me and attempting to give me an ultimatem, I've been down this path too many times with vendors and vendor wannabees. Agressive behaviour. The originator is upset that I am asking for trades to be called and not all this general "if-then -else" B.S.
So begining tomorrow I am giving this thread it's own ultimatem. Either do something different and post the trades with the stops and targets or you will be blocked from this forum.
Now many of you may be upset at this but you need to keep in mind the following:
1)This same stuff can be found on Elitetrade.com so you can go there to read it. Same thread is here
http://www.elitetrader.com/vb/showthread.php?threadid=203869
2)This poster has admitted that they have plans in the future to charge money for
EW
analysis.
So if they are so great than lets get some market calls...not mumbo jumbo. We went through this with the trading zoo and many others...what's next a trading challenge? Ah..memories !
Why have the same stuff on two or more forums? To build a following..a future client base...we don't need that here.
Why intentionally try to piss off a modertaor in an email? If you are so arrogant than make the calls...either put up or shut up...
No B.S. and pointing fingers. No argument that BruceM shouldn't have such influence. I wouldn't make a threat to block an account if I didn't think I would get permission from the owners.
Show us the analysis and make the calls. I haven't busted my ass in the day trading threads and on the forum for years just to have somebody insult me and belittle the work I've done on those. Lets see what you got
EWT
.
The only good response will be a long series of market calls to prove YOU can trade it...even if it's only on paper. Ha! Show us it works.
I think I have been clear. I also can predict the response. Perhaps I will be surprised and get an
EW
person who can trade it.
Bruce
I completely agree with everything Bruce just said.
As Bruce pointed out,
EWT
is running the same topic on Elite Trader so those that find value in what he's saying can follow him on there if
EWT
decides that he cannot follow our forum's format and either leaves or gets himself locked out.
Bruce - didn't know that you were a moderator but it wouldn't have changed anything I wrote. It just proved my points I made in my e-mail. The purpose of the e-mail was to
have the discussion in private
as the forum requests. As a moderator, you know not to bring it public as you have done. I am more than happy to follow the rules. Please have DT e-mail me those written requirements as to what to post.
Frankly you confuse me. You stated that we need less #s in your last derogatory remarks of my posting. Was your posting today any different?
======================================
I have key number zones at
88- 90.50 and 95 - 97 form WEdnesdays trade
above that is 1103.25 and 1108
on the downside for
RTH
we have
76 - 78
71.50
64 - 65.50
I think most who are expecting the big follow though down in
RTH
tomorrow will be on the wrong side. Lets see what
O/N
gives us in the morning.
==========================================================
When I do this, it's not good enough. When I make or state a directional bias according to
EWT
, that's not allowed because of "newbie bait". The point is that allot of forum members are doing the same thing that I'm being condemned for. A sword can't have one side. So help me out instead of just being critical of the thread.
I have most recently provided relevant areas (above/below) for readers to act upon should their trading plan generate sell signals at my posted levels, including the break of support. I'd assume your trade plan would have some similar provisions for entry. Obviously if the levels aren't hit, there's no trade.
Elliotticians or students of the method know how they were calculated and of their significance. I can't use the forum to teach a method but I am trying to give some limited comments to help readers somewhat understand the posts and how I draw my conclusions.
Finally, if you guys just can't deal with the fact that somewhere in the distant future, I might run a live trading room I'll understand. In the meantime, I do not have a commercial website; charge for any newsletter or mentor anyone. The information I'm posting in this and other forums as well as my blog is free. I have no short term intentions for charging for content. I can't make it any clearer than that. If this post get's me kicked off, then I'm alright with that. All I ask is that you look in the mirror first.
Sorry Readers.
This movie is rated R-17 (for 17 average alternate counts per initial wave analysis) and also is currently showing in other nearby theaters, including:
http://www.trade2win.com/boards/futures/99954-e-mini-s-p-elliott-wave-discussion.html
http://www.italkcash.com/forum/news-feeds/238340-e-mini-s-p-elliott-wave-discussion.html
EXCERPT from Robert Miner's book, "Dynamic Trading":
"How often will we be able to place the position of the market within the context of
Elliott wave
patterns as has been described here? About 50% of the time! The major failure of analysts who primarily rely on
Elliott wave
to make trading recommendations or forecasts is their attempt to put all market activity, in all markets, all of the time within the context of Elliott's wave patterns. When this is attempted, the wave counts frequently become an outrageous exercise in hallucinogenic imagination ... The road to trading and investing ruin is littered with Elliott-Wave-Obsessives who would leave no chart unlabeled ... Some day, I'm sure there will be
EWA
(
Elliott Wave
Anonymous) groups throughout the country where Elliott-Wave-Obsessive analysts will find help."
Well, I guess we have our answer...as expected
EWT
is giving us double talk and "dancing" around making those market calls...we know what that means.....he can't make money by trading
EWT
.
I have a good indication now that he has little respect for our forum and the people here. He doesn't need us and we certainly don't need him. I think it's time to let Elite trader and other forums figure him out.