ES Short Term Trading 8-26-2010
ES Short Term Trading 8-26-2010
Range Based
S/R
R1 = 1063.00
S1 = 1031.75
R2 = 1068.125
S2 = 1026.625
Steenbarger Pivot = 1051.00
Thanks Lorn,

I have that 51.25 Too...along with 46.25
and 41.50 on the downside

upside I have 60 .50 , 69.50 and 74.50 as the majors
For those interested in Kool's time counting method today marks a turning point when using the low of 5/6 to low of 7/1.

Just something to be aware of.
our 60.50 area held back
O/N
rally so that is a good zone...they already tested the
O/N
midpoint so I will need to wait till the push out an
O/N
extreme....
51.5 - 53 is initial support for obvious reasons...if we rally and hold the
O/N
high they will try to push to the 69 numbers....
decline and hold below
O/N
low will push towards the 46 area...
we will need volume to hold any continued rally...without that we will drift lower
55.50 - 56 is key volume zone...looking for signs of failure up here at the 59 - 60 area
a glimpse at my world today...
vwap
with bands...obviously I have other things like
O/N
highs and lows and peak volume from YD and
O/N
nice failed hour break into a key zone.....a top 5 entry..!
Click image for original size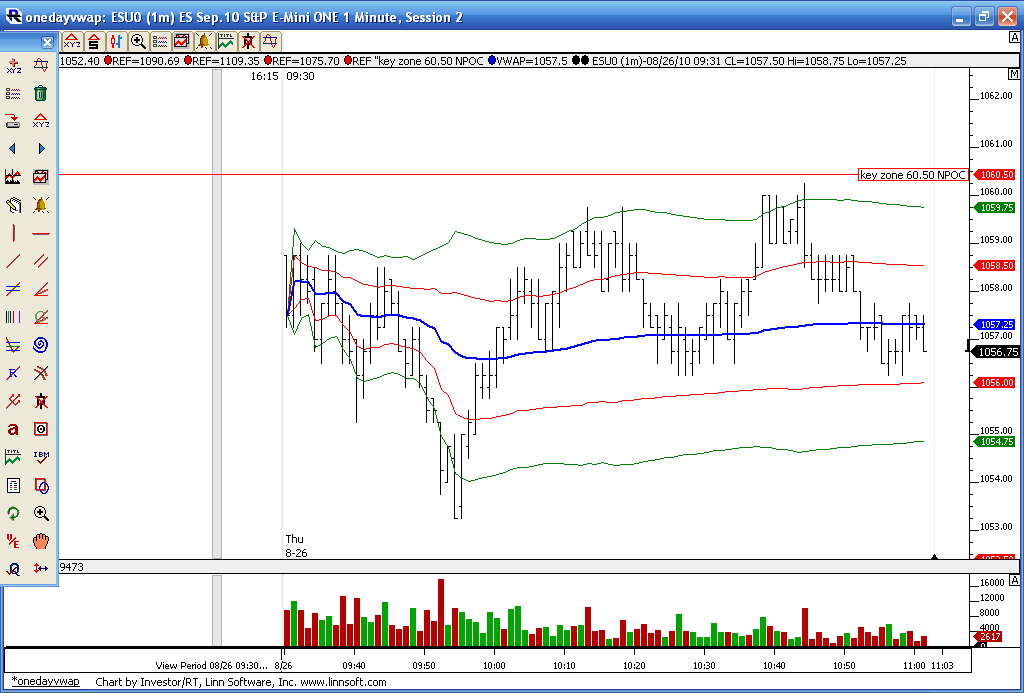 as long as we can keep this below the 56 - 57 area we should get new lows and that 51.25..we also have a
low volume
area at 49 - 50 from YD
MP
chart...
Yes Bruce. Solid thinking for sure.
Originally posted by BruceM

a key point from today is trading on BOTH sides of the 60 minute range...it is fairly rare to break both sides ( extremes) and THEN come back to take out the first side again....does that make any sense?

Today we broke the high first and then the low...so it would be rare ( it does happen sometimes) to come back and take out the high AGAIN...so selling rallies after that low was run was a good thing to do.....hope that is understandable