ES S/R Map for 11-22-10
Here's what I'm looking at with
S/R levels
using a 30-minute
ES
chart … Blue lines
PASR
, dashed White lines Wkly Pvts and Yellow lines are Fib retracements from recent highs. These are the levels of what I'm looking at coming into Monday's trading.
ES
is currently trading up into the 1205 (minor) PSAR resistance zone for now at 6pm Central Time. Hope this is useful as a MAP for trading.
1217-1218.25
PASR
resistance and Fib 886 retracement
1212.25-1213.5 is
PASR
resistance and Wkly Pvt plus a Fib 786 retracement (higher significance)
1208.50
PASR
resistance w/Daily S2 3
ticks
away
1199-1200
PASR
support
1191.75-1192.25
PASR
support and Wkly Pvt and Daily S1 w/in a few
ticks
(higher significance)
1187.50
PASR
support
Click image for original size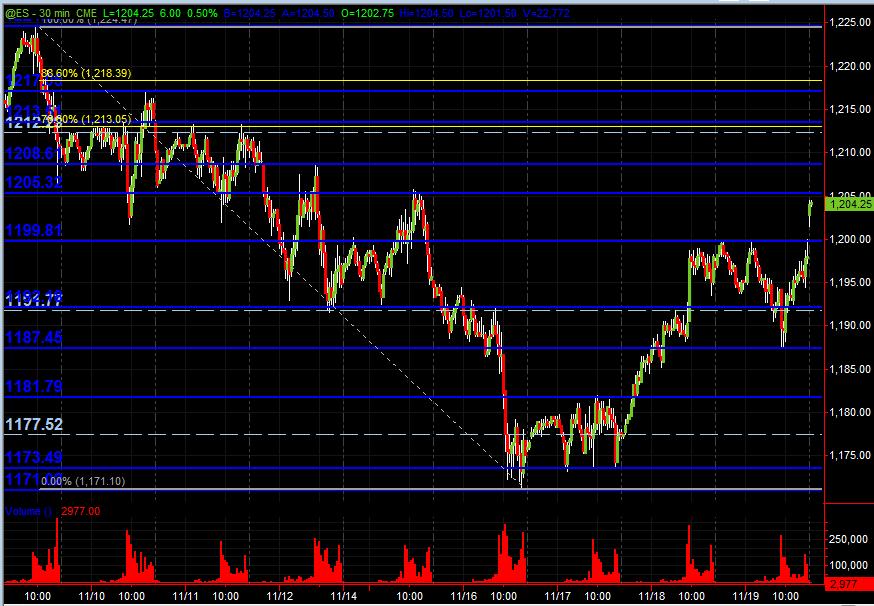 My 83 - 84 area was half the
gap
fill from Thursdays
RTH
open to Wednesdays close.....S2 is down there too and probably a better number
here is how my chart looks ( or one of them).....we need to fill in this
low volume
area between the high volume up at 98 and 76 - 77....
the SPECIFIC key
low volume
is now at the 82 - 88 area...so rallies that fail now above 1188( if they fail)will try to drive back down into that zone.....
the chart says it better...we may stay sandwhiched a bit.....
Click image for original size
we've gone from having peak volume down at 85.50 to peak volume up at 91 which is right at the daily midrange...so price is once again accepted at HIGHER prices....much harder to short but if one does it should be above 91 now expecting the market to stay symetric...and come back and jerk around 91 price..


Many times we see the market just fluctuate above and below peak volume when it falls in the center of the range..trapping traders who expect it to break away...


the only challenge to my theory of price staying around this 91 is that 86.75 area.....nobody is trading that today...like a giant freaking whole in the chart...that also likes to attract price.....so let the battle begin!!
92 even is my best and flat..no ammo...now every
MP
player in the world will be watching 91.25 as that is peak volume...will they close it symetric or on an extreme.....? who really knows...I don't