shorts on 12-5-10
have begun for me ...3 points above fridays close here in sunday
O/N session
....
RTH
range was inside the
O/N
on Friday.....will
add
at 28 even and 32.50 if needed
The fact that s&p cash hasn't made a new high above November while
ES
has certainly is something which has me cautious of being too tied to the short at least while prices are right here.
Originally posted by i1hunter

I'm looking for a test of Friday's high and possibly higher to 1231.00 late afternoon. Resistance at 1226.75

The above will be void if below 1220.00. ES now trading at 1222.75 13:31

hopefully this will be a useful addition to someone......here is a shot of three bars.......an
air pocket
as the third bar breaks away from the first two bars......but what makes this different is that it actually forms WITHIN todays range..this is not a break to new highs or lows like we get with traditional air...Phileo and Kool liked this idea and I call it HIDDEN air and can be useful mostly on Consolidation days.....these breakout points come back to fill in hence the consolidating nature of the market......they work well in the correct context.....note in the second chart how the hidden air was filled in and they brought it back up for the
triple
/quad run out...
see the second chart below for context...which is a consolidation day so far....this second chart is showing from that hidden
air pocket
until about 1:55.
ALL
hidden air has filled in today.....in other words , so far we have always come back to test any breakout bars within todays range also....even when they DON"T happen on a new high or low for the day...this will help you avoid being a breakout trader on a consolidation day...use for targets on
fades
too
Click image for original size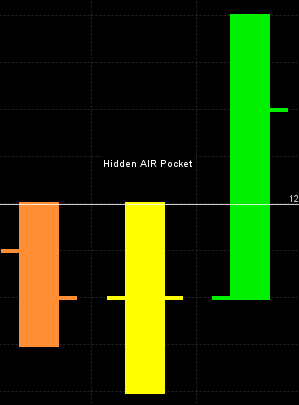 Click image for original size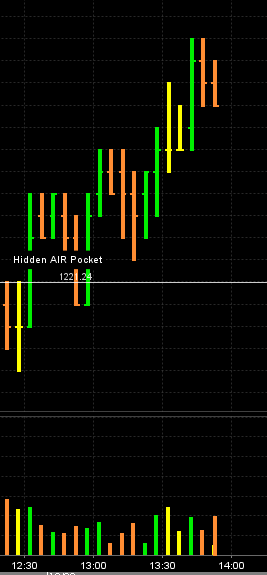 like all good
air pockets
they will EVENTUALLY break it away with volume and they won't fill it in........late in the day is a dangerous time for fading in general so hidden air needs to be approached with caution
hope somebody got that idea....notice how we drove back down to 22.25 .....hidden air that didn't break on the tries at 2:30 EST...so they made it perfect with the selloff from my
RAT
!! they needed to complete that..
In the 2m chart below you will see the price hitting yesterday's intraday high at 1225.50. - 1225.50 was also a MdP. Notice how the resistance rejected the market, congruent with Bruce's post late afternoon.
f
Originally posted by i1hunter

I'm looking for a test of Friday's high and possibly higher to 1231.00 late afternoon. Resistance at 1226.75

The above will be void if below 1220.00. ES now trading at 1222.75 13:31

Click image for original size